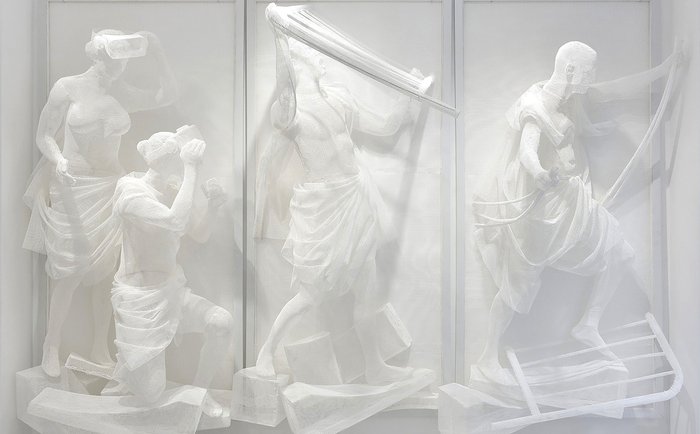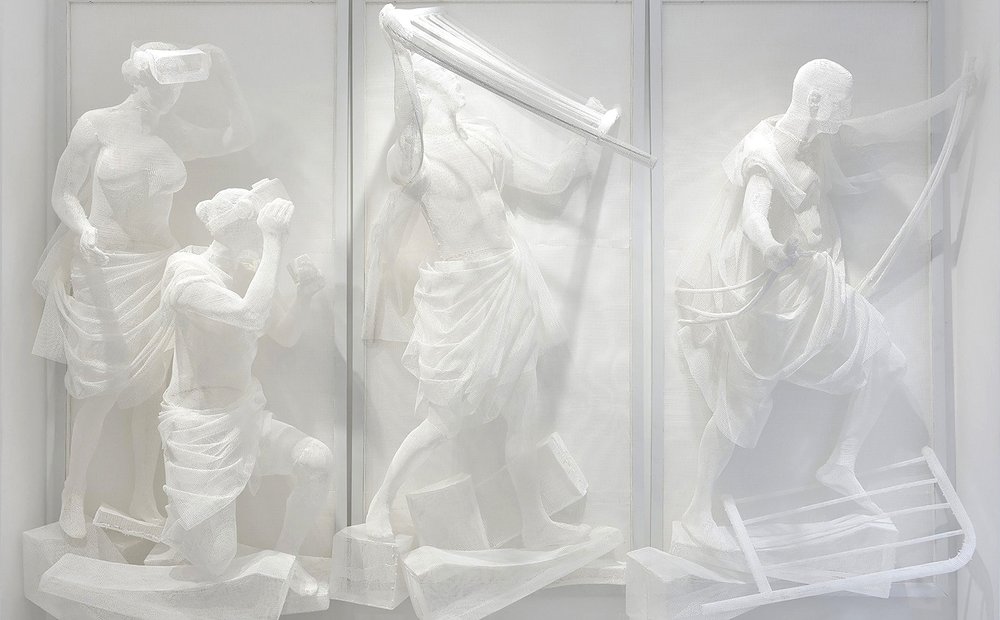 Recycle Group. Expired Reality. Exhibition view, 2023. Courtesy of Suzanne Tarasieve Paris. Photo by Rebecca Fanuele
The French capital is becoming a hub for increasing numbers of Russian artists, curators and other art professionals who have gone into exile. Could this be the start of a new wave of Russian émigré culture in Paris?
France has long been associated with Russian emigration. Under the Tsar, revolutionaries lived there; after 1917 their place was occupied by so-called 'white' emigration. In the 1970s dissidents settled there and in the 1990s, scientists from dying research institutes left for Paris. Despite the relatively small community of Russian emigrés in France, this community is one of the most important among Russian diasporas. In 2022, a wave of smart and metropolitan relocators from Russia reached France, and now the Russian community in France is second only to the United States, Israel and Germany in terms of size.
One of the most responsive European organizations supporting emigrés in France is 'Agency of Artists in Exile' (AA-E) located in Sentier district in the very center of Paris. AA-E helps artists of Russian origin with visa issues and provides accommodation, practical support, offering them work space and putting them in contact with local or European based professional networks to provide them with the necessary means to restructure and continue their practice.
In April 2023 at AA-E's open studios, works by several Russian artists were on show including by Alexandra Demina (b. 2000), Anastasia Kuzmina (b. 1989), Dmitry Bulnygin (b. 1965), Maxim Korotchenko (b. 1982) and Rodion Kitaev (b. 1984). The latter recently had a solo show 'Les Illusions Qui Restent' of works created duriung his artist residency at the CAC, which presented a personal reaction to the current widespread paranoia lurking in the background of our lives created by the daily bombardment of fake news, propaganda and censorship.
During the open studios, art duo EliKuka comprising Oleg Elisseev (b. 1985) and Evgeny Kukoverov (b. 1984)), who are also members of the punk band I.H.N.A.B.T.B. and international musical-artistic group ANUSRIOT, gave a concert at AA-E. Earlier this Spring, EliKuka had a solo show in Galerie Stanislas Bourgain (a gallery created in 2008 by the eponymous Russian-speaking collector and art dealer to promote a new generation of Russian and Ukrainian artists not yet well exhibited abroad). During the first three years of its existence the gallery was located in Rue Chapon, near the Pompidou Centre, and then later became a pop-up space with exhibitions and private viewings in apartments, hotel suites, showrooms or more conventionally art fairs. Now it still exists as a nomadic and sporadic initiative. EliKuka's 2009 show 'Bacteria mon amour!', at Stanislas Bourgain Gallery was the duo's first exhibition abroad and to celebrate its fifteenth anniversary the gallery resurfaced in a temporary space for 10 days this Spring to host the duo's latest show 'LOSS'. Eliseev and Kukoverov, known for their upbeat and ironic non-commercial and countercultural language evocative of Dadaism and rooted in youth clubbing and street culture, left Moscow at the end of 2022 to settle in Paris. The LOSS exhibition is a response to their new living conditions, the complex feelings around losing their homeland, with these universal conditions of loss, lack, and disappearance expressed through a series of playful everyday objects and landscapes on canvases sliced and divided into half.
The pop-up format is perfectly suited to what is a fragile market for young Russian art. The ephemeral Tonka Gallery works in this way: this Parisian online gallery founded in 2020 by journalist Natalia Kudryavtseva and her ex-partner Eliza Fierro has already held two offline exhibitions in Floréal Belleville cultural space and le Marais. The first show 'Tamed Nature' featured the paintings of the Russian-Georgian artists Alexandra Pasternak (b. 1991) and Anton Totibadze (b. 1993). The second exhibition 'A Snail Under a Rag' took place during the spring after the start of the conflict in Ukraine in 2022 and featured the works of nearly two dozen artists, including Sveta Isaeva (b. 1984), Dmitry Bulnygin (b. 1965) and Zina Isupova (b. 1996) who primarily work with ceramics and donated part of the sale of the works to AA-E to support Ukrainian and Russian artists.
Art collector Paquita Escofet-Miro is a prominent and tireless cheerleader of the Leningrad non-conformist scene including the New Academy, but also Moscow Romantic Conceptualism and the Tbilisi Art School. Her main interests are in the period covered by her collection, which starts just before perestroika and finishes as it wanes in the mid 90s. Her Parisien maisonette turned into an exhibition space (by appointment only) is a collector's dream, a space in which to live and work with art, where she still mounts edgy projects by Russian artists of various generations, acquiring new works along the way. At her space she recently presented works by EliKuka, Irina Korina (b. 1977), Katia Kameneva (b. 1971) and Ivan Lounguine (b. 1979) in an exhibition called 'Maisons du Monde'. Powerful works in acrylic on paper and oil on canvas depicting giant holes in bombed out housing blocks in Ukraine.
Perhaps one of the most high-profile anti-war statements last winter in Paris was Andrey Kuzkin's (b. 1979) solo exhibition 'A. Kuzkin was here' in HUS gallery. The exhibition included a live performance called 'Phenomenon of Nature or 99 Landscapes with a Tree' and an open studio 'Time of War', in which this prize-winning performance artist put on show small sculptures made from breadcrumbs, collected from pieces of objects and rubbish found in his temporary home in France where he had arrived just three months previously. For Kuzkin, it was a way of mastering his new space and adapting to its unfamiliar living conditions. The tradition in Russian prisons of making small objects out of bread crumbs in the hands of an artist is endowed with a strong symbolic charge of the Christian concept of mortal human flesh as a dungeon of the spirit. His 'bread projects' have always addressed Russia's gulag past, but now the bread figures speak about the present too with its incarceration, torture and repression. Starting on December 16th, 2022, Kuzkin began to cover large sheets of paper with the statement 'I want the war to end', written in four languages: Russian, French, Ukrainian and English. The time spent doing this becomes creative material, turning repetitive writing into a meditative practice that the artist plans to develop until the conflict ends.
Located in the high-end and hipster district of Ménilmontant, the L Galerie is a new venture by cultural entrepreneurs Dmitry Dolinsky and Alexander Vishnevsky aka AD Artistic Agency. It was created in August 2020 within an association called 'The Russian Palette' which had been originally founded in 2007 by Vladimir Kara (b. 1956), a painter of Russian origin, born in Moscow who moved to Paris in the 1980s. 'The Russian Palette' also develops cultural exchanges between artists from all over the world and helps them to present their works internationally. Since its inception, many professional and non-professional artists have participated in various successful projects. Amongst them, in particular, the exhibitions 'Celestial Jerusalem, Terrestrial Jerusalem' at the 'Le Pavillon Carré Baudouin' and 'Sept manières de dire merci' at the Alliance Française de Paris, which were presented first to the French public and then in Israel, Florence, Padua, Dinard, Manama, Dnipro and Bogota. The L Galerie settled in Ménilmontant in the Autumn of 2022 and since then has presented a series of week-long solo and dialogue exhibitions of Russian artists such as Semeon Agroskin (b. 1961), Katya Sysoeva (b. 1977), Dmitry Bulnygin (b. 1965), and Vladimir Kara.
Moving to the classy Rive Gauche in April 2023 Galerie Robert Vallois hosted the solo show of one of the pioneers of Russian feminist art Tania Antoshina (b. 1956). Titled 'Space Ark', through a series of ceramic works the exhibtion narrated a fanciful story about the resurrection of an extinct animal species. It is a haunting vision of a future Eden where this extinct species will coexist with monstrous creatures from fairy tales such as mermaids, centaurs, sphinxes and dragons and questions not only contemporary ecological policy and chimeric genetic experiments but is a terrifying fantasy based on the vision of the consequences of mankind's deeds now. Another branch of Galerie Vallois in the neighbouring building belonging to Georges-Philippe and Nathalie Vallois represents Zhenya Machneva (b.1988) the only living Russian artist to take part in the main project of the Venice Biennale in 2022 and currently a resident of Cité Internationale des Arts. Talent spotted by the gallery owners in 2018 during the New Museum Triennial in New York she immediately joined their roster. Her last solo show 'Minor Sublimations' staged in the Autumn of 2022 was the largest of her recent projects which explores traditional, handmade tapestry weaving.
In the absence of even one Russian-oriented gallery in Paris that could show young contemporary art on a permanent basis, the works of artists from Russia are spread on a constant basis across many venues in the city. In April 2023 generation Z artist and model Jolie Alien (b. 2002) who first built her name in the fashion industry opened a solo show 'Private Chaos' in the heart of Marais district in the Salahin Galerie, specialising in female artists from the Middle East and Europe. Fashion, the creative industry in which she was immersed since her adolescence, is now an inexhaustible source of inspiration in hers painting of diaphanous bodies and portraits where faces merge and meld into their universes in an idiosyncratic, hybrid style of art brut and Jean Dubuffet (1901–1985). This exhibition shows more than forty paintings and works on paper depicting oneiric images reminiscent of a teenager's diary full of observations and a kind of chronology of dreams.
Ceramist and graduate of Les Beaux-Arts de Paris Apollinaria Broché (b. 1995) also has become a darling of the fashion world after her collaboration with Swedish brand Acne. Her 'wearable art' inspired by the porcelain figurines of the 1920s and 1930s, often displayed behind glass commodes, and installations commenting on the erosion of boundaries of our intimate space by social media appear in group shows in such spaces as Galerie Michel Journiac, New Galerie and POUSH where Apollinaria is a current artist in residence. Another artist in residence at POUSH is Victoria Kosheleva (b. 1990) who has recently become the first Russian artist to be invited to work on a series of lithographs at legendary print shop Idem in Montparnasse. The presses of Fernand Mourlot are in the space, an iconic master of the medium who worked with the likes of Matisse, Picasso, Miro, Chagall, Braque, Giacometti. There Kosheleva is preparing two series of works inspired by the aesthetics of carnivals of the past and the aesthetic traditions of Konstantin Somov (1869–1939), Alexander Benois (1870-1960) and Victor Borisov-Musatov (1870–1905).
Other Russian residents at POUSH are artist duo 'Recycle Group' whose fourth solo exhibition 'Expired Reality' was on view at the Suzanne Tarasieve gallery this Spring. The duo showed both new objects and high reliefs inspired by classical statuary and made of diverted industrial materials like PVC and thermoformed plastic mesh, as well as installations which are already recognisable, such as the 'Forest of Expired Links', shown earlier at the group's solo exhibitions at the Winzavod in Moscow and the Manege in St. Petersburg.
'Paradise Gardens', one of their most impressive new works on view was created in dialogue with Artificial intelligence. The artists asked neural networks to produce an illustration based on a text that described a utopian country, with no state and no social structures, in which everyone lives in harmony. Made as a futuristic landscape painting constructed out of honeycomb polycarbonate and plywood, the piece searches for a better alternative to the current sociopolitical reality that has forced many Russian artists to turn into nomadic refugees and reinvent themselves.
Olga Grotova (b. 1986) has long been better known outside Russia than in her homeland. In the Paris office of the Kadist foundation there is an exhibition of collection highlights titled 'Abstract Reality' including work by Grotova shown alongside Farah Al Qasimi (b.1991), Jean-Luc Moulène (b. 1955), Lisa Oppenheim (b. 1975), Joanna Piotrowska (b. 1985), Aubrey Williams (1926–1990) and other institutional acquisitions. London-based Grotova whose practice involves collecting and mapping stories of women from the Soviet Union and Eastern Europe that have been erased from established historical narratives creates a feminist interruption of the Russian political narrative plagued by extraction, colonialism, patriarchy, and imperialism.
The opening of self-organised artist spaces is a default survival strategy in the absence of any sustained structural support for contemporary artists by Russian private foundations, galleries, or even state organizations in France. Russian actor and artistic director of the experimental association Binary Biotheatre, Vasily Berezin (b. 1992) together with the artistic director of the Kruzhok collective and artist Falkov S.N. (b. 1987) have joined forces in community-building and made the most of French national policy which is favorable to squatting by establishing a community and artist-run space called 'Microcrédit' in Noisy-le-Grand Mont d'Est.
Microcrédit has organised theatre plays, movie screenings, concerts and exhibitions of artists such as Falkov himself, Vladislav Semenov (b. 1984), Arthur Krivoshein (b. 1994) and Vanya Volkov (b.1992), launched an open call and built a strong community of empathisers and supporters. Known for his punk approach to dramaturgy and work with nonprofessional actors, Vasya Berezin staged 'The Tibetan Book of the Dead' in an abandoned depot near the Kursk railway station in Moscow. 'Micro' refers to rooting on the ground, and 'credit' is Latin for trust, so as the founders say, Microcrédit is a place where people trust each other and engage in the arts, creating a haven for culture. The space is located near iconic Ricardo Bofill's retro-futuristic architectural ensemble Espaces d'Abraxas, known through multiple appearances in music videos and films such as 'Brazil' and 'Hunger Games'. So the hunger for cultural cross-disciplinary innovation has become a motto for the community, which is dreaming now of new summer open air projects, to stage theatrical plays on the amphitheater of Bofill's ensemble and to breathe new life into this emblematic place.
CAC – Synagogue de Delme
Agency of artists in exile
Stanislas Bourgain gallery
Hus gallery
L Gallery
Robert Vallois gallery
Georges-Philippe et Nathalie Vallois gallery
Georges-Philippe et Nathalie Vallois gallery
Michel Journiac gallery
New Galerie
POUSH
Idem
Kadist Foundation
Microcredit
Salahin gallery
Suzanne Tarasieve Paris gallery
Suzanne Tarasieve Paris gallery
Tonka Gallery