News
Katia Kameneva and Ivan Lounguine on architecture and destruction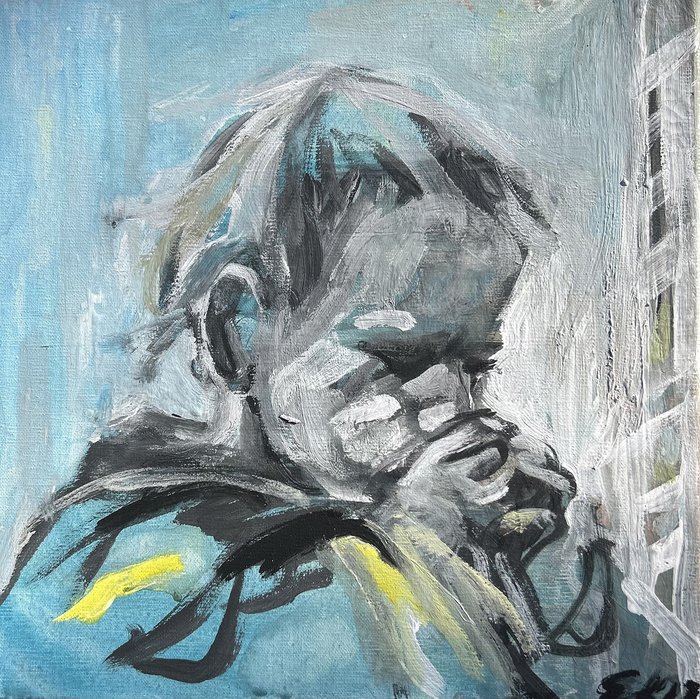 Katia Kameneva. Child, 2023. Сanvas, acrylic. Courtesy of the artist
Two artists of Russian origin have unveiled an exhibition in a private space in Paris, reminiscent of Soviet aptart. Their project is a poignant comment on the most critical issues of today.
Collector Paquita Escofet-Miro's Parisian maisonette, housing her exceptional collection of underground Soviet art was an apt space in which aficionados of Russian art (of which there are more than a few in the French capital after historical waves of emigration) gathered on 24th March at the opening of 'Maisons du Monde'. On the one hand the title refers to a popular French furniture brand, on the other, more darkly, to the Ukrainian houses destroyed by the 'Russian World'. Here, two artists born in Russia and now based in Paris, Katia Kameneva (b. 1971) and Ivan Lounguine (b. 1978) treated visitors to their embroidered entangled crosses and giant holes inside housing blocks.
"Our exhibition is a statement", Katia Kameneva explains to Art Focus Now. She has been living in Paris already for three decades. "It is so painful to be Russian at the moment. Ivan and I want to free ourselves. It's a kind of report on the conflict. As long as I can remember I have drawn destruction. I grew up in Moscow near the Arbat, where I constantly saw the destruction of historical buildings. Things have come a full circle". Her housing blocks, sardonic triumphal arches, are bombed out.
"I weave my crosses to try to show what has gone wrong" says Ivan Lounguine, who, like Kameneva, once commuted regularly between Paris and Moscow. "Over the past year, we have become used to evil, death and destruction. Death has become trivial; death has turned into embroidery. This is horrendous. I work so that I do not forget what death is. It's my own tally of the loss of Ukrainian civilians and military personnel". Lounguine left Russia in May, the day after he organized a 'Kvartirnik' (clandestine exhibition) in his home, because he didn't want to endanger friends who are gallerists. He also draws broken buildings, but in a more abstract way, showing their structure. It was only later that he discovered the building models he was inspired by were actually projects for Kharkiv, which he had found in the archives of his grandparents who had been architects. "I do not have any warm feelings toward Soviet-style housing, but still, there is some kind of nostalgia. After all, I grew up in Khrushchevki [five-storey housing blocks from the 60's]. The bombing of these buildings is a destruction of my childhood and of myself".
Despite the grim theme, at the opening there was a congenial atmosphere, all washed down with glasses of wine. Paquita Escofet-Miro who has been collecting art for over forty years is widely recognized as one of the best specialists of the Leningrad underground and herself is a draw for lovers of Russian art. At the opening red dots quickly appeared under the artworks: part of the proceeds will go to support Ukrainian artists and they are affordable. Small scale works start at 400 Euros while the most expensive work in the exhibition, a large painting by Ivan Lounguine, is on sale for 4000 Euros.
Katia Kameneva and Ivan Lounguine. Houses of the World
Paquita Escofet-Miro's flat, visits are by appointment only. Phone +33 6 83 05 55 25
Paris, France
March 23 – April 15, 2023