People
The Fizz of Grigoriev's non-ideology Op-art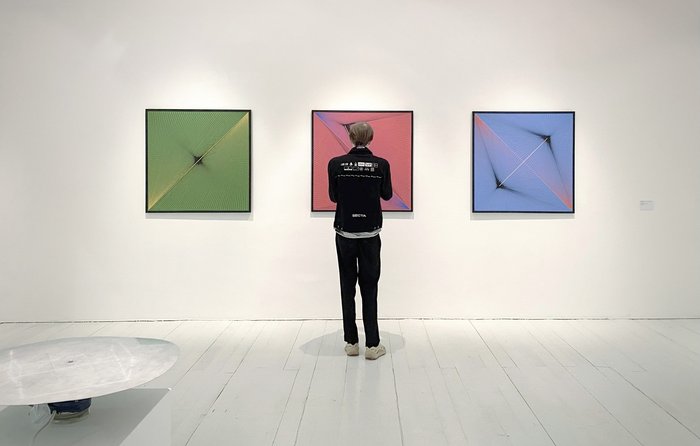 Alexander Grigoriev. About Transparency: Optical Environments. Roman Babichev Collection. Exhibition view at Moscow Museum of Modern Art, 2023
The first ever major retrospective of the work of artist Alexander Grigoriev from the collection of Roman Babichev is on view in Moscow. The artist is undoubtedly the protagonist of the exhibition, but he is not the only one among an exciting roster of stars.
In Russia, large museum projects over recent years have been galvanizing interest in Soviet artists of the 60s and 70s with solo exhibitions of Alexander Pankin (b.1938), Rimma Zanevskaya-Sapgir (b.1930), Mikhail Chernyshov (b. 1945) among others. Collector Roman Babichev, whose idea it was to show Grigoriev at the Moscow Museum of Modern Art, had initially seen his spectacular five-metre star in the Garage Museum's show 'Transatlantic Alternative. Kinetic Art and Op Art in Eastern Europe and Latin America in the 1950s-1970s' many years ago and it piqued his interest in the artist. Collector and artist became friends and five years later Babichev has assembled a significant collection of Grigoriev's works. "From the start I saw the importance of this heritage. His kinetic objects were less interesting for me, but Grigoriev's op-art offered something new and vital, I was drawn in" Later, the big star and other works by Grigoriev from Babichev's collection were presented to the public as part of the large-scale project 'Laboratory of the Future. Kinetic Art in Russia', which was shown at the St Petersburg Manege and later at the State Tretyakov Gallery in 2020-2021. The time had come for a major solo retrospective.
Grigoriev is a master of experimentation, trying out different genres and techniques making objects and reliefs and dabbling in photography, performances, kinetic games and set designs. However, it is his paintings, working with the transformation of optical illusions, that perhaps create the strongest impressions. His grids, fractal systems, kaleidoscopic constructions, mathematical renderings are unexpectedly diverse. His colour-bending compositions which literally vibrate, align in in some aspects to the work of Victor Vasarely (1906–1997) and Verner Panton (1926–1998). There are around 175 works included in the show, divided into eight themes – post-Suprematism and plastic experiments; kinetic games: performativity and the natural environment; alternative environments: cyberspace and dynamic structures; Op Art and ornamental painting; linear compositions: wave, rotation, impulse; geometry of structures; the third dimension: reliefs and optical-kinetic objects; and photocollages.
Alexander Grigoriev is now in his seventies, having been born in 1949 in Leningrad, now St. Petersburg. He studied at art school and at the Faculty of Architecture of the Leningrad Institute of Civil Engineering. After his studies, he worked in an architectural design institute in Leningrad, where fortuitously he met Lev Nussberg (b. 1937). "My peers introduced me to the work of Russian Constructivists, whom I hardly knew then. Leningrad was a very classical, city with its imperial past its fabric; Constructivism is there, but it is not obvious. And I was struck by the experiments of the 1920s." He began his artistic journey in 1967, when he created his first kinetic spatial objects. An artist of the 'janitor generation', he always had to adapt himself to the Soviet system, to be listed somewhere or, better, to work. Grigoriev considers himself lucky. In 1969 he moved to Moscow where he spent most of his life from 1973 to 2005 working as a freelance illustrator for Znanie publishing house. "There was freedom at the publishing house. No creative pressures, no ideological pressures," the artist recalls.
At the exhibition, Grigoriev's own works are supplemented with plastic experiments of other artists from different periods. There are spatial structures and photographs by Alexander Rodchenko (1891–1956), fabric sketches by Russian Avant-Garde artists Varvara Stepanova (1894–1958) and Liubov Popova (1889–1924), architectural graphics by Yakov Chernikhov (1889–1951), dreamy landscapes by non-conformist painter Oleg Vassilyev (1931–2013), and even one work by Vladislav Mamyshev-Monroe (1969–2013). There are also photographs by Lev Nussberg: Grigoriev took part in exhibitions and actions of the Dvizhenie (Movement) group, which included around thirty artists such as Francisco Infante Arana (b. 1943), Rimma Zanevskaya-Sapgir (1930–2021), and Vladimir Akulinin (b. 1943) until it disbanded in the early 1970s. One charm of the current exhibition lies in the reconstruction of the unique atmosphere of the late 1960s and early 1970s. Fractals and optical media are reminiscent of the pulse of the intellectual life of the Soviet scientific, technological and artistic intelligentsia, of bearded cigarette-smokers and bohemian women in ski jumpers and flared trousers, of cybernetics who were interested in the laws of art perception, of physicists who regularly visited the artist workshops, of belief in scientific and technological progress and of heated debates in the smoking rooms of Soviet research institutes.
The exhibition is dominated by paintings, many of which Grigoriev has made in recent years based on sketches from the 1960s and 1970s. While retaining the main focus on painting, the curators also address Grigoriev's design work, which was inventive, spectacular and captured the spirit of the times. Initially these were joint works with Lev Nussberg: the 50th Anniversary of the Soviet Circus, exhibition designs of Electronics, Chemistry-70, Electro-72, then stage and costume designs for performances by the Dynamics group. A special genre in Grigoriev's work is staged-performative actions, whose titles evoke dynamic forms and movement such as the Pagan Cross and Wandering Line, and the Lost Arrow, dating to the late 1970s.
Today Grigoriev is still incredibly active building on his impressive legacy. His work can be seen in the State Tretyakov Gallery, the Bochum Art Museum and in private collections in Russia. His monumental urban sculpture 'Cube's Reflection on a Circle' stands on Khitrovskaya Square in the centre of old Moscow. It seems that Grigoriev still has something to surprise the public in the near future. His most recent work has not made it to the exhibition. "They are there, but they are not psychologically ready. They are just too big.", says the artist.
Alexander Grigoriev. About Transparency: Optical Environments. Roman Babichev Collection
Moscow, Russia
February 22 – June 11, 2023