People
Mapping Marakulina's Psychogeography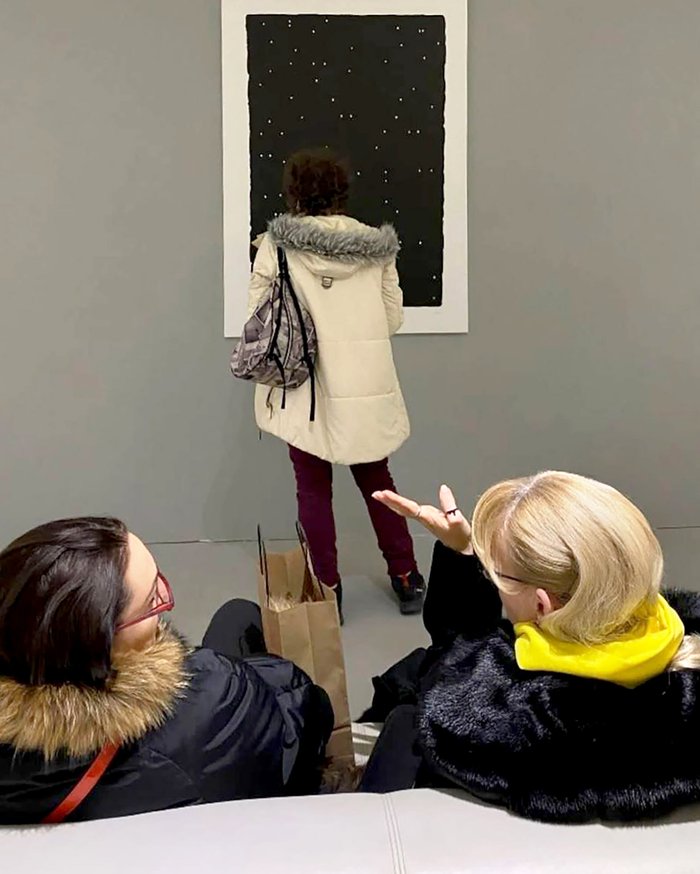 Asya Marakulina. Sun. Exhibition view. St. Petersburg, 2023. Courtesy of Luda Gallery
Prize-winning, russian-born millennial artist based today in Vienna, Asya Marakulina has currently two solo shows open to the public in St Petersburg. Although consisting of historical works, when revisiting them more recently the artist discovered hidden depths which have provoked new anxieties.
Millennial Russian artist Asya Marakulina (b. 1988) has created a consistent artistic legacy since she hit the Russian art scene a decade ago. She grew up in Perm, studied art in St Petersburg where she started to work as an independent artist before setting her sights abroad, firstly taking part in several international artist residencies around Europe, including in Switzerland and Norway, and finally settling in Vienna where she is currently continuing her studies at the Vienna Academy of Fine Arts. Despite her wanderlust, she has never lost contact with her home and continues to exhibit in Russia. Travel, displacement, maps, psychogeography, exploring both inner states and attempting to set external realities, these are all interrelated yet distinctive notions which have been present in her work since the very beginning.
Her work is on view at two concurrent exhibitions in non-profit art spaces, both in St Petersburg: 'Short Day' at the Sarai Gallery in the garden of the Anna Akhmatova Museum, and 'Sun' at the Luda Gallery, a long-term curatorial project by artist Peter Belyi (b. 1971). Luda Gallery's main space is in an independent art centre, 'Pushkinskaya 10' formerly a cluster of artist squats. They are both historical projects, comprising work created between 2016 and 2018 which consist of watercolours, prints, and textiles. Previously they have not been shown together and are all united through their palette - all monochrome, black and white.
One of Marakulina's first art teachers was artist Mikhail Pavlyukevich (1949-2021), who was trained as an artist in Leningrad who inspired her to study at the the Department of Film Art at the Faculty of Arts of St. Petersburg University, where she mastered the art of creating animation. As her graduation project she made illustrations to Yevgeny Zamyatin's dystopian 1920s novel 'We' which were widely exhibited before being published.
Initially following a traditional art course, she later graduated from the Young Artist School programme at the Pro Arte Institute in St. Petersburg. Already in her solo student project 'Once upon the map', created during her first artist residency in Belgium, there were themes and subjects evident which that would later characterise her art. The artist thinks in cycles and series, preferring techniques which require calm and concentration, such as watercolour or embroidery, which draw attention to the passage of time. Sensitivity to the everyday and the domestication of the world around her are important features of her art. The project 'Iron overtones' at Marina Gisich Gallery in St. Petersburg presented a whole family of soft, furry objects, like a two-coloured red and blue pencil or a glazed egg, and several dresses that also engage in a lyrical dialogue with the public, as well as demonstrating the artist's long-standing interest in the casual and vernacular aesthetics of urban courtyards.
After February 2022, Marakulina made several works about the tragic events in Ukraine. In the same year she enrolled in a Sculpture and Spatial Strategies course at the Vienna Academy of Art where she had found what she sees as a more sociable environment. "I'd been feeling quite lonely in my studio over the last few years, and I really wanted to collaborate and here that is happening, there is always someone there for a chat. I lacked socialisation in my studio alone'.
She had started work on the projects selected for the two exhibitions in St. Petersburg over five years ago and for her they have a new meaning. "The emotions that I feel in Russia now are much closer to my works made some time ago, although at the time I made them I had no sense of that. At times in my life when I was feeling very down, the only tools I had were to draw houses and grids with obsession, again and again". 'Short Day', originally an image of a megapolis, has acquired new, threatening undertones which she had not been aware of previously: "Then it was about mystery and the sheer numbers of people there are in the world. Each of us only know a small piece of space as a whole, and everything else is inaccessible, like all the books you'll never read in your lifetime. I walk through my neighbourhood now and see huge houses with thousands of people living in them. I'm sure there are already families behind these windows which glow brightly, who are reaping the fruits of what is happening to us all. What are they going through at night? What are they doing to their loved ones? It is frightening."
In 'Sun' she explores the motif of window grilles, which has acquired the features of an anthropological study, making it possible to draw conclusions in the field of national psychology. All aesthetics in the urban environment are a combination of the beautiful and the ugly, constantly balancing on the edge. Like the anonymous artisans of welded grills, Marakulina seeks to domesticate the alien hostile space, which is much easier to do by problematizing it. She reflects: "It surprised me how much the simplest sign, probably one of the first things that children learn to draw, can be variegated. How a person does the same thing in different ways. I thought about some unconscious desire to apply the amulet, because it is one of the oldest protective symbols, and one can only wonder if people thought about it when they started to design grids like this, or if it was just the first thing that came to mind. I also thought that no matter what people do, be it war, politics, emigration, death, birth, or disappointments of some kind, we all depend on the Sun, and that is what is most important" A large three-metre canvas 'The Road', also shown in the Sun exhibition, was originally part of the Four Rooms project, one part of which were embroideries that directly conveyed psychological states. The image of a road leading to mountain peaks and the sun on the horizon, made with white stitches on black fabric, had a clear therapeutic value. Now, with her interest in her new surroundings, you can see the decorative features of the Secession in this 2016 work.
For Marakulina, moving abroad has been a self-confessed success story. She has transplanted her native, creative identity onto new European soil and at the end of October she opened the exhibition 'Luck of space' at the Academy of Fine Arts in Vienna. Perhaps it all started with a map in her 2015 project 'Flap', depicting the flow of a river with tributaries, the Neva River. The image of a stream seems to carry something essential for the artist from Russia to Europe. Both of Marakulina's projects, which are being exhibited in St Petersburg, refer to the aesthetics and social experience of the 1970s, important for Russian artists in Russia and abroad. In those years, artists who emigrated were only able to take a strictly limited number of things, whereas today people need to make a decision about what they want to bring from their old to their new lives. The bubbling stream passing from work to work by the artist means no less than the phrase 'I took Russia With Me' expressed a century ago by Russian emigrant writer Roman Gul, who used it as a title for his memoir.
Asya Marakulina. Short Day
St. Petersburg, Russia
17 November – 17 December, 2023
Asya Marakulina. Sun
Luda Gallery on Pushkinskaya, 10
St. Petersburg, Russia
18 November – 18 December, 2023