People
From Foam to Steel: Sergei Shekhovtsov as a Plastic Artist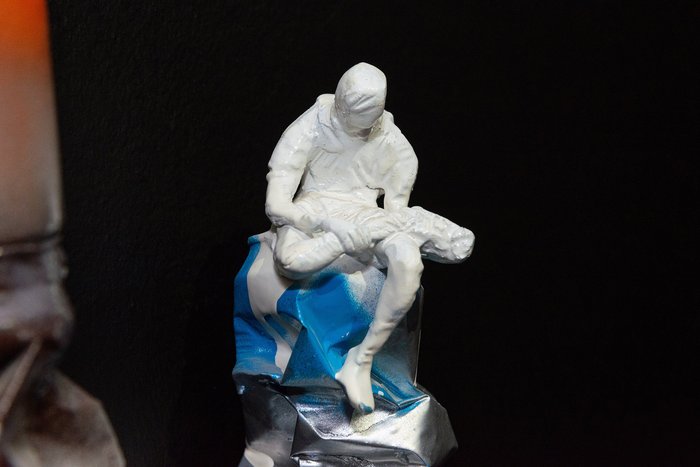 An artist working in 3D who was among the first to introduce new materials into the field of Russian sculpture, has opened a solo exhibition inspired by the Baroque at the Ekaterina Foundation in Moscow.
There is a guest house in Margate called the Happy Dolphin where you cannot get enough of dolphins. They are everywhere, on an ashtray, in a stained-glass window, on a wall panel. They are all shiny and made of plastic. This bright new world, made in China, is not just the preserve of a quaint British guesthouse, it is international and it brings Britain and Russia closer than any efforts by politicians or travel agents.
That we live in a plastic universe was a discovery sculptor Sergey Shekhovtsov (b.1969) made as he started out in his career as an artist. He later was given the nickname 'Porolon' (Mr Foam Rubber) which he used as a pseudonym. His new solo exhibition at the Ekaterina Foundation in Moscow presents a series of works he has been making over the past year.
'Dutch Still Life with Seafood and Shower' mimics kitsch with crayfish, octopus, squid and fish sprawled across a plastic frame around a mirror, along with clams and echinoderms (there is even a showerhead!). At the same time there is a dialogue through the ages with Frans Snyders' (1579–1657) 'fish markets'. "I have decided to embrace the Baroque," the artist says, "it's in the air. The insides of painting have come out into the frame, there is both irony and decoration."
An anxious white colour and rough texture with nicks and pimples distinguish these works from mere kitsch. We are reminded of their rawness and that they are handmade - Shekhovtsov models his 'Dutch Still Life' works out of quick-setting epoxy clay, which starts out like ordinary clay, but becomes rock hard in a day, allowing him to continue to add things to the form he has created. These new works also include found objects such as bits from old pipes, or a badminton shuttlecock. What has become pseudo-nature is wrapped up in plastic pseudo-objects together with technical things.
The artist does not like heavy handed, intellectual interpretations. "I try to take away as much meaning as I can and I reject the whole idea of 'what the artist wanted to say', I find a lot of literary explanations deeply annoying. What interests me is pure plasticity, the self-sufficiency of plasticity", stressses Shekhovtsov. This emphasis on the 'plastic' over the 'conceptual' shows his deep affinity with the works of his former Rostov colleagues, especially Valery Koshlyakov (b.1962). And the domination of irony in his work connects him with his friend the artist Avdei Ter-Oganyan (b.1961).
The first artist in new, post-soviet Russia to use foam plastic for finished works was Juris Lesnik (b.1957), an artist from the circle of Timur Novikov, before the latter's New Academy period. Lesnik was the director of Pirate Television, and in the early nineties made transformer objects from foam plastic, exploiting the unique qualities of this type of polyurethane
In the late nineties, independently, Sergey Shekhovtsov discovered foamplastic. Cheap, easy to work with, easy to paint and easy to transport, it proved the ideal substance for producing quick sculptures in challenging conditions. Originally from Salsk, a small town in the steppe, 180 kilometres from Rostov-on-Don, Sergey was for a long time indistinguishable among his friends, mostly natives of southern Russia, who founded a squat in Moscow near Baumanskaya subway station, where Sergey lived with Avdey Ter-Oganyan, Vladimir Dubossarsky (b.1964) and others in a tight-knit artistic community.
Shekhovtsov learnt about the organisation of space and the sculpture of form Yuri Korolev (1929–1992), one of the founders of Brezhnev's modernism and director of the Tretyakov Gallery, while as a young man Shekhovtsov was beginning his own private studio practice in Maslovka street. He breezed his way into the Surikov Art Institute, graduating with a degree in painting, having studied there under Nikolai Andronov (1929–1998), the founder of the 'austere style'. "At the beginning of the first class he came into the room and put a skull in front of some black drapery for us to paint. But how to paint it? The three of us sat and looked at each other," Sergey was one of the first students in this new class which was not popular at the time.
Today we are sitting in his studio on Gostinichnaya Street, which he was given by the Association of Moscow Sculptors. Well over two decades have passed since Shekhovtsov transitioned from painting to sculpture, perhaps becoming the first member of the official Moscow Union of Artists to work almost exclusively with plastic rather than using more traditional materials. Now plastic is no longer the hallmark of a kind of sophistication in contemporary art, as it was back in the nineties. Today, bazaars of plastic cherubs and fountains have become a characteristic part of the landscape of the Central Russian roadside.
Shekhovtsov uses kitsch as a source of inspiration. After trips to the biennales in Sao Paulo in 2004 and Venice in 2009, he can already be considered as a classic of contemporary Russian sculpture. From carving small objects out of coloured foam plastic in the nineties, he has moved on to monumental works such as Love (2021), which was first installed in Kuskovo Park in Moscow, then in Sokolniki Park. It is his answer to Robert Indiana's (1928-2018) Love, but also, at the same time, an homage to the popular Soviet film 'Love and Doves'; the rusty Cyrillic letters that make up the word 'love' in Russian, and written in romantic italics, are planted with plastic doves that use the monument in their own way. The object provoked outrage on social media because of the pigeon droppings painted on it.
Sergey Shekhovtsov effortlessly deconstructs pop art, baroque and social realism. He contrasts plastic with metal, light with heavy, irony with pathos, frame with picture. His old foam works were too fragile, too exposed to the ravages of ultraviolet light. But today he has found materials that allow him to work with foam, retaining its texture and lightness while permanently fixing its structure. He is thinking about new works from the material that made him famous.
Sergey Shekhovtsov. Frames and Sculptures.
Moscow, Russia
28 April – 25 June 2023