People
Alexander Dzhikia's Fusion of Irony and Myth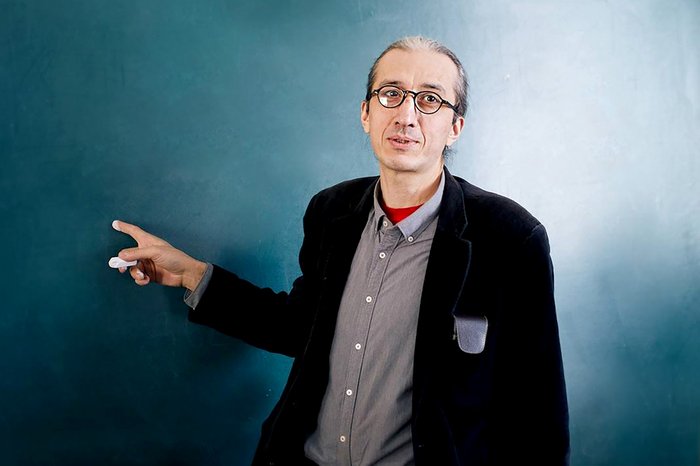 Portrait of Alexander Dzhikia. Courtesy of HSE University
A retrospective charting four decades of Alexander Dzhikia's work has opened at the Russian Academy of Arts in Moscow with a simultaneous exhibition at the Krokin Gallery showing works made of iron.
Marking four decades since he held his first solo exhibition at the Moscow Institute of Architecture in 1983, 'Alexander Dzhikia. Forty Years in the Ranks' is a journey through the artist's entire creative development from his early ironic yet lyrical drawings to his decoupage of recent years on mythological subjects and fairy tales.
In the show you encounter his signature works on paper, the exhibition spaces dotted with large scale wooden sculptures, mostly painted in red, some decorative, others loaded with Dzhikia's caustic humour. There is a framed mirror imitating the coat of arms of the USSR, the title of the work a quote from a once popular Soviet song: 'Lenin is in you and in me'. He identifies his interest in three-dimensional sculptural forms as coming from his days as a student in the Institute of Architecture. It was his father who wanted him to become an architect, but despite qualifying in the field, he decided to follow his heart and do what he calls 'something in between literature and the fine arts'.
The sense of being inbetween something has dogged Dzhikia's career as art critics have struggled to define him over the years. Since the early nineties he has been a prolific draughtsman, his drawings border on caricature with odd, expressive scenes and equally strange captions such as 'Scared passers-by at night with the shadow of my finger, and many stopped', 'The Minotaur strangles Ariadne for infidelity', 'Bach plays Vivaldi' and 'Girl pulling out a splinter' which is a reference to Michelangelo's iconic sculpture.
These drawings with their weird inscriptions are distinctive and eccentric; although they seem to share something in common, they cannot be seen as designs for comic books, and there is something random about how he organises the works into series in which some works have the same title but are apparently unrelated. Some evoke the album art of Ilya Kabakov (1933–2023) for their style and use of colour, such as 'Grandma wanted to smell the tea, and the kettle grabbed her by the nose! '. His Minotaur series brings to mind the favourite mythical character of Pablo Picasso. On such comparisons, Dzhikia professes that he has never considered Kabakov a great artist. "He is a good illustrator, nothing more". And although he calls Picasso the greatest artist who ever lived, he adds, "the Minotaur was painted three thousand years before Picasso!".
Aside from irony and ridicule, there is often lyricism in his work, even sentimentality, especially in his earliest works and in those he has been working on recently. In his work of 1988 called 'My Iron Hands' we see a man who is not able to hug a young woman who is nestling into him because of his hands are made of iron. Or there is his 2012 'It's too late to grab your head, it's time to grab your heart' in which an old man places his hand over his heart. If you think this is a call for us to be more caring and soft-hearted, Dzhikia shoots back: "I am never looking for any specific interpretation, but I do leave inscriptions which are like diary entries. It is all about myself, it is not about my heart or my head".
Dzhikia's retrospective can be seen as a kind of autobiography, a frank one, spelled out and articulate. Yet the last rooms of the exhibition at the Academy are hung with decoupage works evoking myth and fairytales which do not appear to be personal at all. "In the early eighties the world was still harmonious, and in the nineties, it collapsed, and I along with it" explained the artist. "The mirror shatters along with what it reflects. Absurdity accompanies us to this day. Now for me life is bigger than us and our worldly cares, it is beautiful."
Life, he says, is at the heart of the parallel exhibition at the Krokin Gallery. Called 'Tin' it presents recent works painted on iron sheets in dark red and black nitro paint. About these works the artist explains, "I return to reality, to the reality with which we are most familiar. For me, the material of tin, with its reflective surface, is a mirror that reflects this reality". He says the curvature of the mirror is determined by our individuality.
The works on paper in the show are haunting, the dark red colour he uses in them reminiscent of venous blood. If on the surface they are similar to earlier works by the artist, they have far less irony and are more philosophical, and the titles are uncharacteristically easy to follow: 'Eureka! Freud discovers psychoanalysis', 'The Trojan Horse', 'The tree caught the woodcutter's leg'. It may be one step closer to rational thought but still it paints a strange, paradoxical and disturbing reality.
Alexander Dzhikia is a well established figure in the Russian art world, a member of the Russian Academy of Arts who has had dozens of exhibitions in major national museums across Russia and Europe as well as in the USA. He has also held many distinguished teaching posts both at home and abroad. In spite of this and the impressive tally of 'forty years in the ranks' he has remained down to earth, fending for himself in what is a tough economic reality for contemporary artists in Russia. On his social media page in 'Vkontakte' he is a prolific poster of his own work, both old and new, all treated in his ironic, idiosyncratic yet masterful way
Alexander Dzhikia. Tin
Moscow, Russia
4 August – 4 September, 2023
Alexander Dzhikia. 40 Years in the Ranks
Moscow, Russia
23 August – 10 September, 2023