News
Monika Sosnowska's Unconventional Sculptures are on View in Switzerland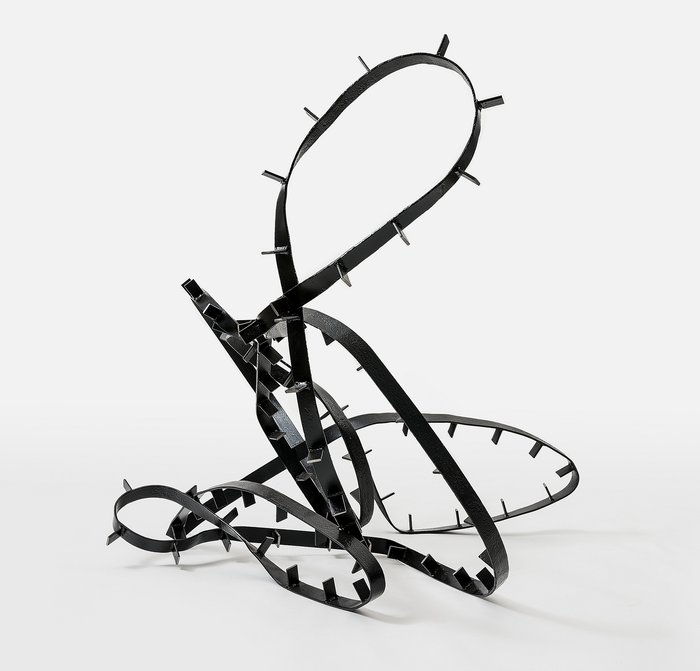 Monika Sosnowska's exhibition has opened at the Paul Klee Centre in Bern. Art historian, curator and art dealer Sergey Popov shares his impressions of the show.
It is perhaps no exaggeration to call Monika Sosnowska (b. 1972) the most influential Polish artist of her generation. Hers was the last generation to have first-hand knowledge of the realities of what was called developed socialism and life 'behind' the Iron Curtain. The bleak yet hopeful history of those decades is reflected in Sosnowska's art, in the most unexpected of ways.

Although she studied painting at the Fine Arts Academy in Poznan and Rijksakademie in Amsterdam, the medium she made her own is sculpture, and she understood it in a highly idiosyncratic way. On the whole, her body of work can be divided into two parts: there are the rolled up, twisted metal constructions, sometimes with concrete elements; and then her space-rooms, in the spirit of total installations by Ilya Kabakov (1933–2023), but even more absurd, embodying metaphors of Franz Kafka and M.C.Escher (1898–1972). Both are in one way or another related to architecture. Yet it's not contemporary or classical architecture, rather that of late modernism, once austere, brutal and brimming with pathos, now it often lies in ruins especially in the East of Europe.
The claustrophobic spaces constructed by Sosnowska, her 'dreams of the mind' of Communist utopia, are often shown at the major biennales, Venice or Manifesta. Here, exhibited in the museum in Bern, there are stationary objects, about two dozen making this Sosnowska's largest exhibition in Europe in recent years. Artworks are spread across the floor, suspended from the walls and from the ceiling, one even pinned down by a wall, sticking out from under it on both sides like a crushed insect. The artist designed the exhibition herself, and each object is given ample space to interact with other works on display and for viewing from multiple angles. A unique feature of the show is a section with three-dimensional sketches, showing how carefully Sosnowska calculates the effects of her work. And there is a slideshow detailing the remains of Eastern European Socialism which have inspired the artist today and how much effort including engineering and complex machinery is sometimes required to create her large sculptures.
These sculptural works are not just twisted hulks of architectural structures, of walls, slabs, staircases. And they are not at all fragments of ruins, as they might seem when you first encounter them. The neatly painted, shiny surfaces of the works let them balance between old - abandoned - and new - potential. The poetics of broken benches and abandoned playgrounds resonate with the arithmetic of scrap metal, ready to be transformed once again into something useful. Sosnowska's sculptures are frozen in the tension between a failed utopia and an ill defined present perspective. The artist senses the visual potential of images of deformation with precision, but nowhere does she amplify it or dramatise it. The exhibition is intelligent and somewhat poignant and feels particularly relevant at a time when the land to the east of Poland lies in ruins once again.
However, her art is far from limited to didactic reflections on European expansion after Socialism. Sosnowska has inherited both the pragmatic lessons of Constructivism, including its Polish branch, and the rigid scholasticism of Minimalism. She handles the 20th century's obsession with grid like structures in visual art differently from other leading artists of the past. Her metaphors unfold in the most diverse directions. In the exhibition spaces at the Paul Klee Centre, which seem to grow into the Swiss landscape, her works also acquire here an ecological dimension, a reminder of some of the more alarming consequences of human manufacture and industry.
Monika Sosnowska
Bern, Switzerland
3 June – 10 September, 2023