News
Artist Katarina Love: slums and compassion in the provinces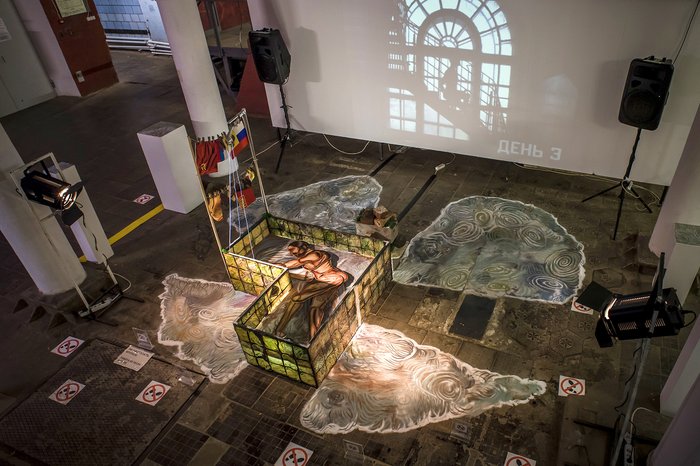 Katarina Love. The Mannequin, 2022. Exhibition view at Fabrika Centre for Creative Industries. Courtesy of the artist
A Russian artist from Tver finds both tragedy and hope in an old working-class district turned into a contemporary slum, once built by one of Russia's most powerful art patrons: the Morozov family.
Bloggers swoon over the dystopian interiors of the Morozovsky Barracks, an historical district with a sad fate in the central Russian city of Tver. For the inhabitants it is living hell. At first glance you might assume it is uninhabited until you find an unlocked door, venture inside a derelict red-brick building, and in a huge corridor, you see fridges lined up against the wall, the doors secured with heavy chains and locks. Walls and whole facades crumble apart, buildings lack running water and toilets beg to be left undescribed. People living here are social outcasts from orphanages or dysfunctional families. One building is called Paris for its picturesque architecture but it is a ghetto and no-one walks past it after 8pm because those who populate it carry knives. Yet in her work about this haunting place, local artist Katarina Love (b. 1987) looks for compassion for the members of this marginalized community struggling to survive in these ruins.
It's hard to believe that this slum is a popular highlight on guided tours of Tver. The Morozovsky Barracks - or Morozovsky Town - were originally conceived as model housing for workers, thoughtfully designed and equipped with modern amenities its founders deemed appropriate for the lower classes. It was built between 1958-1913 for the staff of a nearby textile factory belonging to a clan of wealthy industrialists and connoisseurs of the fine arts called the Morozovs. Their collection of Impressionist and Post-Impressionist paintings was nationalized after the Bolshevik revolution of 1917 and later divided between the Hermitage Museum in St Petersburg and the Pushkin Museum in Moscow. Morozov owned factories in several Russian cities, Tver was one of the biggest in the country.
The living quarters for its workers were immense. The complex included over fifty buildings: the red-brick barracks, a hospital, nursery, school, library and even a theatre. Living quarters woefully met the standards of the era. Dozens of rooms lined the wide corridors of the barracks, each one housing a family or several single workers, with shared toilets on each floor. There were strikes and protests by the workers here during the revolutionary unrest of the early 20th century and the Morozovs closed the library and theatre, fearing the dissemination of dangerous ideas. The Soviets quickly nationalized the factory in 1918 and although it was reconstructed after being severely damaged during World War II it was closed in the 1990s. During the Soviet times the barracks were abandoned, yet people kept on living there. And they are still living there today.
As a child, Katarina Love knew the Morozovsky district and was familiar with its story. "In Tver there are lots of beautiful buildings and nice restaurants and bars. But to see the real Tver you must go to Morozovsky town". It was not until she found herself living in similar conditions that she took a closer look at the slums in her work as an artist. In a fit of optimism, she spent all her savings on buying a room in a run-down former dormitory building and found out later that it was impossible to sell. So, for seven years she lived in this one room together with her husband and child, cramped further by the dismantled parts from her art installations. But the experience taught her to find beauty in the most unlikely of places. She gradually got to know people who lived in the Morozov Barracks chatting with them on benches in the courtyard or by the children's sand pits and they invited her into their rooms. They wanted her to show others how they live, something which made the artist uneasy.
In her photographic work and videos there are no images of people. Her approach is spiritualistic rather than documentary. She speaks with pathos about a 'Way of Hope' as the only exit strategy. She shares the apocalyptic premonitions of a slum dweller, who professes when falling asleep not to know if they will wake up in the morning. There is one inhabitant of the spaces she captures through her lens, her alter ego: an artist's wooden mannequin. This androgynous mannequin is bare and vulnerable, its body covered with scars and tattoos. She replaces the real inhabitants of the slums with this little figure who becomes their advocate and voice. The mannequin bathes in a discarded bathtub or sits wistfully on the stairs. This motionless, rigid figure finds beauty in these derelict yet densely populated spaces.
Ultimately her art is about people not places. "It is easy to blame it all on the people, to say they should try harder, get an education, start a career, break out of the squalid conditions", the artist says. "But for mental and psychological reasons, this lifestyle is unsurmountable". She sees beyond the tragedy. There is mutual support in the barracks as well as the bad side of capitalism. "People put locks on their fridges and their toilets, but there are others who form communities that cook together in a communal kitchen or plant common indoor gardens". Her art project includes ephemeral sand-and-salt abstract pictures made on the floor, videos and the mannequin itself and its scope reaches beyond the walls of the Morozovsky slum for there are smartphone snapshots taken by her friends in Nizhny Novgorod, other Russian cities and even a few images from abroad. She does not tell you where each one was taken and you cannot guess – the plague of desolation and neglect is universal. In the end, the artist left her own slum. She moved with her family to a village just outside Tver, "where moose run down the streets and there are remains of burned-down houses". There is no end to dystopia.