Discoveries
Georgian Art Captivates Audiences in the West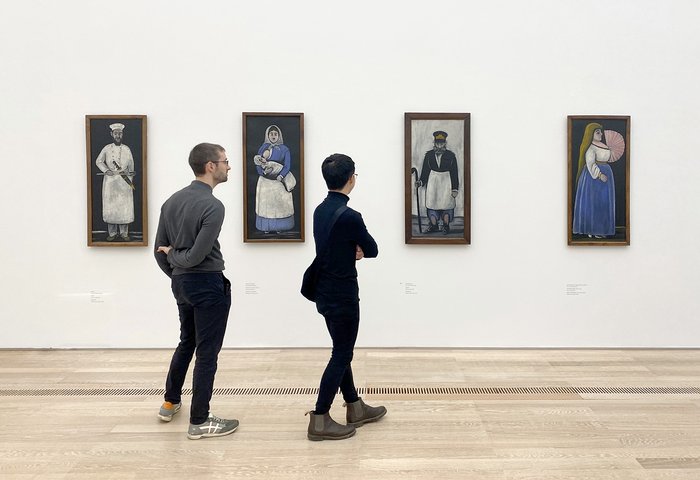 Niko Pirosmani. Exhibition view. Fondation Beyeler. Basel, 2023. Photo by Alexaner. A. Bourganov. Courtesy of Alexander A. Bourganov
The exhibition of Georgian self-taught artist Niko Pirosmani at Fondation Beyeler attempts to fit his story into bigger socio-political and cultural narratives and comes at a time of a spate of Georgian cultural events around Western Europe.
The Niko Pirosmani exhibition, hosted by the Beyeler Foundation from 17th September 2023 to 28th January 2024, represents a cultural milestone. This exhibition marks the first time Pirosmani's work has been shown in Switzerland since 1995, and it is one of the largest international exhibitions showcasing his work with nearly fifty paintings on display. Organized by the Fondation Beyeler, the Louisiana Museum of Modern Art and the Georgian National Museum and the Ministry of Culture, Sport, and Youth of Georgia, with the generous support of the Infinitart Foundation, this exhibition sheds light on the enigmatic nature of Niko Pirosmani's (1862–1918) artistic scope. Curated by Daniel Baumann, it also includes contributions from contemporary Georgian artists Thea Djordjadze (b. 1971) and Andro Wekua (b. 1977) and offers the opportunity to delve into the captivating world of Georgia's most iconic artist.
Born in 1862 in the village of Mirzaani, Pirosmani started painting at a young age and was self-taught. His paintings mostly depict rural scenes, everyday life, Georgian festivals, and animals, their expressive power found in their sense of simplicity and naivety. There are his bold colours, the flat perspectives, and a distinctive use of space. Despite Pirosmani's lack of formal training, his artistic talent and ability to capture the essence of his subjects made him a beloved figure in Georgian art. Today his work is celebrated for its charm, authenticity, and perhaps the glimpse they offer into the cultural and social fabric of early 20th century Georgia.
Pirosmani's fame on the world art scene came later than many other avant-garde artists; he was not known personally by his French and German contemporaries. However, Pablo Picasso, without ever meeting him, produced an image of him in 1972. This remarkable connection came about through Ilya Zdanevich (1894-1975), a Tbilisi-born writer, publisher and art critic who was part of the Russian Futurist movement before the Bolshevik revolution, had left the country in 1920 and finally settled in France. When he showed a catalogue of Pirosmani's work to Picasso, the latter was deeply moved and created a portrait honouring 'Niko'.
Interest in Niko Pirosmani has grown in European museums over the past few years. In 2018, the Fondation Vincent van Gogh in Arles held an exhibition 'Niko Pirosmani – Wanderer Between Worlds', showing twenty-nine of Pirosmani's works alongside five paintings by Vincent van Gogh. The Albertina Museum in Vienna hosted an important exhibition of Pirosmani's art in 2019, offering viewers an equally extensive collection of his work. The collection currently exhibited at the Fondation Beyeler was previously showcased at the Louisiana Museum of Modern Art in Denmark.
The Pirosmani exhibition at the Beyeler Foundation is curated by Daniel Baumann, director of the Kunsthalle Zurich since 2015. In 1996 he became curator of the Adolf Wölfli Foundation in Bern, and from 2003 to 2010 he directed Kunsttangente, a public art project in Basel. In 2004, Daniel Bauman organized an ongoing series of exhibitions in Tbilisi, Georgia, and in 2008 he co-founded the New Jersey independent art space, also in Basel. In 2013, he was co-curator of the Carnegie International in Pittsburgh. Since arriving at Kunsthalle Zurich, Daniel Bauman has curated exhibitions with artists such as Andro Wekua, Phyllida Barlow (1944-2023), Albert Oehlen (b. 1954) and Rob Pruitt (b. 1964).
Designed by renowned architect Renzo Piano, the museum's minimalist and spacious architecture perfectly complements the artworks on display. There are nine spacious halls dedicated to the Pirosmani exhibition and two paintings by Picasso and a huge panel by Henri Rousseau (1844-1910), titled 'The Hungry Lion Attacking Antelope', greet the viewers at the entrance, the perfect stylistic parallel and marking Pirosmani's the rightful place in art history. The layout of the exhibition does not attempt any classification of the artist's works, the curator does not offer us a dramatic narrative or a library archive; instead, he set us up for a contemplative immersion in the context of Pirosmani's work.
The exhibition at the Fondation Beyeler also includes works by two contemporary Georgian artists, Thea Djordjadze and Andro Wekua. A striking metallic glass installation filling an entire room by Djordjadze, a German-Georgian artist based in Berlin, is dedicated to Pirosmani's biography and bibliography, presenting archival materials, photographs, catalogues, and inspiring quotes. Andro Wekua, who lives today between Zurich and Berlin, incorporates one of Pirosmani's works into a chapel-like setting, evoking the spiritual essence of Pirosmani's images. Within this space, visitors also experience Wekua's painting titled 'Face Looking' and a sculptural composition titled 'Short Note' crafted from enameled and patinated bronze, painted aluminum, chrome plated steel and with lights. The minimalist and ethereal ambiance it creates lends the entire exhibition a sense of spirituality and mystique.
Against the backdrop of the European Commission's long-awaited decision to grant Georgia, one of the oldest states in modern Europe, candidate status for EU membership, this international Pirosmani exhibition has a socio-political resonance. At the same time, his works are also on display at a major exhibition of Georgian modern art at the Bozar in Brussels, 'The Avant-Garde in Georgia (1900-1936)' which runs from 5th October until 14th January 2024. Although Pirosmani's style was contemporary with the pan-European avant-garde of the early 20th century, he was largely isolated from communication with artists in the West, due to the First World War and during the fall of the Russian Empire and the establishment of Soviet power, shortly before his untimely passing (story has it that he died of the 'Spanish' flu). There are some parallels echoing here for contemporary Georgian artists, whose formative years were marked by tragedies and migration following the devastating events of the 1989 Sukhumi riots and the Georgian Civil War between 1991 and 1993, triggered by the disintegration of the Soviet Union. So, this exhibition not only presents a captivating overview of this undisputed Georgian genius but also subtly narrates a tale of contemporary Georgia, revealing the profound connection and synchronicity between European and Georgian culture in both the 20th and 21st centuries.
Niko Pirosmani
Basel, Switzerland
17 September, 2023 – 28 January, 2024