People
Yegor Ostrov and his musical angels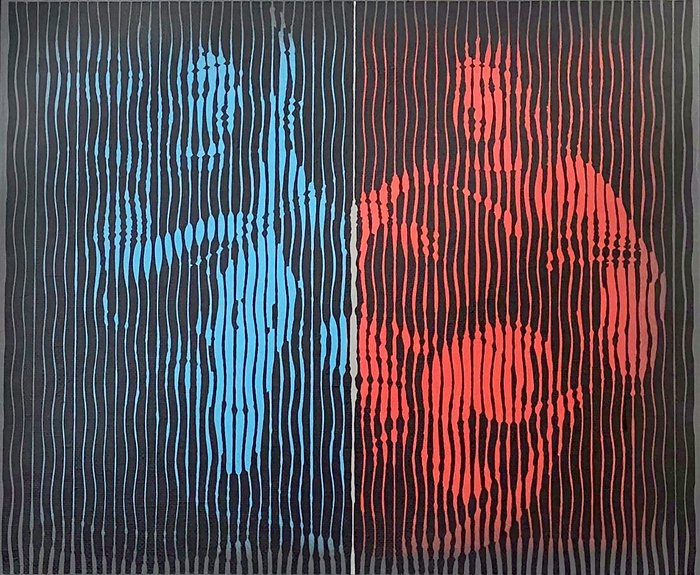 Yegor Ostrov. Musical angels (after Francesco Francia), 2019. Acrylic on canvas. Courtesy of E.K. Artbureau gallery
The neoclassical spirit of St.Petersburg's New Academy lives on in the work of Moscow-based artist Yegor Ostrov. His solo exhibition, the first in four years, has opened at the E.K. Artbureau gallery in Moscow, with another coming up in October.
Moscow's E.K. ArtBureau Gallery opened the new season with an exhibition of recent works by Yegor Ostrov (b. 1970), an artist from St. Petersburg who moved to Moscow many years ago. Think of St. Petersburg, however, not as just a city but more an aesthetic stance necessary to a deep understanding of Russian Neo-Academism. Talking about the 'European tradition' and 'pictorial values' in Russia is impossible without the Hermitage and the Neva shoreline.
'At school our whole class was taken on a two-hour field trip to the Hermitage every week' recalls Yegor Ostrov. 'In Petersburg you partly become an Italian artist because you live in a partly Italian city, and when you leave you become a St Petersburger.'
The exhibition 'Overture. Harmony over Chaos' shows religious paintings yet not made for a church. Here the role of the sacred is played out by the history of European art. The place of a temple is occupied by a museum. And the role of the Museum per se is played by the Hermitage. Ostrov makes accurate imitations of European Renaissance and Mannerist paintings, but not copies. He creates these imitations using a special pictorial technique or 'wave mode'. Each image is made using a grid of lines. Art 'as in the Hermitage'. But on a new technological level. And in a new paradigm.
The artist continues the tradition of New Academy of Timur Novikov (1958–2002), the leader of the St Petersburg art scene of the 1980s and 1990s, many years after the group ended its existence. 'I was very active in the 90s and convinced everyone of the need for canons, traditions, an academic approach,' says Yegor Ostrov. Today he leads a reclusive life in a dacha in the well-heeled Moscow suburb Nikolina Gora, once a summer retreat of Soviet academics and composers, famous actors and writers.
'Timur and the New Academy took a radical stance and fought against Modernism, and now we no longer do,' the artist confesses, 'The New Academy had something to do with postmodernism. When I was left on my own, I got out of postmodernism. I work in the Mannerist tradition of engraving. After the New Academy, I went into technique, into craftsmanship, away from ideology. My ideological position is still there, but I have no desire to go to the barricades'.
Timur Novikov was a neo-academist with tongue in cheek, there was always a gap between what he proclaimed and what he did. This gap was filled with his irony. Yegor Ostrov is a neo-academicist without irony.
The minimal unit of representation in geometry is the point, in oil painting after Titian it is the smear. Yegor Ostrov offers another pictorial mode, in which the minimal unit is a line. In this way his paintings are similar to calligraphy or chiselled engravings. The thickening or thinning of these lines has independent meanings: they give colour some density and space depth. As a result, if you stand at a distance the figures he depicts appear as whole, while close-up they look like rows of curved lines.
'From the very beginning of his artistic career, he has sought to combine academic notions of beauty with elements of computer art,' Timur Novikov wrote about him in 1997 Ostrov's first work with a raster, 'David', was made in 1992: a small image of the famous statue's head is made with a few thick lines. Today, the artist paints with acrylic on canvas using a system of stencils made for each individual picture. It is a complex and painstaking technique requiring accurate calculations and painterly skill.
For Ostrov, academic training is a family legacy. His grandfather Pyotr Belousov (1912–1989) was the author of the textbook picture "We'll go the other way" (1951), which was printed in school textbooks in Soviet times, his grandmother Liya Ostrova (1914–2009) taught drawing at the Academy of Arts, and his father Svetozar Ostrov (b. 1941) was one of the most famous book illustrators in Leningrad during the Soviet era.
Ostrov painted his first musician in the early noughties, it was a work based on the image of Caravaggio's The Lute Player. Today, the centrepiece of E.K. ArtBureau's exhibition is 'Overture. Polyptych (by Memling)' (2022). 'Music-making angels' painted in the 1480s by Hans Memling, an artist of the Northern Renaissance, is reinterpreted in a five-part composition, over five metres long: winged figures with instruments in their hands are presented on a gold background, reminiscent of Byzantine icon painting. 'Musical angels are a theme which cuts across genres and traditions, because it embodies a state of absolute harmony,' says the artist. The exhibition features angels inspired by Albrecht Dürer, Jan van Eyck, Francesco France, Bartolomo Montagna and El Greco.
Yegor Ostrov in his own way has combined Neo-Academism with Op Art. The special effect of his pictorial system is linked to the oscillation of waves. Painting comes alive because the raster creates a pulse which the human brain interprets as movement.
There were two main lines of development in the Russian post-war underground: one was modernism and the other was mysticism. Ostrov completely rejects the modernist continuity and remains an heir to the other - mystical - tradition. He depicts angels as luminous beings, half incorporeal, composed of something resembling fibres of colour. These waves resemble the interpretation of man in the teachings of Don Juan, the hero of Carlos Castaneda's books. 'In 1985, Castaneda was brought to me by my mother, it was a typewriter-printed carbon copy,' the artist recalls.
Harmony is a key concept for Ostrov. 'Spivakov said that my paintings are very musical, he can hear my paintings,' the artist explains. Vladimir Spivakov, the violin virtuoso, is a collector of Ostrov's paintings. Superstring theory is important to the artist: 'When I read the meaning of string theory, my works turned into hyper-realism for me, because that is what it looks like when you peer into the depths.'
The exhibition 'Overture. Harmony over Chaos' will run at the E.K. ArtBureau Gallery until 13th of November. The next solo exhibition of Yegor Ostrov's work will take place at Rosizo from 26th of October till the 4th of December 2022
Yegor Ostrov. Overture. Harmony over Chaos
Moscow, Russia
September 8 – November 13, 2022
Yegor Ostrov
Moscow, Russia
October 26 – December 4, 2022