People
The Gentle Punk Oleg Kotelnikov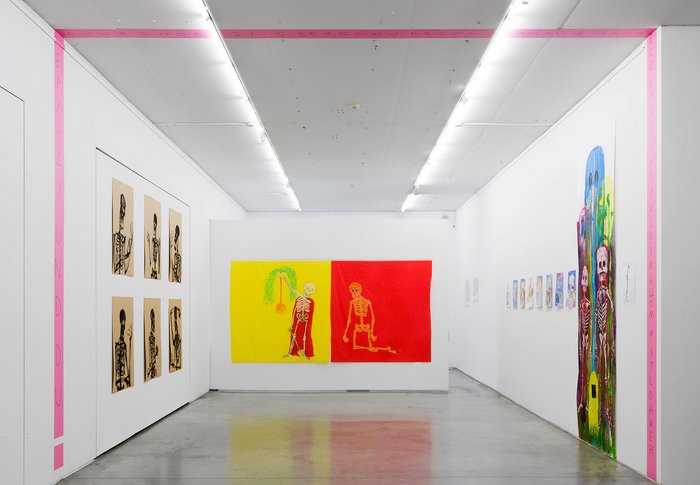 Oleg Kotelnikov. Tenderness (Pro-Nezhnost). Exposition view. ART4 Museum. Moscow, 2023. Photo by Natalia Melikova. Courtesy of ART4 Museum
An exhibition of celebrated artist Oleg Kotelnikov has opened at the ART4 museum in Moscow. Once one of St Petersburg's artistic diehard rebels, today there are still skulls and skeletons but it is all in the name of a spirit of tenderness.
Oleg Kotelnikov (b. 1958) has always been a monster of the St. Petersburg art scene, a true punk. His art bursts with raw creative power and brute savagery. It was his 1982 painting 'Brushstroke' that gave its name to a large retrospective at the State Russian Museum in St. Peterburg in 2010 dedicated to the New Artists group, one of the most significant phenomena of Russian contemporary art that still resonates today. Its origins go back to a time when Kotelnikov and Timur Novikov (1958–2002) sat at the same school desk, drew comics and hung out together. In 1982, as young artists, Timur Novikov, Ivan Sotnikov (1961–2015), Oleg Kotelnikov and their friends created the New Artists group, which for the next decade was to become the core of a whole artistic movement, a new phenomenon which came to define the culture of Leningrad (later St. Petersburg) in that era.
The 20th century Russian futurists were a major inspiration for Kotelnikov when he started out as an artist. In the 1980s he and his cohort saw an exhibition at the Russian Museum on the art of Mikhail Larionov (1881–1964) which revived the futurist idea of 'everythingness' after many decades. The powerfully liberating notion that art can be created anywhere, anytime and from anything. For the New Artists, painting had even more potential as a liberating force than for the Neue Wilde and CoBrA movements in Western Europe, with which they are compared. The New Artists literally rescued the Leningrad landscape of the last years of Soviet power from dullness and exaggerated seriousness. Shunning official life and setting themselves apart from the previous dissident generation of nonconformist artists, the New Artists found allies in youth with guitars and cameras in their hands, and naturally conspired to act together. Many works from those years remain, albeit documented in low-quality, as stage backdrops at concerts by the rock band Kino or Pop Mechanika, an orchestra headed by pianist and composer Sergei Kuryokhin (1954–1996), which became the most famous example of synthetic cultural action.
In Leningrad, the 1980s were dominated by the activities of the New Artists group and each of its members today has carried on working individually following different paths, with no less vigor. Kotelnikov has become known for his poetry, precise incisive quatrains and philosophical aphorisms. In the noughties, he spent several years in Japan, and a reflective approach to watercolour was then infused into the bold expressionism of his artistic manner. In solo exhibitions in 2019–2020, the artist showed large format works on paper depicting still lifes with skulls, a theme he is continuing to explore today.
This October at Igor Markin's museum ART4.ru in Moscow Kotelnikov is showing a group of recent works made together with curator and friend Irina Venskaya. It's called 'Pro-Nezhnost': an ambiguous pun, the title is literally translated into English as 'About Tenderness', but also evokes the Russian word for crotch: promezhnost'. When asked about his impressions of the exhibition, the artist laughs: "It turned out as we planned it!". Kotelnikov explains: "We were talking about what a work of art should be, and I said that in my opinion, it should be both tender and powerful at the same time." I sat around that evening, thought up a poem, and decided to call the exhibition "Pro-Nezhnost" – an awesome name!" 'Tenderness and power of sparks in the sheaves/The autumn rain beats down with sickles./And you'll know nonsense/Und Du!'
In ART4's narrow exhibition space there are paintings, graphics, site-specific wall applications made in situ, a video film in which the artist tells stories about "sacral places of power" in the 1990s. Through answering my questions about the exhibition, Kotelnikov articulates his modus operandi: "I can say that in the 1990s I realized that whatever you paint, everything is f**king great. If there is energy, there is energy. And we are the ones who give it a plus or minus". The artist continues: "Everyone draws skulls now, it's commonplace especially after 'Pirates of the Caribbean' many people started to draw them; Basquiat loved them, not to mention Damien Hirst. It seems that people don't know what they want to draw now, on an unconscious level we do not know what we want."
Summing up the state of the Russian art community today he reflects: "There is again some fun on the faces of my comrades, everyone is happy to meet each other. Young or old us normal guys like to meet up for a drink. These days a party is the only thing that saves us. People have suddenly got together again with a spark in their eyes. Over years, a lot of people had become self-sufficient but now they suddenly feel safer in mass. I guess you don't know what you are thinking when you are sitting and thinking all by yourself."
Oleg Kotelnikov. Tenderness
Moscow, Russia
11 October – 18 November, 2023