People
Dudya Sarabyanov and the Task of Making the Spiritual Visual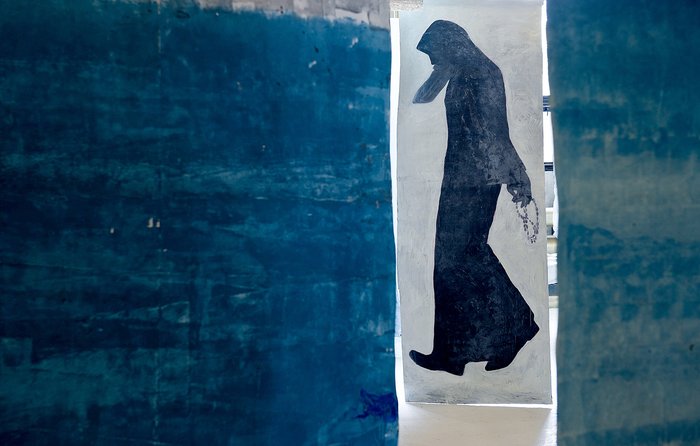 Dudya Sarabyanov. From the 'Strength' series, 2018. Courtesy of the artist. Photo: Irina Sereda
A trip to Mount Athos in Greece had a profound and transformative effect on Russian painter Dudya Sarabyanov, whose solo exhibition 'Where the Heart Is' has opened at the Museum of Modern Art in Moscow.
Born into a dynasty of artists and art historians reaching back to the 1700s, Dudya Sarabyanov (b.1980) has a complicated relationship with his family traditions. Related to Fyodor Bruni (1799–1875) and Lavrentiy Bruni (b. 1961), and the grandson of renowned Soviet era avant-garde scholar Dmitry Sarabyanov, Dudya whose father Andrey also became an expert in the avant-garde "grew up with the conviction that abstraction is more interesting than realism". Curiously, it was figurative art he turned to when he became an artist, although not quite realist in the conventional sense. Sarabyanov attended art school in Moscow and as a young man trained as a stage designer at the Russian Institute for Theatre Arts. This stint did not last for long, as he switched to film set design instead, while at the same time aways continuing to paint. His paintings of architecture in which buildings are reduced to basic geometric shapes, are obviously indebted to the Avant-Garde. However, when it comes to landscapes of Uzbekistan, Rome, the Vologda region in the Russian North or the remote Taimyr peninsula, or to his modest dacha in the village of Shishaki in Ukraine, where he used to spend the summer, his approach becomes far less analytical and is shot through with raw emotion. Of his Ukrainian rural home he says, "I don't know if I ever will have the chance to go there again". Now the village has turned into a sanctury for refugees fleeing from other parts of Ukraine. The exhibition title 'Where the Heart Is' resonates with the cheerful or meditative landscapes that occupy several spaces at the museum. Yet it is not there that the heart of the show can be found.

One of Sarabyanov's most striking projects is 'Strength', inspired by a trip to Mount Athos made during a family seaside vacation on the nearby Sitonia peninsula. This sacred place in Greece where women are forbidden to enter, is a monastic republic, a home for prayer as well as physical labour. Sarabyanov was fascinated by the people he met there, clad in flying habits, driving jeeps, building stone walls and signing psalms in a candle-lit church. "I knew nothing about Athos monks before I went there. They looked like medieval knights, strong, powerful men, yet gentle and kind, always praying and burning with their faith". On his return to Moscow he started painting moving and dancing monks on huge sheets of paper. The resulting series was first shown to the public in dimly lit cave-like halls of a former winery in Tbilisi, Georgia.
This new obsession with monks began to spread to different media from paintings to graphics to ceramic sculptures. The mysterious, unconventional image of a monk in flying robes, frozen in a moment of wild movement, then evolved over several years. "They almost turned into whirling dervishes", the artist says. "I started out with several different figures later evolving into one distinctive figure which I rendered in different positions. The monk became a sign, almost a hieroglyph". He abandoned the ascetic black and white palette and started adding colour to the robes. Gradually, the religious connotations subside as the figure becomes a sign for freely expressed emotion, for sheer ecstasy, for the unrestricted flight of the human spirit. In his most recent graphic works, the monks appear entangled in a net of densely drawn lines, struggling desperately for freedom. "Some people find them frightening", Sarabyanov adds, acknowledging that these works have been influenced by the tragic events of 2022. "I wondered if I should react to the current situation as an artist". And there is certainly a distinctive and renewed feeling of anxiety in these recent works, a sense of spreading, all-entangling evil that even the highest effort of will, the utter exertion of spiritual power cannot overcome. Still, the men in flying robes continue their ecstatic dance. Their spiritual battle rages on.
Dudya Sarabyanov. Where the Heart Is
Moscow, Russia
26 April – 25 June, 2023