People
Ivan Plusch: artificial intelligence and artistic license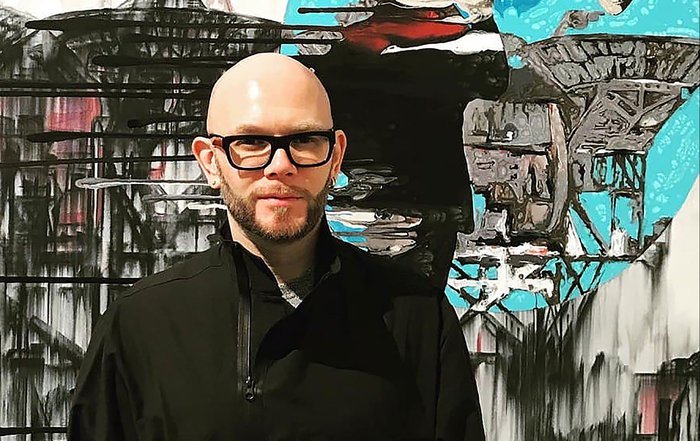 St. Petersburg painter and installation artist Ivan Plusch has mounted two exhibitions in Moscow, one of them co-authored with artificial intelligence.
Once, when driving from St. Petersburg to Moscow, artist Ivan Plusch (b. 1981) and curator Dmitri Ozerkov got chatting about the future of art in relation to new technologies, debating the age-old problem of whether an individual artist can be replaced by a machine. The drive was long and the debate engrossing and the problem troubled Plusch. Eventually, some years later he found some kind of answer: collaboration with artificial intelligence.
The artist's latest project called 'After Everything/After Everyone' uses GAN technology, that is Generative Adversarial Networks. Plusch feeds the AI with a collection of visual data about certain key subjects relating to everyday life and the machine then generates images and videos giving its own view on these topics. Plusch thinks the AI is some years ahead of human perception, because the machine digests such a vast quantity of collective visual data. These images then become sources for the artist's own works: they can either be turned into videos or used as initial sketches for paintings. Part 1 of this project was unveiled in St. Petersburg called 'After the Chair', suggestive of Joseph Kosuth's famous 1965 conceptual work, 'One and Three Chairs'. Other subjects undergoing this creative transformation (likewise prefixed with the word 'After') include religion, home, porn, me, you, war. An exhibition now on view in pop/off/art gallery called 'After Singularity' (October 20 – December 4) brings them all together.
Plusch initially jokes that the GAN is his "co-author", although immediately retracts this. "No, of course it's just a tool really." But there remains a sense of unease. Some results, the artist admits, are uncanny. For example, the GAN left images of icons almost entirely unaltered; it also singled out images of electric chairs from a mass of others. The interaction between the artist and the GAN behind closed studio doors remains hidden, giving the process an air of gothic mystery. It all has something Frankenstein about it, but putting this aside, Plusch also mentions issues of authorship and rights – so far, they are all his, but to what extent is this fair and will it always be so?
Implementing and employing AI is not in itself a gesture, but what is telling is how the artist chooses to employ it and what it says about his own position. Plusch uses the technology to play around behind closed doors, revealing its presence as a statement, but the artist's brush subsequently blurs and obliterates the boundary between himself and machine and is the ultimate agent of control.
Does Plusch see a threat to his artistic integrity posed by the AI? Is this a playful attempt to forestall his own defeat – taking the enemy on board before he gets thrown overboard? No, he doesn't feel threatened by virtual art and artists. "The attraction to material objects will not go anywhere, as long as we still have the feeling of corporeality," he asserts.
And a feeling of matter and physicality is paramount for Plusch, a graduate of the monumental art department in the Saint Petersburg Stieglitz State Academy of Art and Design, which he admits was formative, despite its somewhat old-fashioned approach. His education began in an even more conservative preparatory art school, from which he was expelled for his liberal treatment of form and composition, when he depicted Pushkin's duel from the point of view of the dying poet. By comparison, the monumental department was liberating and imbued the artist with an early passion for large-scale material construction.
At the same time, Plusch attended lectures at ProArte, a small contemporary art and theory-oriented institution in St. Petersburg. A 2006 trip to Berlin was pivotal. He returned home inspired to emulate a slice of the vibrant atmosphere of creative exchange he found there and, together with fellow student Anastasia Shavlokhova, they established a loft studio complex – 'Nepokorennye' – which became the heartbeat of St. Petersburg's art scene for years to come. Here, in 2007, Plusch had his first proper studio and, thus, propelled his own artistic education and career, as well as that of many other young artists. A visit I made there in 2008 sticks in my memory for the edgy, raw lifegiving atmosphere of something going on in every corner.
Plusch proceeded to build ambitious installations; I was lucky to witness the impressive 'Process of Passing' (2014) shown as a part of the parallel programme of the 10th Manifesta Biennale in St. Petersburg. A ridiculously long red carpet was stretched diagonally across the grandiose cadet corps hall, above a stage once graced by Lenin, looping at the ceiling with a mound of old chairs under it, generating memorable sensations of bodily absurdity. The kind of thought-provoking spectacle, which hits all the right buttons in a giant installation. With 'Mechanism of Immortality' (2018), Plusch took over the Nizhny Novgorod Centre for Contemporary Art with repurposed fairground rides, further playing on the effects of uncanny physical sensations, which these objects are intended to produce.
He speaks about the artistic power of these installations with panache: "You physically feel the space, air, volume and size of this object. How it reaches almost to the horizon, how gigantic it is, you feel how you could walk across it, its height, the fear and awe of it, the uncanny surreal feeling".
This monumentality and passion for the physical bodily interaction of viewer and space is deeply instilled in him, it seems thanks to the monumental department where he studied. But, nonetheless, he always returns to painting, also with a corporeal essence. Somewhat a trademark is his sideways dripping paint. It reveals an ambivalent masculine sensuousness, something of the indomitable clichés – Jackson Pollock and Francis Bacon – but with a thick a layer of postmodern self-consciousness. Plusch masterfully parades various painterly styles on the canvas simultaneously: both displaying expressive gesture and negating it. Layers of meaning gather both in the subject of his paintings, the absences and the brushstrokes. A discourse of memory, persona, background and absence is played out in these layers.
A retrospective show opening this November in Moscow's Museum of Modern Art, 'Theatre of Plusch' (November 10, 2021 – January 30, 2022), will bring together the artist's main works from the launch of his career to now. An equal mix of large-scale installation and paintings, it will lay bare these two major strands which Plusch maintains with equal fervour.
Ivan Plusch. After Singularity
Moscow, Russia
October 20 – December 4, 202
Theatre of Plusch
Moscow, Russia
November 10, 2021 – January 30, 2022