People
From the Sixties to the Present: Sergey Alexandrov's Collection on Show in Moscow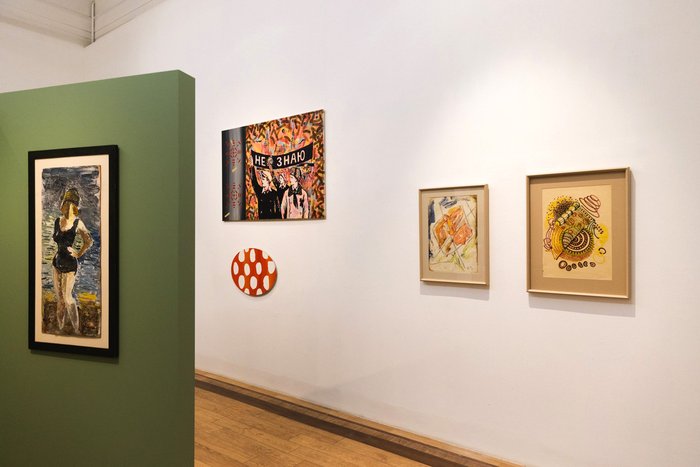 Units of time. Sergey Alexandrov's Collection. Exhibition view. Moscow, 2023. Courtesy of Moscow Museum of Modern Art Press Office
Since the 1990s, this former banker has assembled an impressive collection of non-conformist art and has become an authority on artists from the Soviet underground. Three hundred works from his collection are now on view at the Moscow Museum of Modern Art.
When Sergey Alexandrov, a self-taught Russian art expert and collector living in Moscow was approached by MMOMA last year with the offer of an exhibition dedicated to his collection, it spurred him on in the laborious task of creating an inventory of his art collection which has grown to almost 4,000 artworks. Several hundred works of art made their way into the current show filling up a dozen halls in MMOMA's historical building on Petrovka Street in the centre of Moscow. Together they tell the history of the Soviet underground and contemporary Russian art, seen through a personal and idiosyncratic lens. Each of the twelve halls headlines one major artist from the era, including Anatoly Zverev (1931–1986), Ilya Kabakov (1933–2023), Viacheslav Koleichuk (1941–2018) and Dmitry Krasnopevtsev (1925–1995) with other artists chosen to complement each 'leader' It's a curatorial idea a bit like the musical concept of variations on a theme. The curators have given the largest hall in the museum to female artists, who for decades have trailed in the shadows of their male peers. There you can see works by Varvara Bubnova (1886–1983), Lidiya Masterkova (1927–2008), Rimma Zanevskaya-Sapgir (1930–2021) and Anya Zholud (b. 1981).
We meet at the Association of Art Historians, for whom Alexandrov is a consultant expert these days, in a small room hung top to bottom with paintings, an environment in which Alexandrov feels at home. When I asked how he managed to put together a collection of such exceptional scale and depth, he simply says, "I started at the right time". In the 1990s the oligarchs were only interested in 19th century realism, fighting at auction in London over landscapes by Alexei Savrasov (1830–1897) and Ivan Aivazovsky (1817–1900). In those days interest in the art of the 1960s was "quite selective", Alexandrov recalls. "People collected only a few big names and there was no general understanding of this market which exists today".
Alexandrov who studied chemistry and then became involved in the nascent banking industry after the breakdown of the Soviet Union, started out buying works to decorate his Moscow apartment. Many of the artists were still alive and Alexandrov got to know them. "Today we are celebrating 90th anniversaries … and I prepared exhibitions for their 80th birthdays". He has by now notched up a staggering 40 exhibitions in both Russia and abroad which he has either helped to curate or to which he has loaned works from his collection. Along with art dealers such as Galina Danelia and art historians such as Nikolai Kotrelev, the artists became his guides in the art world which was gradually opening up to him; he found it fascinating. Alexandrov enjoyed a particularly close friendship with kinetic artist Viacheslav Koleichuk and non-conformist painter Vladimir Nemukhin (1925–2016). Koleichuk introduced him to other artists of the Dvizheniye (Movement) group, including Rimma Zanevskaya-Sapgir, who was so overlooked at the time, that her abstract paintings were often hung upside down at exhibitions. Now, as Alexander observes, she has become one of the most sought-after female artists of her generation. "I have helped to place her work into five major collections and now there is a queue of collectors who want to buy her works, but there aren't any on the market". Nemukhin was a "godfather of the art world", Alexandrov smiles, "He knew everybody and organized everything".
As time passed and he gained in experience, other collectors started to go to Alexandrov for advice, and he eventually made a name for himself as an expert in selected artists, most notably Artur Fonvizin (1883–1973), Anatoly Zverev and Vladimir Yakovlev (1934–1998). The latter two are among the most frequently forged non-conformist artists, he says. "In the 1960s, underground artists sold their works to foreigners, it was a kind of a members club, so fakes were rare. People started producing forgeries as soon as the country opened up during perestroika. Now there are literally thousands of fake works by both of them on the market".
When asked about the current state of the market for the art of the 1960s, he answers with measured optimism, and notes confidently that good works by the greatest artists of the era such as Dmitry Krasnopevtsev, Oscar Rabin (1934–2021), Oleg Tselkov (1933–2021), Dmitry Plavinsky (1938–2012) are "like bars of solid gold that will never lose their value". That said, he says he does not tend to think about the value of his own collection, for him the sentimental value is paramount. There are works that for him are particularly special, such as Yakovlev's 1966 portrait of poet Gennady Aygi or a series of paintings by Vladimir Pyatnitsky (1938–1978). Today his collection keeps on growing and evolving and the twelve halls at MMOMA include many works by artists who are active today, among them Pavel Otdelnov (b.1979), Pavel Pepperstein (b. 1966), Konstantin Batynkov (b.1959) and Dmitry Gutov (b.1960). "I also buy works by young artists from time to time," Alexandrov says. "But I only do it when I like them, I don't consider it a venture investment". There is a sense that the story of Alexandrov's career that led him from the harsh world of finance to the art world is a novel with a happy ending.
Units of time. Sergey Alexandrov's Collection
Moscow, Russia
23 August – 22 October, 2023