People
Diana Machulina on Dancing with Death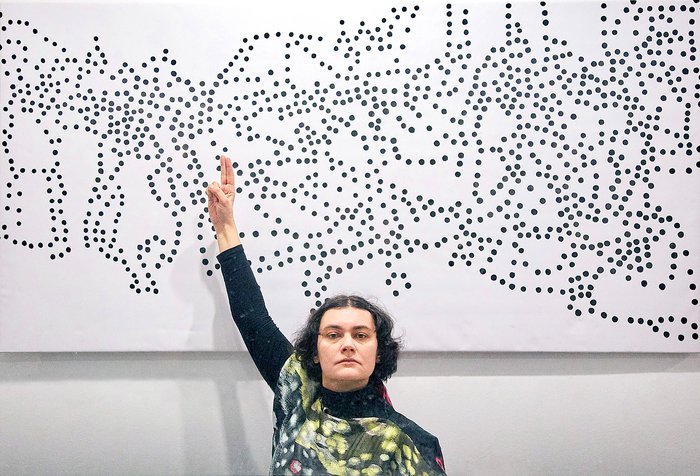 Portrait Diana Machulina. Courtesy of the artist
A new exhibition by artist Diana Machulina has opened at Moscow's Iragui Gallery. 'Dance Macabre' is a timely reflection on mortality in an increasingly violent world.
Diana Machulina's (b. 1981) exhibition at Iragui Gallery is the epitome of minimalism. "Now is not a time for glamour, luxury or the baroque" she told me when we met recently at a Moscow burger joint. On the floor of the gallery and halfway up one of the walls there are two diagrams showing tango and quickstep moves and a few etchings with other classic dance moves. Look closer and something is amiss: in each of the couples the footsteps of one of the dancers are replaced by the feet of a skeleton. There is no background music. Following numbers and arrows, visitors can take part in this dance with death. Or it is enough to just let your imagination complete the picture.
This is one of the artist's more laconic works. Machulina has always worked in a wide variety of different media, from painting to video and installation, often at the expense of creating a signature brand. "It is more important that an artwork stands out, than there is an immediate recognition of the artist's hand", she says. Born in Luhansk in the East of Ukraine at the dawn of perestroika, she moved to Moscow with her parents at the age of four, studied art and art journalism at several schools in Russia and won an internship at the Stuttgart Art Academy. In Moscow, she attended the Institute for Contemporary Art and the Surikov Institute concurrently, the latter a stronghold of old-school realism. "After my graduation, I said I would give up painting forever," she recalls. She kept this vow for three years, but once she decided to break it she felt her skills as a painter were a curse. "Most artists were working with installations and in new media, and curators saw me as a kind of maker of wall hangings" she says. "They would start by deciding where such and such an installation would go, and then realize they have to fill an empty wall". They would call her and ask for a painting. Later, there emerged a new generation of artists who painted, freeing her from this burden.

In 2008 Machulina won the coveted private Kandinsky Prize in the category of 'Best Young Artist of the Year' and later she was nominated in 'Best Project of the Year' for her installation 'The Body of Labour' which consists of a painting of three Moiras and a wheat-field made of see-through plastic, and two videos. Along with other left-leaning artists of her generation she struggled to save "the best from life in the Soviet Union" and incorporate it into the new capitalist reality. However, the cult of labour was one treasure that needed to be preserved. Machulina's politically charged works have tackled some of the most burning issues in Russia of the 2000s.
Her 2008 'Rubber Soul' consisted of a silhouette of the Kremlin made from rubber erasers and half-erased pencil drawings on timely subjects such as the preparation of Russia's first Gay Pride - which never took place. In 'In Praise of Folly' she criticized the ugliest of buildings constructed in Moscow under Mayor Yuri Luzhkov. In 2013 she received a fellowship at the American Academy in Rome which was funded by the Joseph Brodsky Foundation. There she started working on 'Dance Macabre'. In Rome, Machulina was fascinated by the visible layers of history, unearthed by archaeologists around the city in which you can see ancient Rome, medieval Rome and modern-day Rome piled one on top of the other. On archeological sites she visited, "I realized we were walking over the bones of the dead". Thus was born the idea of a project with a universal, symbolic message drawn from medieval 'dance macabre' prints and paintings.

During the past few years, Machulina has been more active as a curator and educator. She is teaching undergraduates in the Higher School of Design, a department of the Higher School of Economics - HSE University. For her, this mission is no less important than creating her own work. "I take part in making art happen", she says. When recently planning her own comeback onto the scene as an artist after a hiatus, she chose to present a new version of 'Dance Macabre', a project that has never before been shown in Russia. Yet, in 2023 the project has acquired new and grimmer undertones. Even the reference to a medieval symbol seems topical as never before. "As we have a whole series of geopolitical conflicts in many parts of the world, there is a sense that we have fallen into the Middle Ages, that we have forgotten all about tolerance and civilization as whole", Machulina observes. "Death is right next to us." She says that although this feeling has become very acute, people keep pretending that everything is not so bad. "On the one hand, it is a way of survival. On the other, art is a wonderful thing because it lets us experience the trauma in some metaphorical way and start looking for solutions".
The diagrams are an invitation to dance and she says at the opening guests and visitors followed them. Yet now, when you walk into the empty gallery, they look rather cryptic and confusing, until your eye settles upon the footsteps of the skeleton. As in real life, it takes time to perceive the presence of death. The Grim Reaper is the female part, leading her male partner away. In Russian all nouns have a gender, and death is female. Besides, says the artist, in today's world, unexpected and deadly tasks mostly fall to men. Another obvious reference to Machulina's project are Andy Warhol's 'Dance Diagram' paintings of the 1960s that he displayed on the floor of his studio. Yet, Warhol's diagram shows the movements of just one dancer which may speak of loneliness, but not mortality. The founding father of Pop Art preferred to celebrate life and ignore death. That was probably much easier in the sixties than it is today.

Diana Machulina. Dance Macabre
Moscow, Russia
6 October – 8 December, 2023