People
Neil Rector: behind the ironic curtain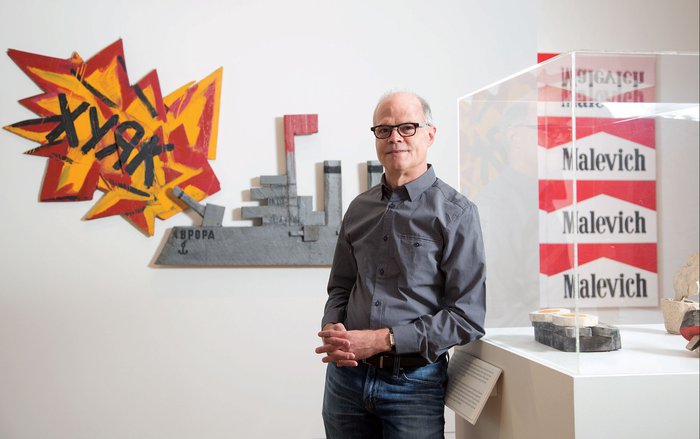 The Columbia Museum of Art's blockbuster summer exhibition this year is on art from the Soviet underground. Who is the private American collector behind it and what motivated him to collect Russian contemporary art?

Appearances can be deceptive. The next time you see a gallery guard in a museum, don't assume they are watching you: they may be studying the art on the walls. American ex-lawyer and insurance executive Neil Rector, who has assembled one of the most impressive private collections of Russian non-conformist art, with masterpieces of the canon, including by Komar (b.1943) and Melamid (b.1945), Alexander Kosolapov (b.1943), Ilya Kabakov (b.1933) and Oleg Vassiliev (1931–2013), speaks of his formative experiences as a collector during his stint at university as a gallery guard. Years later, he wanted to recreate this experience of being surrounded by art.
Rector's own path to Russian contemporary art was through Op Art: He was particularly interested in the work of Polish-born American painter Julian Stanczak (1928–2017) and how it had been inspired by not only the Bauhaus and De Stijl, but found its roots in Russian Suprematism and Constructivism. It led him to ask the question: how had these roots manifested and grown in Russian contemporary culture of the post war era? Thus, he came to Moscow conceptualism and what is often called "the second avant-garde".
Rector, born in North Carolina with the peripatetic childhood of a son whose father was in the US military, is softly spoken and unassuming. He represents a pole of art collectors, who are not flamboyant extroverts, but tend to shun the limelight, preferring to be behind the curtain, off stage. The current exhibition is both a celebration of the collection, but more an educational initiative and has brought unprecedented attention to Russian art amongst the local art going American public: "I think everyone, from the museum directors down, have been shocked at how strongly people have reacted to the work. But, I guess, I shouldn't be too shocked. After all, if the work can speak to me – someone who has no Russian heritage – why shouldn't it also speak to others?" It is, in fact, the second Russian exhibition drawn from his private collection, the first was in Columbus Ohio in 2017 called 'Red Horizon' after one of Erik Bulatov's most celebrated paintings [in the MAGMA collection, Rector owns the pencil sketch]. The 'Ironic Curtain' is more of a homecoming in Columbia, South Carolina, freshly curated from a different angle.
Art collecting has ethical aspects not often discussed and Rector himself talks openly about his own personal doubts and struggles over his collecting activities. The ethics around investing in art, when there are so many worthy causes in the world: for him, collecting art has become about the preservation of the work. With non-conformist art existing for decades in the underground and having little to no market value until well after the end of the Soviet Union, such an approach to the protection of artistic legacy is a part of the art's survival. Soviet non-conformism – comprising extensive holdings of both paintings and photography – is not the only such collection he has assembled, there is art by the Slovenian collective 'NSK' (Neue Slowenische Kunst), process-orientated contemporary photography and socially conscious photography by women of colour. All areas of collecting which today are in the shadows, far away from the glare of the contemporary art market. Despite that, he also has a respectable collection of works on paper by big names of the mainstream and is well versed in the contemporary art market, giving him a unique perspective.
Of the stark differences in the market for Russian and American contemporary art, Rector talks of geopolitics, both historical and now: "I think the primary causes are the separation between East and West during Soviet times – such that the work wasn't integrated into the broader art market at that time – and then, of course, the continued political challenges and suspicions of the post-Soviet period." What gives him reason for optimism, despite the absence of a solid, established market to date is that international museums are examining, reassessing and acquiring non-conformist Russian and contemporary art, mentioning Tate Modern's REEAC (of which he was a founding member), New York MoMAs' C-Map Program and the Pompidou's recent acquisitions. "Museums are way ahead of collectors […] One day collectors will wake up and realize what the major museums in the world already know, which is just how important this work is, and how rare the seminal pieces are."
Rector's collection boasts more than a few such seminal works, notably the first version of Komar and Melamid's diptych 'Portrait of Wives', 1972, which sparked off their collaboration as an artist duo and can be considered one of the earliest works of Sots Art. And there is the collection of paintings by the late Oleg Vassiliev. Rector's own favourite is the 1994 'From the Past', based on Vassily Polenov's 'Grandmother's Garden', a famous 19th century painting which adorned many a chocolate box and school textbook in the Soviet times. Vassiliev's work is yet to be fully reassessed and when it comes to the art market his place in the Moscow conceptual canon is not well established either in Russia or abroad (I sometimes wonder if Vassiliev will be a great, long misunderstood genius, the 'El Greco' of the Russian contemporary art world). Rector points to Vassiliev's technical mastery and yet more, the aspect of his work that makes you, in his words "look inward and reflect".