People
Arutiunian and his Revival of Ancient Harmonies of the East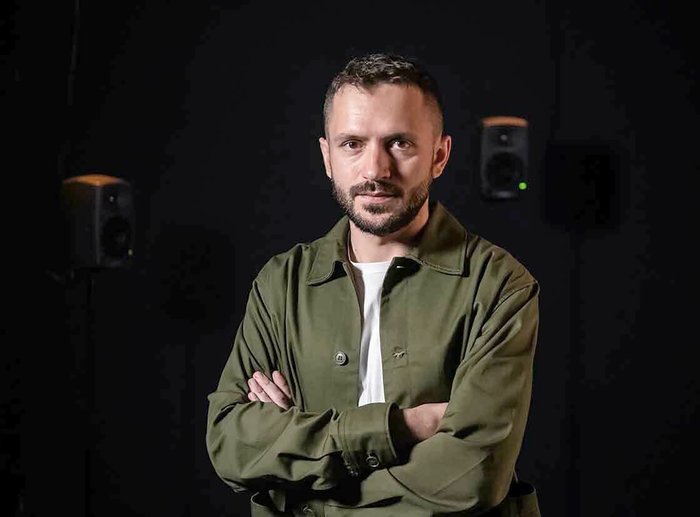 Portrait of Andrius Arutiunian. Courtesy of Andrius Arutiunian
Representing Armenia in the last Venice Biennale, artist Andrius Arutiunian combines novel approaches in musical harmony and rhythm with the study of secret communities and esoteric movements in a search for social cohesion.
Andrius Arutiunian (b. 1991) calls himself a 'composer-artist' rather than a sound artist. He originally studied musical composition and sonology at the Royal Conservatory in The Hague before broadening his horizons to work with more hybrid forms of sound as a material, exploring its capacities to the full. Sound's logic, its synthetics, origins and taxonomy fasincate him, and on a more human level, how socially sound can create cohesion among people. It is this social aspect which interests the artist in particular, leading him to question our contemporary world through the revival of long forgotten esoteric and vernacular stories, non-western musical traditions, tuning systems, and instruments.
Armenian-Lithuanian artist Arutiunian represented Armenia at the 59th Venice Biennale with a solo exhibition, the 'Gharīb pavilion' in which he explored both musical and political world orders outside Western traditions. The word 'gharīb' (meaning stranger or foreigner) is common throughout the Arabic, Armenian, Farsi, and Turkish languages. Arutiunian explored the notion of gharīb as a kind of dissonance around our contemporary sense of time, rhythm, and melody - as a 'stranger who enters into our midst'. Fascinated by secret communities and clandestine activities of music-making, Arutiunian found parallels with illegal social clubs and the underground. In the space of the pavilion, he created sound to move freely between the rooms without partitions as if it were flowing through a living organism. For Arutiunian gharīb became as a way of experiencing the political margins and seeing the world as an outsider through sonic dissent, like George Gurdjieff's harmonious law of seven and the sacred movement. Gurdjieff was a controversial figure accused of being a charlatan yet in the Book of Gharīb Arutiunian proposed trickery as a form of internalised knowledge and that one must acknowledge charlatanism as the only legitimate way of being fully attuned to the world.
Arutiunian sees his personal interest in vernacular and esoteric cultures and histories of clandestine and underground musical traditions as an extension of his family's past: his ancestors moved to Soviet Eastern Armenia after the Armenian genocide. He was born in Lithuania in 1991, during the collapse of the Soviet Union, and he grew up speaking no Armenian. This split from part of his origins motivated him to explore Armenian culture with a certain zeal and he came to see how it had been shaped by different imperial narratives, first under the Ottomans and then the Soviets. "Outside influences were absorbed into traditional Armenian culture and created a synthesis with what had become forgotton knowledge and what remained then unresolved mysteries of traditional Armenian music and this has been a great source of inspiration in my own work", as Arutiunian explained what drives him as an artist. One such example of cultural destruction which Arutiunian speaks of is the tragic figure of Soghomon Soghomonian (1869-1935). Priest, composer and founder of the Armenian national school of music and one of the pioneers of ethnomusicology he collected and transcribed over 3,000 pieces of Armenian folk music, more than half of which were subsequently lost and during the Armenian genocide he was arrested and deported to a prison camp by the Ottoman government and spent the last years of his life in psychiatric hospitals in Paris, hindering our understanding today of traditional Armenian musical traditions.
Arutiunian's recent residency at the Cité Internationale des Arts in Paris has involved a series of sound interventions and performances in the studio, as well as new works unveiled in the city's cafés. An upcoming solo show in Medūza in Vilnius this September will feature a series of audio works around tables in Parisian cafes which serve as a kind of social score; there is even fortune-telling using patterns on Armenian coffee cups. Another poignant work on view is 'Arizona Club', a sound installation consisting of brass instruments in which he narrates the story of forty children, orphaned by the Armenian Genocide. They formed a marching band called 'Arba Lijoch' and were adopted by Ras Tafari, the future emperor of Ethiopia. Through this work, Arutiunian traces the emergence of Ethio-jazz, which evolved from the Armenian influence on Ethiopian music.
In a sound performance called 'Kayīb' which is based on songs which have been banned, Arutiunian orchestrates a complex interplay of multiple illicit voices and fictitious encounters between incongruous, historical figures like Emperor Haile Salassie, George Gurdjieff and Cher. Drawn from a wide pool of influences, the Meduza show premieres three new videos inspired by the likes of Éliane Radigue's acoustic investigations of Tibetan Buddhism, Sufi whirling, and even Dadaist Marcel Duchamp's Anemic Cinema and his rotative plaques.
Most recently Arutiunian has been working on a series which explores autotune technology. The use of an audio processor by American company Antares Audio Technologies dates back to 1997, it is a device which checks and can alter pitch in vocal and instrumental recordings and performances. Autotune was originally intended to correct off-key inaccuracies, allowing vocal tracks to be perfectly tuned, but it quickly revolutionised the music industry becoming mainstream from 1998 when American singer (with Armenian roots) Cher released 'Believe' popularizing the use of Autotune to distort vocals. For Arutiunian musical attunement and social and political harmonising are closely aligned. By exposing mechanisms of control and algorithmic governance, the artist creates a more authentic foundation for better societies and alternative ways of our co-existence and social cohesion.
Andrius Arutiunian's official website: