People
Arkady Nasonov's Conceptualism of Dreams and Clouds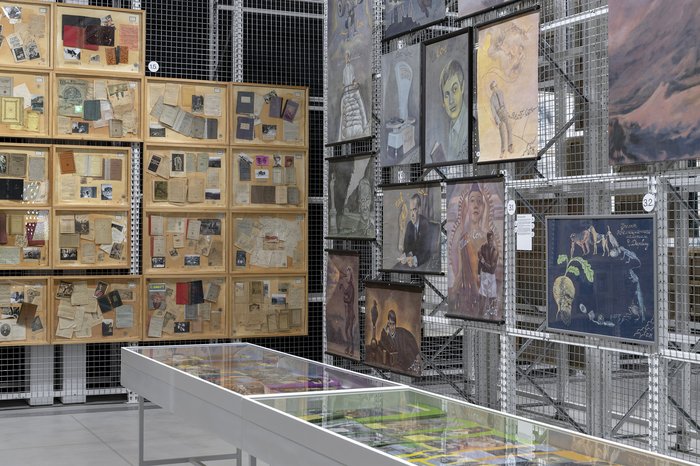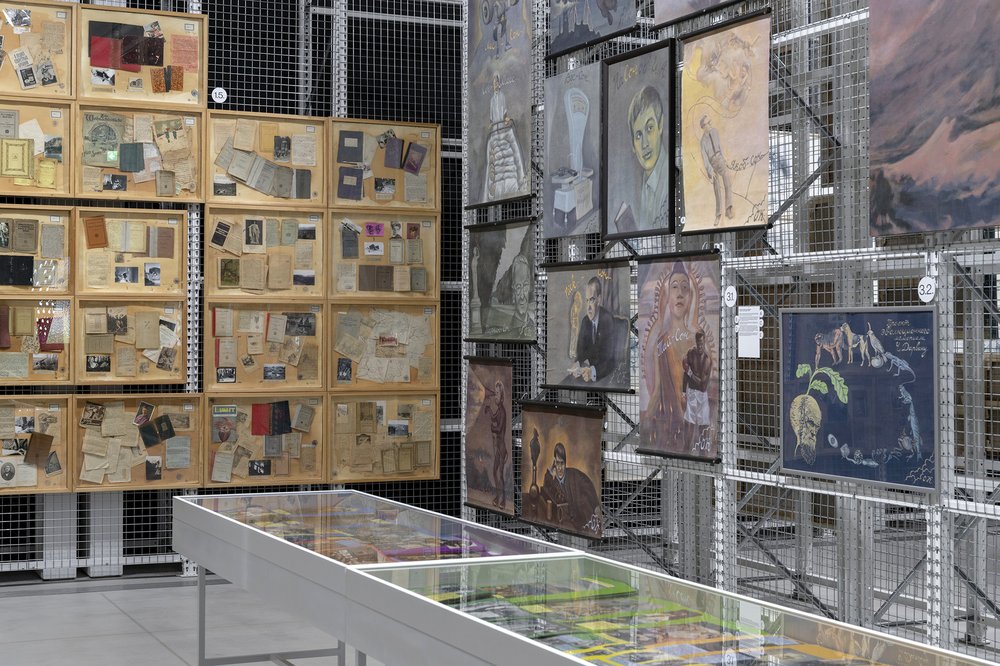 A view of the exhibition 'Cloud Storage'. House of Culture GES-2, Moscow, 2023. Photo: Daniil Annenkov
An exhibition of the Cloud Commission art group, brainchild of the artist Arkady Nasonov, has opened at GES-2 in Moscow, with works concurrently on view at Iragui gallery. Revealing just one side of this multi-faceted artist, both shows give us a glimpse into the dream-like universe of his imagination.
"When she was seventeen my grandmother had a dream. She was nearly buried alive, but during the funeral woke up in her coffin", explains Nasonov (b. 1969) as though this is nothing out of the ordinary. In his art reality is stranger than dreams and the border between the two is an illusion. You might think the protagonist of one of his projects from the 1990s, a man born in 1917 who spent his whole life asleep and missed the Communist era completely, is the artist's alter ego. "There was a bed in the corner of the gallery and during the opening party, I lay down on it and fell asleep. The voice of a curator I knew woke me up. He leaned over me and told me that one day my work would be in the collection of the Tretyakov Gallery." Nasonov recalled. "25 years have passed but I am still waiting for this to happen."
For Nasonov, mythmaking is part of both art and life. Behind the disguise of a dreamer and cloud-watcher there is an incredibly prolific artist working across several different media, from graphics, painting and collage, to installation, performance, animation and film. The expansive GES-2 show, designed as museum storage and showing only paintings and works on paper, looks like a tiny islet sticking out of the waves that roll over the hidden Atlantis. The curators' idea was to juxtapose hand-crafted works by mid-career artists with hi-tech creations of younger ones Polina Abina (b.2001) and Alexei Sebyakin (b.1989) who specialize in digital art and VR.
Nasonov's grandfather was Soviet film director Vladimir Motyl and he is fascinated by film and the filmmaking industry. "Cinematography is like dreams made by people who are asleep", he once wrote. In his own work, he re-thinks and deconstructs the medium of film. There is a two-channel video installation called 'Between Frames', a monumental homage to his grandfather. A 9-hour-long documentary about the shooting of Motyl's last film 'Purple Сolour of Snowfall' is shown with the film itself, slowed down to match the length of the original film. In this way the artwork and commentary on it are equal, it's the tradition of Moscow Conceptualism just on a technical level. His project 'Third Faces' is a series of portraits of film extras, paired with actual film frames where their faces appear in the crowd for a split second, while another series of paintings depict scenes from imaginary films he could have shot. For years, Nasonov dreamt of an 'oneirograph', a device that would record people's dreams and fantasies directly from their brains, suggesting that this would spell the end of the film industry. Nowadays, even the most advanced neural network technology such as the Midjourney app still lags one step behind his vision, generating only static images.
Nasonov was born in Sverdlovsk (now Ekaterinburg), the capital of the Ural mountains. His parents sent him to Moscow, to live with his grandfather, when an epidemic of anthrax broke out in Sverdlovsk in 1979, caused by a spill-out from a secret military lab. He became immersed in the Bohemian lifestyle of the Soviet creative elite, who had access to contemporary Western culture in the form of magazines and music records. Nasonov studied theatre set design at Moscow Art Theatre School and painted portraits of Soviet generals during a five-month stint in the army. His friendship with Ukrainian artist Oleh Holosii (1965–1993) sparked his interest in painting on large canvases.
To trace the roots of his visual philosophy (or philosophical visuality), you need to step back into the late eighties and early nineties in the Soviet Union when freedom was in the air and possibilities seemed endless. The younger generation of Moscow Conceptualists mimicked and mocked both the Kafkian world of the crumbling Soviet reality around them, and the esoteric, ritualized artistic and intellectual pursuits of their older friends and mentors, the underground artists of the 1960s and 1970s. Inspection Medical Hermeneutics art group, in which Nasonov was also an active member, developed a complicated and totally absurd hierarchy and bureaucracy, with long-winded titles and documentation. It was the same approach that brought Cloud Commission into existence. A friend gave Nasonov an old Soviet meteorological reference book describing the different shapes of the clouds. Fascinated by the very idea of adding a systematic basis to cloud-watching, he founded the Cloud Commission group together with Dmitry Ligeiros (b. 1970), an artist from Odessa. Friends and fellow artists received the rank of Commissars, a number and a photo ID with a stamp designed by Nasonov himself. In the age of turmoil and uncertainty, the authorities struggled to see the difference between an art project and a real institution. You might say that the Cloud Commission itself was no less real than many banks, political parties and media outlets at the time. At least it had an enthusiastic team of Commissars, artist-designed stationery, a stamp and photo IDs. "Soon after the collapse of the Soviet Union, I crossed the border between Russia and Ukraine with this ID", Nasonov recalls. "Once, we came to the Planetarium in Moscow, claiming that we were doing almost the same job as them. This way, we rented the whole Planetarium for a hundred dollars!". The group organized a 'psychedelic conference' there that included poetry readings and a slide show with photo documentation of actions by the Cloud Commission. The group's activities evolved from absurd outdoor and indoor actions, where no spectators were present, to synesthetic performances that included psychedelic videos and electronic music played by guest musicians. The group was invited to perform at major international festivals such as Ars Electronica in Linz.
The group was never formally dissolved yet after its heyday in the late 1990s it leads a ghostlike, aeriform existence that suits the institution well. Nasonov still signs his paintings with the initials OK, a Russian acronym for Cloud Commission, or uses the institution's stamp to sign his graphic works. Yet, even without any signature, his style is immediately recognizable for the relationship of text and image - intimate with subtle use of wit. One of his graphic series is called 'What the Artist Forgot to Draw' and the main element of the image is not drawn, but described with words, written in Nasonov's typically neat, calligraphic handwriting. In 'Out of the Frames' the visual is absent altogether: only the handwritten descriptions of unrealized paintings, surreal and full of absurd humour, are displayed in black frames. It's a caustic parody on conceptual art in general, with its supremacy of idea over image. In an animation video, filmed when the artist was living in the Netherlands in the early 2000s, old book covers grow legs and hands and start to live their own busy lives that have nothing to do with their original content. In Nasonov's art, as in a dream, even the strangest metamorphoses of form and meaning are possible, and the secret message is always elusive.
Cloud Storage
Moscow, Russia
27 April – 30 July, 2023
Topos Lost – 2
Moscow, Russia
29 April – 23 June, 2023