People
Andrey Chezhin: Between Avedon and St. Petersburg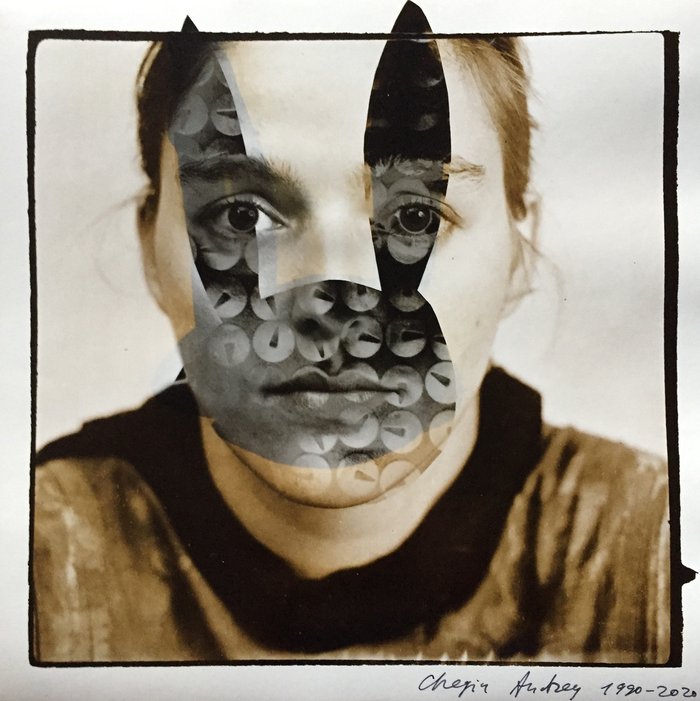 Andrey Chezhin. '33х9' project, 1990–2020
Artist Andrey Chezhin has unveiled a new exhibition called '33x9' at the Gallery of Classical Photography in Moscow. It features portraits of 33 characters which he began shooting 33 years ago, each frame with numerous interpretations.
In the summer of 2022, Andrey Chezhin (b. 1960) is the photographer from St Petersburg who has come to be most in demand in Moscow. At the Beton Centre for Visual Culture, which opened this Spring in the Russian capital, there are several of his works displayed in a new exhibition 'From the Bast Shoe to the Soyuz' hanging among old vintage images of pre-revolutionary Russia, cheek by jowl with shots taken from abord a spaceship. No other artist in Russia working in the medium of photography has consistently brought together such different eras with such innate skill.
Andrey Chezhin artificially ages his contemporary prints so they seem to have been made in the epoch of fans, crinolines and carriages. At Beton, your eye does not quickly pick out his work from among the vintage prints for his extensive use of sepia. "Over time photographs that are 150 years old or more interact with sulphur in the air and turn into sepia. I don't have the luxury of waiting that long, I need it now!", says the artist. Yet, in his methods of working with an image – montage, serial, provocative – he is clearly an adept of the neo-avant-garde. Chezhin combines avant-garde techniques with the technical prowess of a 19th century studio photographer. He has become one of the leading Russian photographers of the post-modern and contemporary period.
Back in Moscow in 1996, Andrey Chezhin's series 'Visiting Bulla' (1994) made a big statement to audiences of the day: he printed his own portraits into works produced in the renowned early 20th century 'St. Petersburg studio', making himself look like a law abiding character on a tsarist train or a hospital smithy, or fitting himself perfectly into the public baths or in the middle of the imperial family where he looks more sinister than Rasputin himself. Back in 1996, the Kashirka Gallery presented new Petersburg photography as a distinctive trend. It had been almost unknown in Moscow, and this exhibition was one of the highlights of the first Moscow Month of Photography.
A thick 660 page monograph called 'City-Text' published in 2014, summed up Andrey Chezhin's long-running St. Petersburg epic, which he began in 1991 as a novel with one character – the city. It is a project born of the Internet age, organized along a network of hyperlinks, but in book form: one topos is outgrown with dozens of aesthetic vibrations, each referring to one another. Chezhin's method of work is to create 'superseries', in which one series overlaps with another, then a third, and together they create a broad field of interpretations.
Chezhin is an artist who always goes against the current. Back in the early nineties his photographs became a symbol of 'Petersburgness,' that is a ghostly, magical imperial heritage which dissolves into the Neva river, the sky above it, and the architecture in between. At the recent annual exhibition 'PhotoTOP. Still Life 2022' in the Gallery of Classic Photography, his series was the only one that addressed, at least indirectly, today's tragic predicament with photographs of toy soldiers contrasted sharply with pretty floral bouquets.
A solo exhibition has opened at the same venue, a project the artist began 33 years ago in 1989 when the Soviet Union was still alive. Young photographer Andrey Chezhin began inviting colleagues, casual acquaintances, and people off the street, to his studio to take their portrait photograph. "I once saw some portraits by Richard Avedon in an Italian magazine, and thought it would be interesting to take full-length shots of people on a white background, in this style" he admits. "Of course, I could not have done it as well as Avedon, his pictures stand out from staged photographs by other photographers!"
For him, it was a rather 'makeshift' Avedon: there was no tripod, just umbrella flashes and an improvised background. The artist made a backdrop from several vertical strips of paper which he stapled together, which gives a flavour of the times when scarcity and technical improvisation was the norm. "There was no money and anyway you could not buy real backdrops then, so I used roll paper from rotators," the artist recalls. Some of these portraits were first exhibited in 1990 at the Interphoto Gallery in the city that was then known as Leningrad.
"After a couple of years as the archive had become so big, I thought it was a shame not to use the other negatives, so I decided to print the same characters but in a different way, again and again and so on until the number of series reached nine. Each time I thought out how and in what style I wanted to print them," adds Chezhin. The initial series of direct studio shoots in 1989-90 grew into a major project of several separate episodes spanning three decades. The printing techniques each time act as a sophisticated means of interpreting the original negatives. Each of the 33 characters is depicted in several different styles.
All of the prints are united by their monochrome palette. "Black and white conveys feeling in essence, colour is prettyism. Of the two images, colour or black and white, I always choose black and white," emphasises the artist. One series, in which images of one man are superimposed, "is dedicated to Andy Warhol, his triple portraits to Elvis Presley". "I wanted to try to make something a la Modigliani out of real photographic portraits" and a series I did in which all the images resemble a drawing or engraving refers to this artist. "You have to refer to tradition, to an authority, it's an easier way to structure the whole series, and viewers prefer it when there is a given structure. In the end, I am a postmodernist, and artistic dedications are important for me," Andrey Chezhin asserts.
Wherever a broad red stripe appears in his work, it is a homage to Kazimir Malevich. "The Black Square is my favourite piece of work. In some respects, my journey began in 1988 with it, the first time I saw the 'Black Square' at the State Russian Museum, it was a kind of shock for me, I walked around the exhibition for a few hours and came up with the idea for this series.'
Poetic numerology remains a constant in Andrey Chezhin's work. The year 2022 marks the 33rd anniversary of Pushkinskaya 10 Art Centre, where he works in his studio. The exhibition 'Portraits 33x9' was shown in a neighbouring building in the Museum of Nonconformist Art. After it closed down, it moved to Moscow, to the Gallery of Classical Photography, newly assembled and presented by curator Oleg Arnautov. There is a forthcoming project comprising an exhibition of 36 images by two artists, 'Maslenytsin to Chezhin. Chezhin to Maslenitsyn', which opens at the Zerno Gallery in St Petersburg on 26th of August.
Andrey Chezhin. 33 x 9
Gallery of Classic Photography
Moscow, Russia
July 21 – September 25, 2022
Maslenytsin to Chezhin. Chezhin to Maslenitsyn
St. Petersburg, Russia
August 26 – September 11, 2022