People
Alisa Gorshenina is not afraid of Blood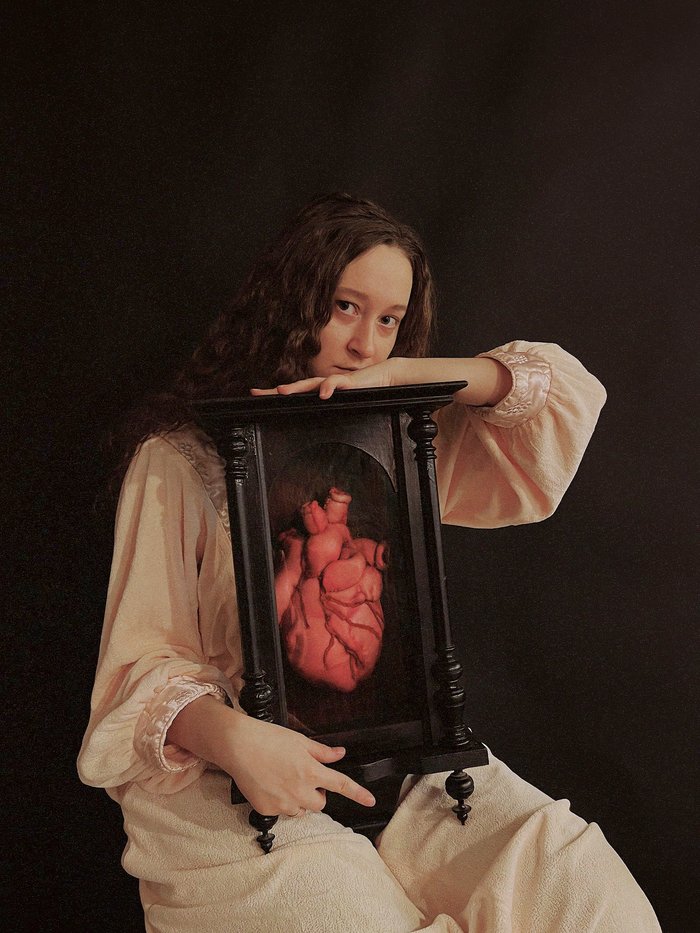 Alisa Gorshenina with her work 'Heart-shaped box'. Courtesy of the artist
Young Russian artist Alisa Gorshenina just unveiled two solo exhibitions – in Moscow and Ufa – which are very different in spirit.
Born in 1994, precocious talent Alisa Gorshenina has already become a successful name in the Russian art world. With two dozen group exhibitions and biennales of contemporary art in various Russian cities and numerous solo shows behind her, now she has two solo exhibitions on at the same time: 'The Scarecrow stood in the middle of a ploughed field' at the ZAMAN Museum of Contemporary Art in Ufa and 'Heart-shaped box' at Vladey in Moscow. Gorshenina occupies a niche in Russian contemporary art, where very few people are working with pagan rituals, simplifying, and modernizing them, and manifesting a newly sought authenticity and immediacy.
"I am as sincere as possible in my art, always creating work out of instinct, without being forced or pushed. Do I communicate my feelings through my work? - I think the viewers are the best judge of that, but I channel a huge part of myself into my work," she told Art Focus Now.
Although Gorshenina works in a variety of different genres, she is particularly known for her textiles, making staged performance in garments she has sewn such as intricate kokoshniks and masks, stylized robes of festive singers. The images she creates with surrealist references can also be classified as avant-garde, folklore-oriented fashion. Her work often features large, stylized eyes, which are either molded into kokoshniks or stitched onto robes or sleeves.
Today Gorshenina lives in Nizhny Tagil, an industrial city in the Urals where she studied to become an artist, but her roots are more provincial. She was born and lived in the village of Yashkina until she was six years old, something she emphasizes in interviews as she feels a deep emotional connection to this place. She even organized a show there, but she admits that the locals did not get her art.
Textiles may be a preferred medium however she has painted for as long as she can remember. "I've been painting since I was a child, I think since I was three years old. I have shown many exhibitions before that, both graphics and paintings, and even drawings I did as a child, which are very important to me. You could call me a multi-disciplinary artist".
'The Heart-Shaped Box' shows the artist's work in several different genres: performance photography, drawings, and art objects. All of these have anatomically plausible reproductions of bright red hearts. Several are drawn in the middle of the breasts of naked women, one is enclosed in a black case from which cloth "blood vessels" diverge, a drawing of a heart lies on a table covered with a scarlet tablecloth. Together, it creates a foreboding impression. However, Gorshenina does not see it as frightening. Rather, "my images are melancholic, shot through with pain, full of emotion which spills over the edge, as in 'The Body Weeps'. Gloomy – perhaps! This exhibition is definitely not about light-hearted emotions. A lot of people, including myself, are living in a state of darkness, and my art reflects my life, so the darkness is very appropriate for my work. I am not afraid of blood, there is a lot of it in my work now (figuratively speaking of course)."
There are also bloody hearts in the exhibition 'Scarecrow Standing in the Centre of a Ploughed Field' (a phrase Gorshenina came across in a book), which was shown in Ekaterinburg last summer, before Ufa. But the exhibition is more playful than dark, her bloody hearts do not take over here. There are fantastic textile 'scarecrows', photos from the artist's performances and drawings. In this exhibition, there is a sense that Gorshenina has become an established artist with a recognizable, idiosyncratic style and her own subject, something the artist brushes off: "My artistic path is fluid and I am always changing, I don't know at what point I should be called established, and if I even need to be."
Scarecrow stood in the middle of a ploughed field
ZAMAN Museum of Contemporary Art
Ufa, Russia
2 March – 4 May, 2023
Heart-shaped box
Moscow, Russia
8 March – 12 April, 2023