News
Who's afraid of Pyotr Pavlensky?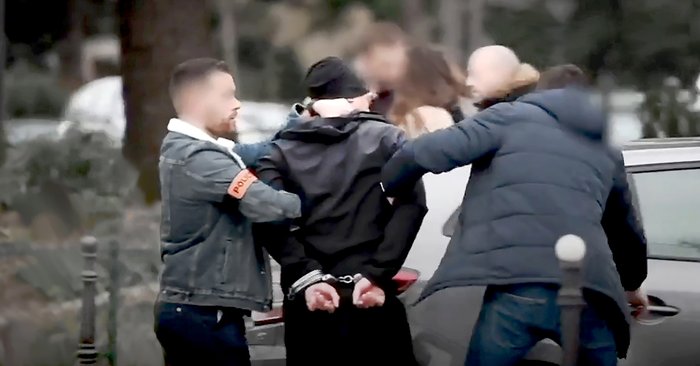 Pyotr Pavlensky. Video still from 'Pornopolitics and Other Precedents' project, 2022
The French authorities refused to let him out of the country to attend the opening of 'Pornopolitics and Other Precedents', his first solo UK exhibition. Pavlensky, who sought asylum in France after fleeing Russia in 2017, is awaiting trial in his adopted country after publishing the leaked intimate videos of a politician.
That video formed part of his 'Pornopolitique' project, the 'leading pornographic resource with the participation of politicial figures', which is shown in the exhibition together with judicial material collected from previous 'events' in France and Russia: setting fire to the headquarters of the Bank of France and the FSB, respectively.
'Pornopolitics', on display until mid-December, is the inaugural exhibition in the first permanent London space of art foundation a/political, which has championed politically engaged art for the past ten years. On the walls are a triptych of images from the police investigation into Pyotr Pavlensky's (b. 1984) 'Threat' event at the offices of the former KGB in 2015: two grainy, grey CCTV pictures of the arson, accompanied by details about the canister of petrol he used to set the doorway alight. Another triptych represents 'Lighting' (2017), when he set the Bank of France ablaze two years later: two more grainy CCTV images, alongside a picture of the boxes of matches that started the fire.
Beyond these are four works relating to Pornopolitique, one of which appears to be a still taken from the video at the centre of the case against him; though heavily pixelated, it is only on closer inspection that you realise it is a hand wrapped around the shaft of a penis. This is surprisingly coy for a man who once nailed his own scrotum to Red Square, and sewed his own mouth shut in response to the persecution of Pussy Riot.
The images in themselves make relatively little impact; they are comprehensible only when viewed with prior knowledge of the artists' 'events', or perhaps as notes about a series of scandals. In the text accompanying the exhibition, Pavlensky goes further, outlining his ideas about subverting power by unwittingly dragging the authorities that persecute him into his art; making a 'work' from the evidence they put out against him. 'It is simply about making power work for art. Through that, a subject of power becomes an object of art, and what turns them into an object is their own power of authority.'
For Pavlensky, the cases against him become the work itself, an idea realised earlier through 'Dialogues on Art', the published transcript of a conversation with a Russian investigator following his arrest in 2014. More dramatic than the pictures on display in London is the reaction of the French authorities to Pornopolitique; the artist's absence from the exhibition is as important a part of his work as any of the images.
Pornopolitics and Other Precedents
London, UK
October 12 – December 16, 2022