News
Vladimir Yankilevsky: a multi-faceted artist with the gift of mixing darkness and light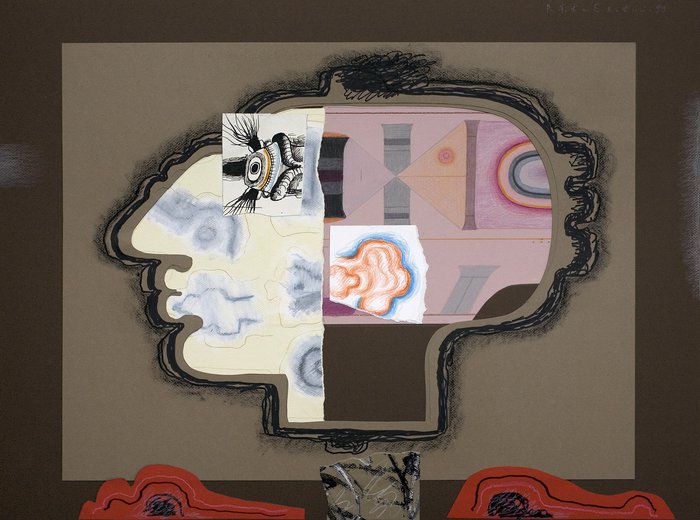 Vladimir Yankilevsky. Self Portrait. 1999. Coloured card, coloured paper, paper, pencil, oil pastel, Indian ink, felt-tip pen, colour pencils, collage. Shalva Breus collection
Moscow's Multimedia Art Museum will stage a major exhibition of the late non-conformist painter's work.
Picture a black horizon over which hovers a white cloud intersected by yellow, red and blue stripes. Next, picture the opposite — a black cloud on a white horizon with colourful stripes. In between the two is a grey claustrophobic apartment, whose owners — a dishevelled semi-nude couple — are suspended in angular red and black coffins. 
This is "Triptych No. 40: Between the Earth and the Sky," one of the late works by Russian artist Vladimir Yankilevsky (1938–2018), which demonstrates his extraordinary ability to simultaneously capture both a sense of stifling claustrophobia and limitless freedom. 
Yankilevsky's works range from small black-and-white drawings to colourful 11-metre-long assemblages, composed of wooden doors, clothes, wallpaper, newspapers and kitchen utensils, as well as his characteristic boxed-in figures. They are dark and menacing, but also somehow light and whimsical. 
The life of the Moscow-born Yankilevsky followed a similar trajectory to that of many "unofficial" or "nonconformist" Soviet artists. Like so many painters during the Soviet period, he earned his keep as a book illustrator, but had a rich artistic career on the side. In and out of favour with the authorities, he occasionally exhibited in the USSR and abroad until the perestroika years, when he emigrated to New York and then to Paris, where he spent the rest of his life.
What truly confirms his identity as a "non-conformist" is his participation in the scandalous and now-legendary 1962 exhibition at Moscow's Manège, from which the then Soviet leader Nikita Khrushchev stormed out in fury, labelling the artworks "degenerate" and the artists "homosexuals".
A series of Yankilevsky's works from 1965 are named after one of the world's most canonical heterosexual relationships, "Adam and Eve." The duality of male and female is a recurrent theme in Yankilevsky's oeuvre, or in his own words "the basis of figurative conflict". In his meticulously organised digital archive, one of the 10 sub-sections is labelled "Women" and another "Men." However, gender is not always so clear-cut and many of the artist's erotic drawings depict curious, hermaphroditic figures. 
His works are also littered with art historical references. In his early ones, there are strong hints of Joan Miró. The 1956 Picasso exhibition at Moscow's Pushkin Museum, which resurrected that giant's work from the vaults in which they had been hidden during Stalin's reign, opened the eyes of a whole generation of Soviet artists. It inspired the young Yankilevsky to loosen up his style and explore the possibilities of abstraction.
Picasso's distorted portraits of women are interpolated in some of Yankilevsky's collages, as are other recognisable faces from art history, such as Piero della Francesca's Duke of Urbino, who rears his hook-nosed and red-hatted head again and again. 
Yankilevsky's constant reuse of the same themes and images make his works seem like a single body pointed in different directions. Last year, the Moscow Museum of Modern Art gathered 200 of them together in the largest ever retrospective of his work. Yankilevsky died in January 2018, one month shy of his 80th birthday and two months shy of the exhibition's opening. Those who missed that show need not despair however, as the Multimedia Art Museum will be staging a follow-up exhibition this autumn.
Vladimir Yankilevsky. Heroic monument
Moscow, Russia
18 September – 13 November 2019