News
"The new city artists": bringing outsiders into the limelight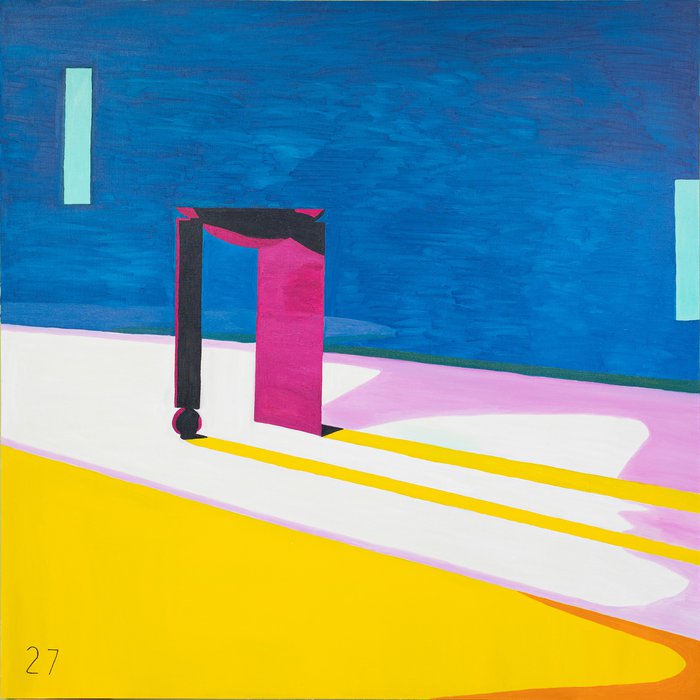 Kirill Maidanyuk. 'The Door', 2019. Oil on canvas, 150 x 150 cm
A St. Petersburg initiative called 'The New City Artists' promotes artists with varying mental conditions. What do they bring to the world of contemporary art and how do their curators address their special needs?
If you happened to walk into Moscow's ROSIZO exhibition centre on 7 February, you would have been confronted with 39 square canvases of the same size which, although arranged together, seem to have little else in common. The artists are nowhere to be seen, but curator Evgeniya Shtil says viewers who want to meet them can come the next day to see the movement that calls itself the New City Artists. If this seems unconventional, it's because the artists themselves are far from conventional. The nine artists whose works are on display needed special permission to be escorted to Moscow from St. Petersburg, where many live with their parents or are confined to institutions. Some can communicate with groups after special preparations, for others it's difficult to speak.
Shtil came late to the art world after more than a decade working in the social sector, where she became familiar with the world of St. Petersburg's eight mental institutions. "The patients who live there have few outlets for self-expression," she says, "so they fill notebooks with sketches." Noticing the creativity on display, she approached Stas Bags (b. 1984), a St. Petersburg street artist, with an idea: "What if we create an artist residency for the most promising patients?" Sketches found in such institutes are often classified as outsider art, but the goal of Shtil and Bags was to help those artists create contemporary art that could be displayed in galleries and homes. "We are here for the mainstream," Shtil explains. "Our artists have lived long enough on the periphery." This is where the name of their movement comes from. They are the New City Artists because they are tired of living outside in St. Petersburg's suburbs or even further than that. Shtil and Bags placed an open call for works from three institutions. It included patients living in the centre, as well as home-assisted patients. They received 100 responses. Of those, 40 artists worked with Shtil and Bags, 20 were featured in a St. Petersburg exhibition in May 2019 and nine eventually made it to Moscow.
Sections of the art world have been generous in their reaction. Some claimed the dissonant still-life paintings of household objects created by Demyan Pecheyko, an artist who can neither speak nor hear, have "returned pop-art to the art world". Kirill Maidanyuk's compositions are reminiscent of icon painting. Zoika, who is illiterate, was selected by St. Petersburg's Name Gallery for a private exhibition. She assembles collages of words taken from ads or lifestyle magazines. All the artists listed use pseudonyms. While this opens new approaches, it also raises questions. Nataliya Petukhova, supervisor of 'Latitude and Longitude', another art project working with people who have special needs, lists a few: "Am I doing everything ethically and fairly? Am I focusing attention on myself? Do I help the artist speak, or do I use them for my own purposes?" To these can be added: How does one take the responsibility of making aesthetic, even ethical choices over how best to invest in the patients' future?
Shtil and her colleagues are very experienced, but there are few precedents to lean on. The Moscow exhibition closes on 8 March and buyers are eager to buy. This will put the collective's financial structure to the test. The plan is to split the proceeds between Shtil's foundation and the artists. In the meantime, the original nine artists continue to find their way through a new world. The guiding principles, however, remain the same: integrating the periphery, challenging notions of who can or cannot be a successful artist and, finally, moving into the heart of the city.