News
Strange Holidays in Berlin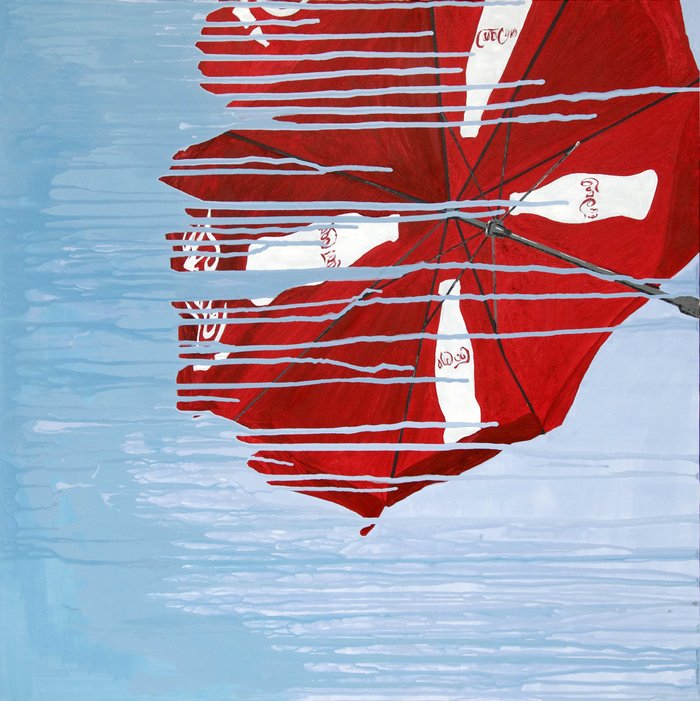 Ivan Plusch. Umbrella, 2015. Canvas, acrylic, 119x119 cm. Courtesy of the artist
A group of Russian artists living in Hungary, experiencing the effects of cancel culture there, reflect on their current predicament in a new joint project, on view in Berlin's Haze Gallery.
Gallery weekend in Berlin attracted an international crop of collectors, curators and art lovers who converged in the city over just four days. Berlin's gallery scene has been thriving now for a few decades in clusters like constellations on a map of the skies. It may be a well established scene but these constellations constantly change shape as star dots move into new areas to form new groups, and new ones are move in to take their place. Mitte, Kreuzberg, Charlottenburg, Postdamerstrasse are well known areas, while more venues are also opening along Karl-Marx-Allee, in Moabit and Wilmersdorf.
Haze Gallery is a two-room space close to U-Bahn station Nollendorfplatz, not far from Berlin's prestigious Kurfürstendamm.The gallery was founded in 2019 by Irina Rusinovich a Russian-born, German-based curator, and its main focus is on promoting emerging artists from around the world. Their latest pop-up exhibition called 'Strange Holidays' opened on 27th of April and will close on 6th of May and features three artists: Irina Drozd (b. 1980), Ivan Plusch (b. 1981) and Dmitry Shorin (b. 1971).
The artists' work is otherwise distinctive, yet this new show highlights common ground between them. Working in different techniques, they chose painting as their medium for this show. Vivid and glossy, their large canvases all tell stories of dissociation and the disappearance of the protagonist. Hung here together, their works seem in many ways close to one another visually, it is something new for them. Could this be an example of convergent evolution, where the same circumstances lead to similar outcomes, like sea mammals resemble fish? Or is it just the right juxtaposition.
'Strange Holidays' is a curatorial project which was thought up by the artists themselves. It grew from their own personal friendships in the neighborhood where they have been living in Hungary, and where they have long been seen as established artists on a local scene.
Irina Drozd says: 'We have a community of artists in Pacsa, it's near the southern bank of the Balaton lake, with Heviz and Kezstely resorts nearby: Olga Tobreluts, myself, Ivan Plusch, Dmitry Shorin, Oleg Maslov and Andrey Dvin. We've made a lot of Russian-Hungarian exhibitions there. We ran these exhibitions in city-owned spaces but now it is all on hold. We used to organize everything ourselves, and press from all over Zala where we were living would come to cover our events and shows.'
It has been alienating and isolating, yet when they started talking with one another about their predicament, they began to discover things in common. They offered the current exhibition to Haze gallery as a finished concept. Irina continues: 'It's true that already we had in some way approached this notion of 'strange holidays' before the idea of the exhibition came up. I had seen a piece by Dmitry (Shorin) with remnants of a crashed plane lying somewhere in the dunes and a girl drying laundry, the word 'help' written in the sand. Ivan (Plusch) has pieces from 2015 with empty beaches and life jackets. And then something happened. I already had made several paintings depicting young men with a swamp or a lake in the background, alone in a barren landscape. And so we saw how those ideas from the past connected with our current situation. There is the forced migration, when many people leave to go on 'strange vacations' and they have no idea where and how they will end. I also made some new works to give the sense of being completely lost as an end stop in itself".
Ivan Plusch's beaches are decomposing, with paint smearing the image sideways, as if badly executed. When talking of this series he says: 'Like my other projects, it is linked to the idea of the disappearance of a protagonist. I continued this idea in 'After' [a series he did in 2021 together with the GAN2 neural network], but in a different way. Together we have found common ground in our work; my sense of 'falling out of time' which I explored in that project reverberates profoundly in the here and now.'
Dmitry Shorin is the only one of the three to show exclusively new work made in 2023. His trademark sky romanticism is present here, too. There are Instagram images which act as reflections of the kind of trips we do now. It is not about how we feel or where we are, it is all about how we look. The people and the places are glamourous, but there is something wrong. The shores become void, the paint peels. Something bad can happen at any moment to shatter this illusion, life can be snuffed out for no reason, as when an otherwise peaceful city is bombed. Everything is fragile and temporary. Like a melting ice lolly in Shorin's painting.
Over the past few decades many Russian artists had planted one foot in Europe keeping one foot in their homeland. But then in 2022 by necessity they have been forced to embark on this 'strange holiday', finding themselves unable to return to Russia, or not willing to do so, alienated in Europe, yet new venues are found, new cities become home, and that is how strange holidays come to an end.
Strange Holidays
Berlin, Germany
27 April – 6 May, 2023