News
Sad loss of pioneering London Auction House founder William MacDougall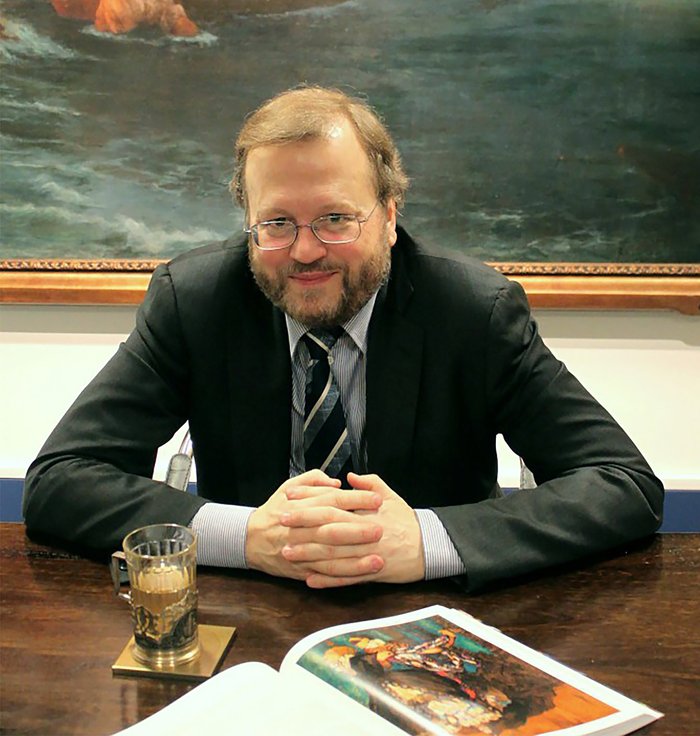 William MacDougall, Co-Founder and Director of MacDougall's Auction House in London, passed away in Moscow on 25th August 2022. Alexander Kuznetsov, an independent art expert who worked with the auction house since its inception pays tribute to a colleague and friend.
It all started in Autumn of 2004. The first Russian art auction by a yet unknown auction house, MacDougall's, named after and founded by husband and wife, William and Catherine MacDougall, was about to take place. The international Russian art community consisting of auctioneers, dealers and collectors gave a collective shrug of their shoulders. The sudden appearance of an unknown company among the oldest auction houses in the world, cut a strange look, and it was a risky undertaking. This new kid on the Russian block with a Scottish name, was met with ironic condescension across the board. As could be expected, miracles never happen: the first batch is always flawed, the auction went badly, people were cautious and the next also barely paid for itself. But by the third season things were turning around, expectations were met, and the company began to gain some momentum.
In later years, in this niche art market and through sheer determination, MacDougall's went on to break into the hallowed front row of London auction houses, and even in some cases beat them at it. Many Russian painters found record-breaking bids at MacDougall's, and the company's progression and development were nothing less than a dream come true for two obsessive art lovers and entrepreneurs. As William's wife Catherine explained: their family business was formed almost spontaneously, and the momentum even took themselves by surprise. From words to actions, events unfolded so rapidly that there was no time for reflection.
William Frank MacDougall was born in Toronto on 19th of February 1955. 'Willie' was the eldest of four children, and in the tradition of a large family, from a young age he had to look after his younger brother and two sisters. When he was four years old, his family moved to California. His father, who had been involved in the development of the first computer, was offered a job at IBM. William was a diligent student at school. Endowed with an analytical mind and great natural aptitude, he enrolled at Stanford University in the Department of Humanities and Social Sciences. After graduating from one of the world's most prestigious institutions, William went on to study economics and history at Oxford. William's maternal grandfather was a celebrated musician, born in Russia, and the first violinist at the Bolshoi Theatre orchestra. His portrait was once painted by Natalia Goncharova, a copy of which remains in the family, and Benjamin Britten dedicated several of his important works to him. After the events of 1917, as was common with many intellectuals, William's grandfather fled Russia, taking with him only a cushion and his Stradivarius violin from which he was inseparable. Leaving Russia turned out to be a heavy burden on him, and perhaps that is why many years later his grandson William, who was born in Canada and grew up in the United States, always had a desire to visit his distant ancestral homeland. A person of many talents, William played the double bass professionally. At various times he was a member of stringed chamber groups, and musicality passed down the family, later his son George inherited from him perfect pitch and a good voice.
The opportunity to visit Russia did not come until 1985 and William began to visit Moscow regularly in the early 1990s: in 1991 he had a meeting which changed his life. Here the story of individual human lives took an unexpected turn, affecting the destinies of several generations of two families. Before the October Revolution in 1917, William's grandfather, who had fled Russia and left his three sisters behind, and Catherine's great-grandfather had neighbouring dachas at Malakhovka near Moscow and were close friends. Catherine grew up with William's Russian third cousin, and they were childhood friends. So, having come to visit his relatives in the Russian suburbs, William MacDougall met there his future wife.
When they moved to London now as a couple, they did not abandon their interest in Russian culture. Despite leading a hectic working life in various commercial fields, they gradually built up their own private collection of Russian art, often acquiring works at auction by Ilya Repin (1844–1930), Mikhail Nesterov (1862–1942), Sergei Vinogradov (1869–1938) and Sergei Sudeikin (1882–1946), whose works William particularly loved. For several years William worked as an economist in the City of London, managing a $4 billion fund. The fund was doing very well, however, an overwhelming love of Russian art gradually took over and William made a decisive and risky step in investing his hard-earned money into their new auction house. Despite the market boom of Russian art in those years, it was still nothing short of a spin of the Russian roulette. The birth and rise of MacDougall's against many odds, shows that if you have belief and determination, as the cliché goes, your dreams can come true. It was not an easy path: as art market professionals particularly in the Russian field know, this kind of business is very capricious and can bring a lot of unexpected surprises.
Despite all the challenges of which there were many, and pitfalls at every corner, William was a pathological optimist who could persevere in even the most hostile of environments. In many ways he was a role model both for his family and staff, an unflappable personification of calm and confidence, as if he embodied his own flag with the motto 'Buaidh No Bas' (Conquer or Die). He was not the slightest bit embarrassed by failures, and he celebrated success with a childlike spontaneity. His sparkling sense of humour was also widely acknowledged, he always cheered up those around him.
William was a very kind, compassionate and fair man, always ready to help a neighbour and was the model of a modern humanist personality in the highest sense of that truly elite concept. He gave much of his time, efforts, and resources to support the two cultures he loved equally, Britain and Russia. He was a family man, who worshipped his young son and wife alongside whom he both lived and worked.
At the MacDougall family home in Malakhovka near Moscow hangs William's favourite painting, by the remarkable Soviet artist Tatyana Yablonska (1917–2005). The painting depicts an open window taking up much of the canvas, the window wide open and there is a national headdress with multi-coloured ribbons hanging from its upper frame. The space is bathed in sunlight and a soft summer breeze barely touches the tulle curtains and the bright satin of the ribbons. During William's lifetime, I did not understand why this work was his favourite. After his passing, the essence of the invisible attachment between the humble masterpiece and this quietly wonderful man, whose life was like a barely perceptible warm breeze in the dazzling rhythm of life's colours, was suddenly revealed to me.