News
Rothko Centre hosts Ceramic Biennale in Latvia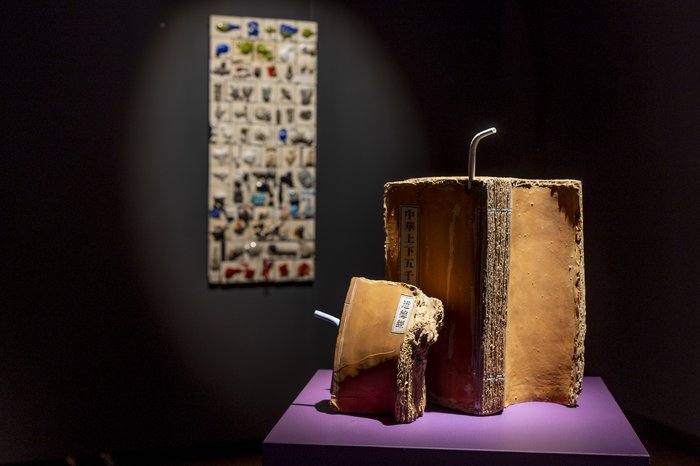 Martinsons Award juried exhibition. Exhibition view. 4th Latvia Ceramics Biennale. Daugavpils, 2023. Photo by Didzis Grodzs. Courtesy of Daugavpils Mark Rothko Art Centre
Artists working with clay push the boundaries of this age-old medium and address the poignant issues of the day.
A three-hour train ride from the capital Riga, and I arrive in Latvia's second-largest city, Daugavpils. The first thing locals tell me is that it's a 'Russian' city - the majority of its inhabitants are Russian speakers - but I am here for its other notable feature: the Daugavpils Mark Rothko Art Centre which is now hosting the Latvia Ceramics Biennale. In its fourth iteration, this is a renowned event not just in the Latvian cultural calendar but in the universe of ceramics.
Sprawling across numerous locations and dates, the focal point of this year's Biennale remains the Martinsons Award, in the main building at the Art Centre, named after the city's most famous cultural export, Mark Rothko. There was a record number of entries this year, 685 from 71 countries around the world, and the jury panel reduced it down to fifty-nine pieces which make up the final exhibition of their selection. A dramatic awards ceremony reveals the gold, silver and bronze laureates in two categories, Latvian and international.
The array of work on view is exceptionally diverse, spanning demonstrations of technical mastery and fine craftsmanship, conceptual pieces with irony and humour, ceramic as a surface for painting, and works which even incorporate sound and video. This year's gold winners are both from the Baltics, Lithuanian artist Milena Pirštelienė (b. 1969), and Latvian Sanita Ābelīte (b.1978). Both are exhibiting multi-part installations, with a horizontal collection of objects and a wall-mounted display which create narratives through related ceramic objects. This year's theme 'troubled waters' does not quite turn a blind eye to geopolitical events, deftly glossing around them. There are a few works which make overt statements such as a large ceramic vase by Megija Zonne, 'Soviet Monument Removal' which depicts the controversial toppling of Riga's Victory Monument last year and ceramicist Egija Damberga's 'Misha' is a queue of porcelain Olympic bears gradually crumbling and melting away. In the last room a bust made of tiny decapitated heads – burnt, blind and screaming in agony – titled 'Russian World', is the only piece by Russian artists, Yulia Batyrova (b. 1987) & Marat Mukhametov, who have called themselves 'Russian Artists in Exile'.
The efforts to promote and push local artists seems to be paying off, this Biennale and the larger Mark Rothko centre itself is effectively nurturing a local ceramics scene. Overall works by Baltic artists stand out as particularly complex, daring, experimental and diverse.
The award is named after sculptor Pēteris Martinsons (1931-2013), who was, like Rothko a native of Daugavpils, and hailed as the father of Latvian contemporary ceramics. A former warehouse was restored and last year opened as the Martinsons House in his honour, housing an installation of his life's work called 'The City of Dreams', which was donated to the Rothko Museum. And opened recently a bastion of the Daugavpils Fortress has been transformed into an open-storage chamber, with yet more contemporary ceramics on display!
But what about the centre's iconic namesake, Rothko? Apart from the ceramics which have literally taken over this unruly complex of over 2500 sq. m. there is more to see. Rothko, born in 1903 as Marcus Yakovlevich Rothkowitz in the city of Dvinsk - as Daugavpils was then called - lived there for the first ten years of his life before his family emigrated to the US. Loaned by the foundation now managed by the children of the artist, six of his canvases displayed here are the only paintings by Rothko on public view in Eastern Europe. There is also a display dedicated to the artist's biography presenting his connection to the city. A silent room, a library and further exhibition spaces. Which at the time of my visit hosted two large and impressive shows: John Hoyland (b.1934) and Uldis Čamans (b.1961), both bearing a painterly connection to the colour field legacy of Rothko.
There is also a modest but incredibly poignant display of the gulag drawings of Daugavpils native Solomon Gershov (1906-1989) which draws attention to the difficult and painful history of the region. The city's population was almost half Jewish, at one time with 48 synagogues, but successively pogroms, Nazi occupation and soviet rule left only a handful of people of jewish descent in the city. Incidentally Mark Rothko's children Kate Rothko Prizel and Christopher Rothko have also invested in restoring a synagogue in the city.
Celebrating its 10th anniversary this year, costing over six and a half million euros to the Mark Rothko Art Centre opened in 2013, largely due to the gargantuan efforts of one woman, Farida Zaletilo. This colossal art complex on the outskirts of what is sadly a troubled and disenfranchised town is impressive, astounding in its disproportionate scale, and you cannot help but wonder what stands behind it. Walking through its pristine galleries, overwhelmed by the volume and size of the artworks on display, one gets a strong sense of invisible political and financial powers hiding in the background. Much like the abstract expressionists, Rothko a key figure among them, were once the flag of cold war American cultural policy, here again art has been called upon to function as a diplomatic tool, an economic catalyst and cultural beacon.