News
On Memory: Haim Sokol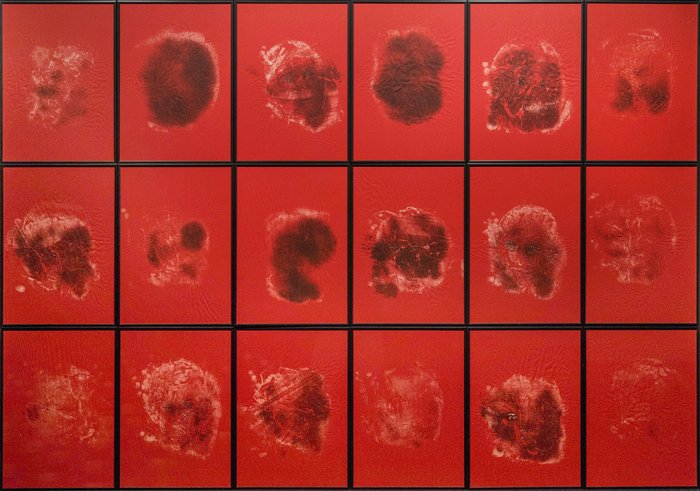 Haim Sokol. It is impossible to feel somebody else's pain, but maybe it is possible to not feel it in somebody's stead, 2017. Drawings on carbon paper 180x160 cm. Photo Vladislav Shatilo. Courtesy of the artist
A Russian-Jewish artist's reflection on trauma, pain and remembrance on show at Moscow's Jewish Museum and Tolerance Centre
The exhibition "Anne Frank: Holocaust Diaries" charts the stories of six young Jewish girls who wrote their diaries in ghettos, in camps and in hiding. Their stories are different, but they have one thing in common. Even though they were living under Nazi terror, these children remained children. They still fell in love and dreamt about new dresses.
Only two of the six girls survived the Holocaust. The diary of one of them, Mary Berg, was published in the United States before the end of World War II and became one of the first direct testimonies of the fate of the Jews in the Warsaw Ghetto. Alongside with archival materials, the exhibition will also include works by contemporary artists reflecting on the Holocaust. One of them is Haim Sokol's 2017 project, "It Is Impossible To Feel Somebody Else's Pain, But Maybe It Is Possible To Not Feel It In Somebody's Stead," which takes the shape of 20 drawings on carbon paper.
Sokol (born 1974) is a Russian mixed media artist of Jewish heritage. One of the themes he investigates in his art is the trauma of catastrophe, based on the experience of his own family. Sokol's father was trapped in a Jewish ghetto in Ukraine during the war but survived. As a consequence, Haim inherited his father's traumatic and repressed memory and must bear that burden as well.
His work displayed in the Anne Frank exhibition is dedicated to a group of Jewish kids, imprisoned in the Neuengamme concentration camp near Hamburg, that became victims of medical experiments. Sokol draws their portraits through carbon paper, "endlessly" copying their faces. He digs up history, personally bears its burden and places it in a contemporary context.
Sokol does not limit himself to addressing antisemitism in his art: he also examines discrimination against other minorities. He makes connections between events from the past with the current social situation in Russia and around the world. In his 2013 video "Spartacus," Sokol interprets the rebellion of gladiators and other slaves in Ancient Rome. He depicts migrant workers from former Soviet republics, all playing the roles of both Gladiators and Romans. The video is an example of the links the artist finds between Past and Present, interpreting history while tackling complicated issues like migration and labour in his own way. What he brings to the fore is the individual "homo sacer" (sacred man in Latin), deprived of all rights.
Testimony is one way of gathering historical data, and for Sokol, it becomes an artistic tool. He uses elements from testimonies in his drawings, particularly people's handwriting. In his 2009 project "Palimpsests," Sokol, for instance, declares that autographs and handwriting are key elements of personalities. He copies them in his drawings, repeating the movements of the individuals who initially wrote them. The artist uses portraits and life stories of people, paying no mind to how obscure or well-known they are. His characters' only uniting feature is that they no longer exist and have left no name behind them. Nevertheless, they can shape History and Memory. Sokol's art is the outcome of deep research and philosophical reflections on the notion of time