News
Nikolai Fechin: the Russian impressionist whose destiny was exile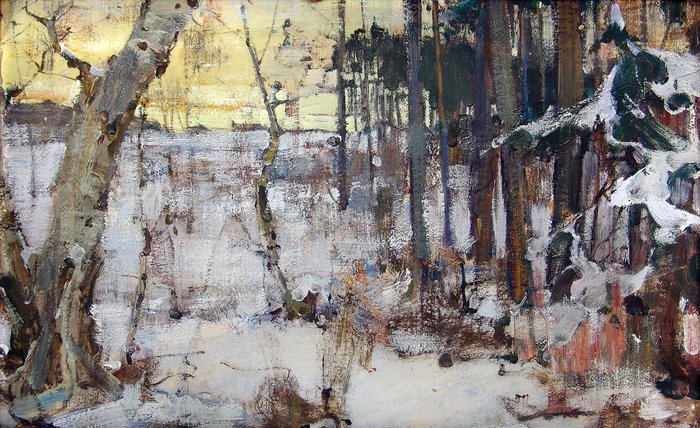 Nikolai Fechin. Winter landscape. XX century. Tempera on cardboard. 31x51 cm. The State Museum of Fine Arts of the Republic of Tatarstan
Nikolai Fechin, a delicate Russian artist who settled in the United States after the Revolution but who identified much more with native Americans than with the settlers who welcomed him.
In photographs, Nikolai Fechin often has a fearful look. Although his stance is powerful, standing with one leg cocked on a footstool, or leaning forward holding a cigarette between two fingers, his gaze is defensive. This expression is mirrored in many of his portraits.
The painter covered a wide range of subjects: flamboyantly-dressed society women, little girls in patterned headscarves, elderly native American men. All of them were people he encountered during a life marked by perpetual travel.
Born in 1881 in Kazan, now the capital of Russia's Tatarstan region, Fechin moved to St. Petersburg in 1901 to study art under Ilya Repin, the best-known Russian artist of the 19th century. There, he received a prize which funded a tour of Europe, where his paintings were exhibited alongside those by French Impressionists such as Monet, Renoir and Pissarro.
In 1923, at the age of 42, he moved to America to escape the chaos of post-revolutionary Russia. He thought he would only spend a few years, but it turned out to be for good. After his death in California in 1955, his daughter Eya eventually brought his ashes back to his homeland. Fechin lived in a number of cities on the East and West coasts of America: New York, Los Angeles, Santa Monica and Taos, New Mexico. He was forced to move each time because of bad health, or the breakdown of his marriage.
But despite the constant upheavals in his personal life, Fechin's style remained remarkably consistent. He dabbled in landscape (especially during his time in the New Mexico desert), but he was first and foremost a portraitist. He took pride in his stylistic consistency and was dismissive of signatures, saying that viewers should be able to recognise an artist by their style alone.
Fechin's canvases do indeed bear the traces of his touch, literally: he would prepare his canvases himself and sometimes use his fingers to produce the right effect.
Like a true Impressionist, Fechin painted from life without making preparatory drawings. This explains the rough-hewn and dreamy quality of his paintings, which veer between precise detail and near-abstraction, with corners of the canvas sometimes left tantalisingly unfinished. The artist clearly rejoiced in the possibilities of colour. Skin tones in his portraits are made up of a glorious mix of pale pinks, light oranges, dazzling whites, warm greens and deep blues.
After his death, Fechin's daughter said that her father never fully adapted to American life. Despite his critical and commercial success in America, Fechin always felt like an exile and was often described as the "Tatar artist" because of his birth in Tatarstan. He even attempted to recreate his homeland abroad by using his father's woodcarving techniques to decorate his home in Taos, New Mexico, now a museum of his work.
While Fechin sought a reluctant refuge in the West, his fellow artist and contemporary from Kazan, Pavel Benkov, became an internal exile in Uzbekistan, painting gorgeous sun-kissed visions of Uzbek life.
Both Fechin and Benkov remained relatively unknown in Soviet Russia. Next month, however, the Museum of Russian Impressionism in Moscow will stage a major exhibition of the two artists' works, A Place Under the Sun (5 June – 24 September), highlighting the compelling differences and similarities in their paintings after their lives diverged.
Although the subjects of Fechin's portraits came from all paths of life, he was drawn time and again to the same two groups: Tatars and native Americans. Both are indigenous peoples living on land settled by Europeans where they were made to feel like second-class citizens. Perhaps this explains the complex mix of fear and defiance in their gaze – and in Fechin's.