News
Is it the overwhelming majority? Russian artists show their solidarity with Ukraine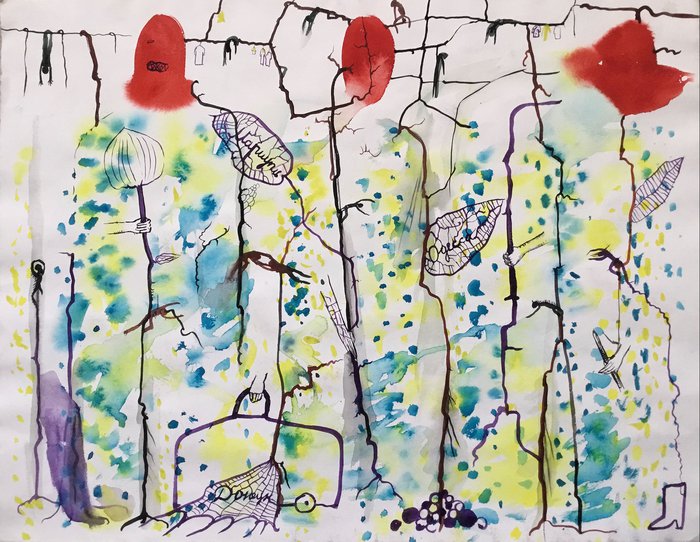 Gluklya. We Are With You. Courtesy Shtager Gallery
This six day exhibition took place in Shoreditch in early April and brought together works by 17 individual artists and art groups based both within and outside Russia. All the proceeds of the exhibition are to be donated to Ukrainian charities.
The first work you see when entering Overwhelming Majority? – a pop-up exhibition in Shoreditch, London – is World Peace (2022) by the multi-media artist, Gluklya (Natalia Pershina-Yakimanskaya). This small, enigmatic watercolour painting depicts a well in the middle of a desolate landscape. It is one of around twenty works by Russian artists and collectives in Overwhelming Majority?, which was curated by cultural critic Denis Maksimov-Gupta and gallerist Marina Shtager as a 'gesture of solidarity with the victims of senseless violence' in Ukraine. The artworks are for sale with all the proceeds going to Ukrainian charities such as the Ukrainian Emergency Art Fund and Help for Kharkiv.
The exhibition's title references a recent press briefing during which Putin's spokesperson Dmitry Peskov stated that the 'overwhelming majority' of Russians support the president's actions in the Ukraine both 'emotionally and practically'. Questioning the accuracy of this claim, the exhibition features artworks created between 2014 and 2022, which express some Russian artists' views on contemporary politics and society. As Shtager explains, it offers a 'public platform to that part of the Russian artistic community that cannot remain silent about the current situation'.
The works are in an impressive range of media, including performance, installation and video art. In her performance Border of Tears, which took place during the exhibition's opening preview, London based artist Katya Granova constructed a model of the Russia-Ukraine border out of plasticine. Along the border she placed small vials filled with real tears shed by women in the last few weeks, which she had gathered after posting a call for contributions on social media. Another performance, Let the Dead Speak…(2022) by the artist collective Nevoina ('Not a War'), involved the artists lying in body bags on the frozen Volga River. The performance is documented in striking black-and-white photographs and videos drawing attention to the contrast between the black bags and white snow.
In Vita Buivid's poignant installation piece Comfort Food, a row of cherry dumplings are nailed to the wall as though crucified. The blood-like cherry juice rolls down the dumplings and the gallery wall. Buivid, who was born and grew up in Dnepropetrovsk, Ukraine, and now lives in Amsterdam, created the work in 2014 when the military conflict in Donbas began. 'Cherry dumplings (vareniki) is a national Ukrainian food,' she explains. 'Every day my installation gets an increasingly sinister meaning.' Another work which plays with a simultaneous sense of comfort and threat is Varvara Keidan-Shavrova's Tatlin's Drone (Dream Maker) – a navy-blue cushion with the image of a drone embroidered in yellow thread. The bracketed subtitle 'dream maker' suggests the soporific humming sound made by drones, while also pointing to their ability to kill.
There is a similar sense of threat in Kirill Chelushkin's Ministry of Culture (2014), made from graphite and ash on canvas, which depicts three sinister-looking men in suits working in an office where they are dramatically cast in shadows. Other works in the exhibition have a more comic tone, for example MAVR ART GROUP's video installations, Ballet (2019) and Let Them Speak? (2022), which use caricatured animations to draw attention to national myths and political slogans. Like the title of the exhibition as a whole, Let Them Speak? is a question, an interrogation. And that is the power of this exhibition: in a time when silence is the easiest and safest option, it brings together a multitude of artistic voices which are asking important questions about the contemporary world.
'Overwhelming Majority?'
London, UK