News
How Andrey Kuzkin flipped Paris on its head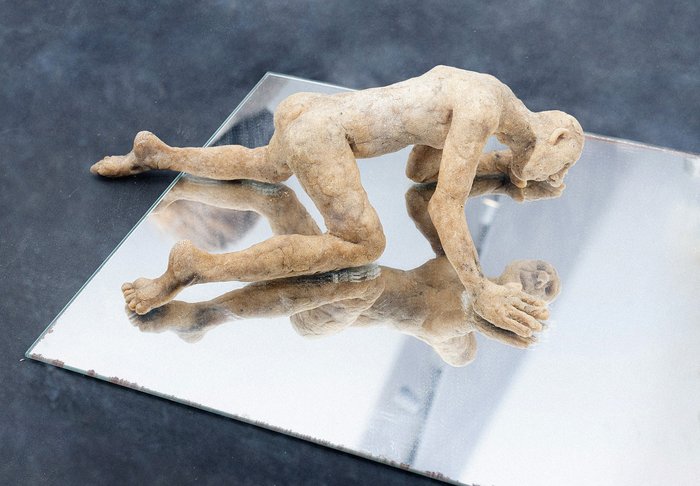 Parisian HUS gallery is showing a pop-up project of renowned Russian sculpture and performance artist Andrey Kuzkin. His concurrent live performance, 'Phenomenon of Nature or 99 Landscapes with a Tree' and open studio 'Time of War' is on until the end of January in the French capital, the artist's temporary home.
Bridging past and future, there are two parts to the exhibition, 'A. Kuzkin was here'. The serial performance 'Phenomenon of Nature or 99 Landscapes with a Tree' with the photo series documenting it (so far), is created by the artist in the memory of his father Alexander Kuzkin (1950-1983), who was also an artist, and even shared the same first initial, A. Kuzkin. The serial performance is in fact inspired by a graphic work by Kuzkin the Elder, called '99 Landscapes with a Tree' and this number is embedded within the timeframe of Andrey's homage which he started in 2010. The performance will take place 99 times in different locations and if you're in Paris, you can witness number 74.
In each performance, Kuzkin (b.1979) immortalizes his father in a rather existential pose, naked and standing on his head - for half an hour. He reflects on the limitations and fragility of the human body, the continuity of life, how it reproduces itself, both sprouting from the ground and rotting in it. To the fore is the flow of time. Such a studied observation of the human body in a still position may seem boring. But when you look at the pulsating stomach breathing in a comfortable rhythm, the hands and legs floating around to find equilibrium, time passes slowly and you're afraid this fragile position may end any minute. The artist does not stand on his head spectacularly, like a yogi, gymnast or dancer. His back is not pillar straight, in front of you is the back, arms and legs of a normal person who is physically struggling, trying to find balance, loses it, then regains it. At some point your fear gives way to contemplation, you lose track of time, and after a while all of your doubts dissipate: 'he will do it, he won't fall'.
Such temporality is evoked also in the second part of the project, displayed in a neighbouring building around the corner, it is called - 'Time of War'. The exhibition space is actually a studio, which the artist has covered in large paper sheets with just one phrase repeatedly written on each sheet, in four languages, Ukrainian, Russian. French and English. 'I want the war to end'. For Kuzkin, the actual time he spent making these repetitive drawings over and over again, each one the same as the last is crucial to its meaning. It becomes the work's intangible capital, the 'sublimation of a strong wish that couldn't be implemented'.
Alongside this paper total installation, there are little human figurines made out of bread, created after the artist suddenly left Russia for France in September 2022 along with some other 700,000 of his compatriots during the roll-out of conscription to the Russian army. He had used this same technique before in a large body of work including his 2019 'Prayers and Heroes', elaborated from a clear philosophical and historical starting point. Bread symbolizes the body, sacrifice, and humans manufacture it to feed themselves. Another reference is the Russian tradition of bread sculptures made by prisoners, who had no other materials available. These 'bread projects' were always about Russia's gulag past, but now the bread figures speak about the present too with its incarceration, torture and repression. The figures are made out of small objects that Kuzkin finds in the house where he is currently living - temporarily.
For him, the everyday inscription 'A. Kuzkin was here' turns existential when in exile. It is confirmation of Kuzkin's real presence in a completely new environment, an experience in common with over a million Russians who left the country in disagreement of what is going on now. It's a point of starting over from zero: as intended in the phrase 'I am' we start to learn any language.
Andrey Kuzkin. A.Kuzkin Was Here. Exhibition and open studio
Paris, France
20 January – 4 February 2023
(performance on the 27th of January at 20:00)