News
Female Artists from Ukraine, Russia and Belarus Join Forces in Berlin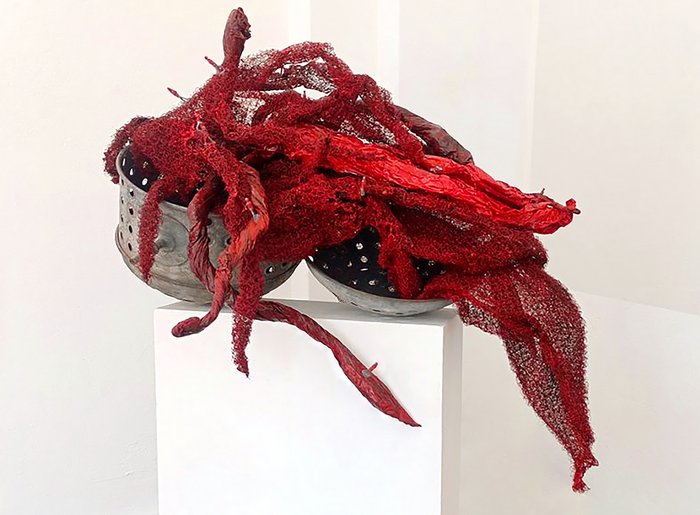 'Heartbeat' runs until 16th July at Wolf & Galentz gallery in Berlin, a rare example of creative dialogue that has become almost non-existent in today's divided world.
Founded by two artists, Wolf & Galentz gallery in Berlin is a space which gives an unusually high degree of freedom of expression to the artists on its roster. Its latest show is a self-curated group exhibition by female artists Katya Tishkevich (b. 1991) and and Masha Garash (b. 1985) from Minsk, Ludmila Belova (b.1960) from St Petersburg now living in Montenegro, Marina Koldobskaya from St Petersburg (b. 1961), Julia Katan (b. 1997) and Tania Sklyar (b. 1963) both from Odessa.
Marina Koldobskaya has been collaborating with the gallery for three years now. Last year, after the hostilities in the Ukraine started, she participated in a group exhibition at the gallery called 'Kommentar zu Betrug und Gewalt' (Commentary on Fraud and Violence). She explains how the current project came about: "We prepared this exhibition over four months or so, and we had quickly decided the main task was in creating the project together. We kept each other informed about our work, exchanged news, shared opportunities, and met on Skype each week to discuss everything. We did not only tend our own exhibits but worked on the entire show in a collective democratic process of curating. It my experience it was the first time that I took part in such a process. Democracy is exhausting. We argued until we could argue no longer, made decisions, changed decisions... six artists, six voices. Incredibly the gallerists endured it all!"
The group had come together gradually, Belova and Koldobskaya had known each other for a long time; Katan was already represented by Wolf & Galentz; some were introduced or recommended by fellow members. There was a process of deep searching to find voices that would fit. As Koldobskaya comments: "It felt important to find artists with a strong visual message, not activists, not conceptualists, but those who work with images and emotions. In the end we're all about feelings. Feelings are not trivial things. They are what a person lives in."
Much of the art was adapted or produced specially for the show. Their group statement is a powerful call not to arms but to resistance: "We as artists from Ukraine, Belarus and Russia are participating in this exhibition. Yes, we are performing together. We all go through pain and anger. But we do not accept hatred between the artists of our countries. Hate is what the regime that started the war wants. If we start hating each other, they will have won. They will not win."
Speaking your own truth nowadays demands extreme acts of bravery and fundamental acceptance of the fact that it is not the colour of your passport or your place of birth that defines a person, but what a person does and what his or her core values share and support.
While working together, each artist had an opportunity to offer her own statement both verbal and visual. Katya Tishkevich produced an installation out of objects which seem vaguely human, the colour of backed blood, set out on a medical examination table, like extracted fetuses, deformed and cringing in pain. She is also showing her 2021 'Bruises and Beads', series, haunting watercolours on paper in differed shades of red, from gory to washed-out pink with female figures and barbed wire, and from the same year the 'History of Disease' series concerning flawed vision. She states: "My participation in the exhibition is an opportunity to show the emotional involvement of the tragedy, the sharing of common pain in joint action against it."
Ludmila Belova reflects: "In today's situation, for me, the possibilities of verbal communication are completely lacking. Words seem to be either lies, or manipulation or speculation, depending on the perspective of both speaker and listener." Here at Wolf & Galentz she is presenting an installation: an open suitcase with sheets of papers pouring out, some smeared in red, each a separate drawing showing distorted cars and bombed-out cities. And above these 'abandoned' works on paper there is a POV video projected on the wall, displaying a never-ending flight through rain, wipers smearing rain across the windshield.
Tania Sklyar is a Ukrainian artist from Odessa, who has been living and working in Berlin since 1995. They chose her piece 'Heart' for the exhibition poster. She works in mixed media, her 'War Kettle' made for the show involves woven materials and plastic and resembles another heart, splayed and being cooked. She states: "I am taking part in this exhibition because I hope for emotional contact between us, artists from different countries, through visual messages. This is an opportunity to preserve ourselves as a person in this Hell of War."
Another Ukrainian artist is Julia Katan. She believes, that "…by putting love and openness into our actions, we make the soil fertile, and in it, sooner or later, the flowers are sure to sprout." Sprouting is an important visual reference for the artist. On show is a newly conceived installation 'The Body' of an old wooden cupboard, sprouting with painted plant-like towers and futuristic structures as well as deeply symbolical embroidery and some paintings on paper.
Katya Tishkevich initially introduced Belarusian artist Masha Garash to the group. Garash (which she spells Garage in German) is a graphic and multimedia artist working with musical performances, animation and digital art. In her artistic practice, she studies the question of human contact with eternity, the meeting with death, the intuition of immortality, the incompatibility and simultaneity of pain and beauty. Here in Berlin she has installed a multimedia piece within a box filled with earth; it literally shines through.
Finally, Marina Koldobskaya created 'The Flock', a site-specific mural on the wall of the front room in the gallery. Her preferred medium is acrylic on paper, and she normally only uses red, white and black. Koldobskaya is active in social media, and her brutally expressionist manner could be easily perceived as having been derived from visual editor programs, that is art without physical presence. But in real life, it is much more complicated. She explains: "In the beginning there was a physical gesture. It was a kind of dance and a reflection with the brush in my hand. After all, in any dance there is movement and there is strict discipline. When drawing programs came along, it made life easy for me: you can make a gesture with your finger on the screen. You don't have to jump around with a bucket of paint and a mop in your hand. And then it can be scaled up to the size of a stadium, for example. But it works only if it is a very exact gesture. For me, a sign of the quality of any image is whether it can be scaled up well, or whether it becomes empty and inflated. My works are material-driven in a most minimal way. They sort of hang in the thinking space. They are shadows on the cave wall, yes. Welcome to the cave."
Taken all together, their self-organization and self-representation here is unquestionably demanding for each of them but carries seeds of promise. Where a joint zoom call would be enough to quickly assemble a political statement and an actual gallery show might now feel redundant, these six female artists are working hard to build some kind of meaningful joint aesthetical platform from which their future path might spring.
Heartbeat
Berlin, Germany
4 June – 16 July, 2023