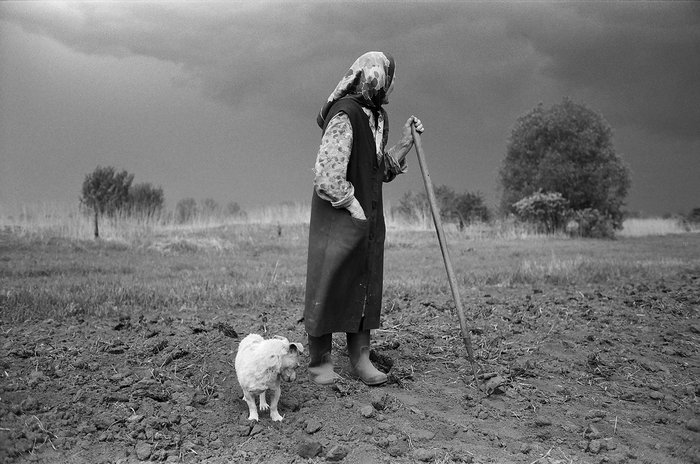 Aleksandra Demenkova. Baba Valya, Shaposhnikovo, Kursk Region, 2018. Courtesy of the artist
Russian Love', an exhibition by St. Petersburg photographer Alexandra Demenkova running at the Moscow's private Alisa gallery, shines a fresh and personal light on "chernukha", one of the most distinctly Russian and most controversial of genres in the local arts scene
"Chernukha", translated literally as "the dark stuff", originally meant gallows humour. It reached its peak during the social breakdown and privations of the 1990s, although it can be traced as a vein reaching further back into Russian culture. Chernukha focused on the grisly underbelly of Russian society, a repressed realm that threatened to break through to the surface in the chaos of the post-Soviet period.
Infused with alcohol, the genre was widely criticized for wallowing in and exploiting some of the more freakish and depressing traits in the national experience. Treated to great comic effect in the caricatures of Nikolai Kopeikin and monetized by the rock star Shnur, who created an "alco-pop" persona and aesthetic to market it to the masses, it was largely seen as a creative dead end. Demenkova (b. 1980), whose exhibition is running at 'Alisa', a new gallery opened by curator Alisa Bagdonayte at the Cube in Moscow, is conscious that her practice of going on expeditions into the Russian provinces, specifically to villages, risks labelling her as a proponent of "the dark side". Speaking in St. Petersburg, Demenkova says that her approach is almost entirely intuitive, but acknowledges a social dimension and concedes: "There is an element of chernukha in my work, but it depends on who is looking at the pictures – my father says that when he looks at my photographs his liver hurts."
There is also a documentary aspect to her work. A major project that she is now working on focuses on the disintegration of an entire village in Kursk Region and the life of its last remaining inhabitant – some photographs from this on-going series can be seen in the exhibition at the Cube. When talking about her work, Demenkova stresses that she doesn't have an agenda and isn't in search of misery. Asked if Baba Valya ("Grandma Valentina"), the last inhabitant of the village of Shaposhnikova in Kursk Region is happy, she says that she isn't even sure if that's the question that needs to be asked.
"I don't know that that's a question that any of us can answer – whether we should be happy or not. I can't tell you if she's happy or not. She is a person who is in her place, she belongs to that place, it's her universe. She wouldn't want to live anywhere else. On the other hand, it's clear that she doesn't have a lot of choice in this. She loves where she is, she loves nature, she doesn't want to leave. Perhaps, if she hadn't lost everything when the Soviet Union collapsed, she could have bought a flat in a town near by, say, and things would have been very different – who knows?"
Alexandra Demenkova. Russian Love
Moscow, Russia
April 9 – May 23, 2021