News
Back to back in Basel: twin exhibitions from Ukraine and Russia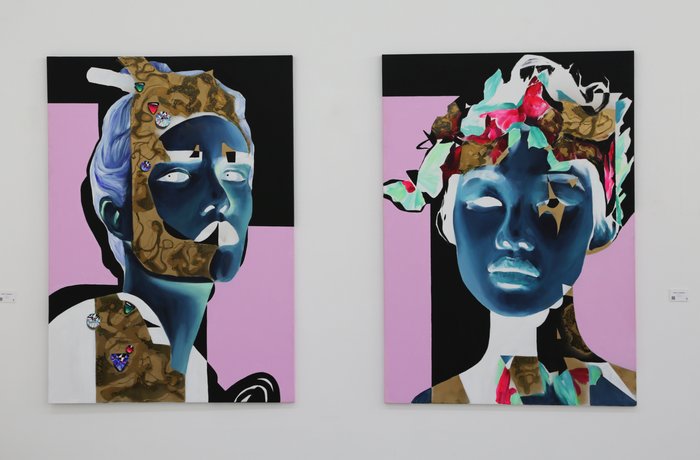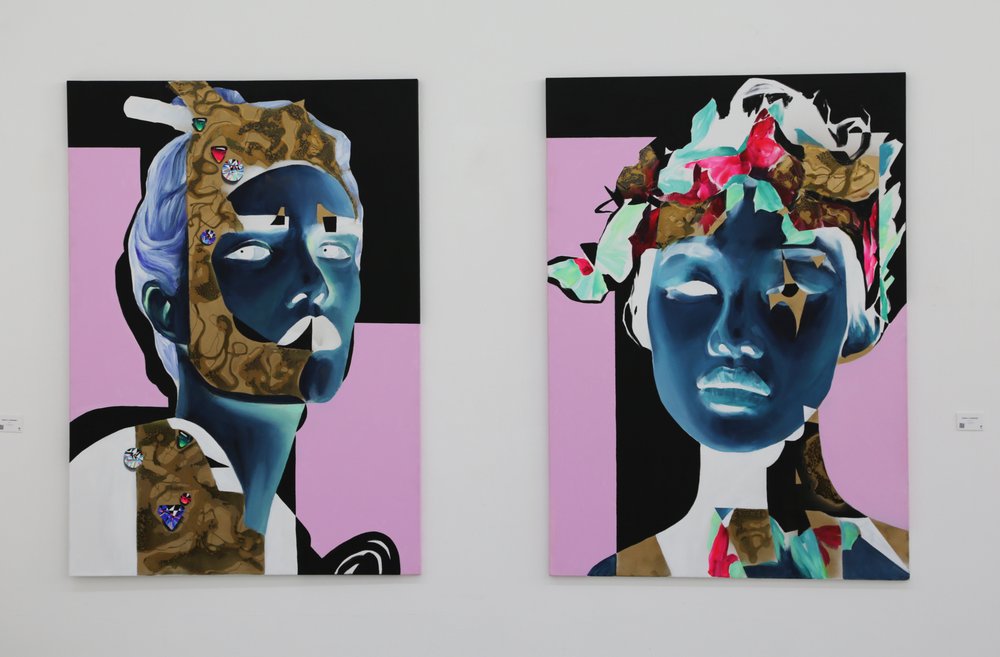 Dasha S. Kandinsky. The Head #18, 2018 and Dream, 2022. 'Supernova: Art of Ukraine' exhibition. Photo by Ekaterina Wagner
In the wake of Art Basel week, group shows of Ukrainian and Russian artists opened in quick succession at the same venue and it was not by mere coincidence. Russian Art Focus investigates.
Signs drawn in chalk on the pavement saying "Supernova. Art of Ukraine" directed visitors to Basel Art Center, an exhibition venue just a few steps from the vast Messe Basel, where the world's glitziest contemporary art fair was taking place. For one week, this modestly sized space hosted a group show of works by over one hundred Ukrainian artists. This mind-blowing figure, initially baffling, was part of its concept. The centrepiece was the "Unbreakable Wall" project, literally a wall covered in 250 A4-sized digital prints. "These are works by 100 artists I chose via an open-call in April", the exhibition's young curator Anna Luhovska, a native of Kyiv and a refugee in Basel, told me. "There were no restrictions, the only stipulation was that the works were created during the last two months". Some participants created digital images, others sent photographs of their recent works made in more traditional media.
The mosaic of styles, media and subjects reflected the diversity of the country's art scene. "There are many approaches and different schools here," Luhovska explained. "For example, there has always been a strong graphic design school in Kharkiv". The few original works also on display were sent in by emigre Ukrainian artists living abroad, including established artist Oleg Tistol (b. 1960), one of the leaders of the New Ukrainian Wave. A separate section was given to the "Hands for Mother" charity initiative, organized by the Geneva Branch of the Ukrainian Society in Switzerland. Yet, the most impressive artwork in the show was born by necessity. Anna Luhovska is an artist herself, but her own works did not reach Basel in time for the opening. So in a sudden fit of inspiration she created a laconic, elegant black and white mural called "Is there a key to tomorrow?". This question still hung in the air as Anna explained that it would soon be painted over. "There is a Russian project coming after ours in two days", she added casually. More intrigued than ever before, I made a note to return.
The three curators of "X-Nowness" were still busy hanging artworks when I entered the same door two days later. Darya Lobyntseva the founder of Basel's Voskhod (Sunrise) gallery, her Dutch-Russian colleague Yana Tibben who runs Art Catch gallery in Utrecht and Anna Merman, the person behind the online OBDN gallery joined forces for this project. In just two weeks, they managed to bring together works by 38 established and emerging artists from Russia, among them MishMash duo, Maxim Ksuta (b. 1971), Dmitry Bulnygin (b. 1965), Ilya Fedotov-Fedorov (b. 1988) and other well-known personalities from the country's art scene. Some works were created for the show, for example a large-scale diptych by young Russian artist Natasha Goncharova (b. 1995), filled with subtle references to her namesake, the legendary Amazon of the Russian Avant-Garde. The "Canned Food" watercolour series by the MishMash duo hung on the wall where Luhovska's mural had already been painted over in white. By a quirk of fate, MishMash's work resonated perfectly with its predecessor. Masha Sumnina (b. 1977) delivered her message of hope in neat handwriting: "By the time of the expiry date on this can, we will have long forgotten our fear". Works in a variety of diverse media were on show from installation to video art to ceramic sculptures to internet memes. Sergey Rozhin's (b. 1988) caustic graphic manual "How to beat an artist correctly" graphic went viral on Russian social media, and made the perfect coda for the show.
But how was it that the two exhibitions almost collided in one place? "It was the idea of Lausanne art dealer Fabienne Levy", Darya Lobyntseva explained and offered to put me in touch. During our conversation, Fabienne Levy, the owner of the eponimous gallery and the founder of the Voices of Culture initiative, explained. The Swiss dealer had been shocked by calls to "cancel Russian culture" as she believed art and culture should not be taken hostage by politics. Finally, she came up with the idea to give a platform to both Ukrainian and Russian artists during Art Basel. All the same, Levy did not want to display works of Russian and Ukrainian artists together in the same space, as this would look as though they were fighting. So she decided to show them "back to back" in a venue that she has been renting during Art Basel week for some years now. She did not know any Russian or Ukrainian artists at all, so she invited curators with insider knowledge of their respective art scenes to help her with the project. "It was very brave of Ukrainian and Russian artists to actually show their work one after the other and agree with it and understand it", Levy concluded. "I find it wonderful, I find a lot of hope in this."
Supernova: Art of Ukraine
June 9 – 14, 2022
X Nowness
June 16 – 22, 2022
Basel, Switzerland