News
Anna Andreeva: from textile factory to MoMA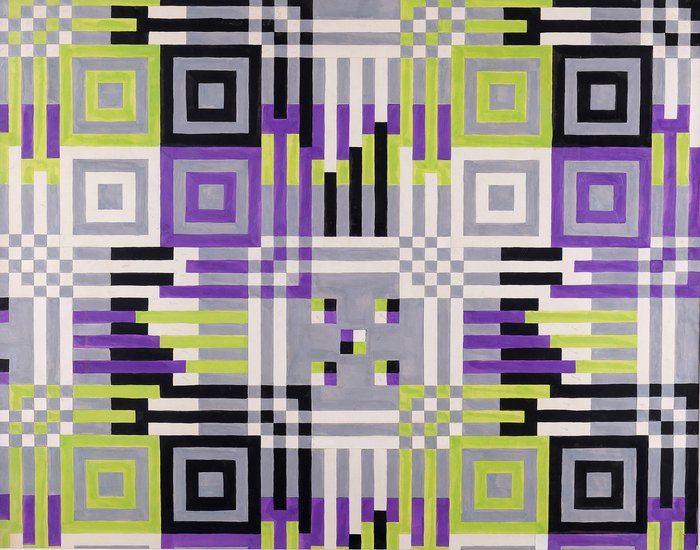 Anna Andreeva. Optical experiments. Fabric pattern, 1960-1970s. Silk-weaving Rosa Luxemburg factory "Red Rose". Private collection
A Soviet artist, whose works existed only anonymously during her lifetime, is entering into the limelight: her fabric designs are now on display at a group show in Moscow and will be included in a new, permanent exhibition at MoMA in New York.
Considered one of the best exhibitions to visit in Moscow this fall, "Tkani" ("fabrics" in Russian) at the Museum of Moscow showcases the work of female artists at textile plants that used to help drive the Soviet economy. The factories are now a thing of the past, but not the art that came out of them. 
Earlier this year, the Museum of Modern Art in New York (MoMA) acquired a dozen designs by Anna Andreeva (1917-2008), a leading artist at the Red Rose Silk Factory, whose work played an important role in Soviet cultural diplomacy during Nikita Khrushchev's post-Stalin thaw. Her textile designs were also mass-produced on clothing.
"Anna Andreeva is the first female textile designer who was active in the Soviet Union during the second half of the 20th century in MoMA's collection," said Evangelos Kotsioris, Curatorial Assistant at MoMA's Department of Architecture and Design. The acquisition of works by Andreeva is part of MoMA's effort to reveal the role of women and non-Western artists in the development of modern art.
In October, the museum unveiled its $450 million expansion by the Diller Scofidio + Renfro design studio, also known for the High Line, New York's elevated park created on a former railroad. MoMA has works by Liubov Popova (1889-1924) and Varvara Stepanova (1894-1958) from the Russian Avant-Garde. Andreeva belongs to the second wave of that movement. The section of the "Tkani" exhibition is devoted to Andreeva because she "stood out for the most radical experiments."
MoMA also acquired Andreeva's ink, tempera, mixed media design for a scarf called "Glory to the First Cosmonaut", created for Yuri Gagarin's visit to London in 1961, as well as a design for a commemorative scarf for the World Congress of Women, held in Moscow in 1963.
Andreeva, who was born a few months before the Bolshevik revolution, came from a privileged family, but survived the Soviet era, finding refuge in her work. She died in Moscow in 2008. "Even though Andreeva's award-winning designs circulated the Soviet world, her name was practically unknown, as it was not attached to them," said Kotsioris. "We are proud that we are able to reinstate this connection, and share Andreeva's work with MoMA's international audience in the future."
Fabrics of Moscow
Moscow, Russia
20 September – 15 December 2019