News
And the 2020 Innovation Prize goes to … the entire shortlist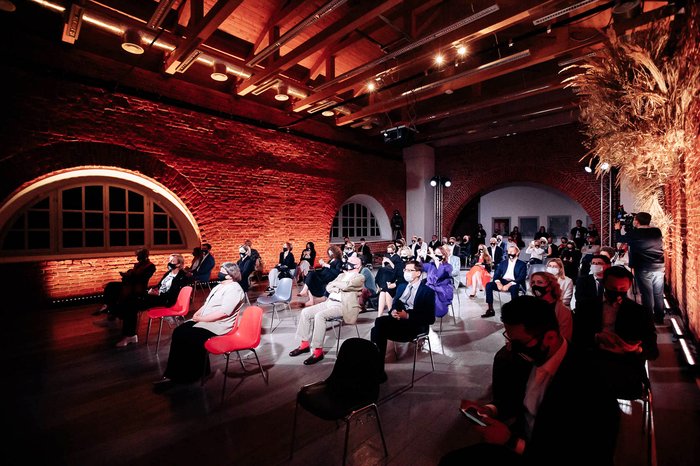 Guests of the Innovation award ceremony at the Arsenal. Photo: Katerina Spehova
Russia's main state art award for contemporary art turned out to be a surprise for viewers and winners alike during a heavily digitalized ceremony in Nizhny Novgorod.
Pavel Otdelnov (b. 1979), an artist who brings the fading histories of Russia's industrial regions back into focus through painting, film and assiduous research, has won this year's 'Artist of the Year' Innovation Prize, one of Russia's most important art awards. But, oddly enough, Otdelnov was not the only recipient.
It also went to Ivan Gorshkov (b. 1986), an artist from the city of Voronezh, whose garish, mixed media installations press the boundaries of childhood dream and nightmare; to Vladimir Kozin (b. 1953), a multimedia St. Petersburg-based artist best known for his rubber sculptures that prod the heroic narratives of Soviet monument culture. And it also went to Dmitry Morozov, also known as '::vtol::' (b. 1986), who engineers complex machinic objects, and Anastasia Potemkina (b. 1984), who explores the relationship between the human and natural world.
On August 21, the Innovation Prize jury announced that all nominees had won their respective categories. Jean-Hubert Martin, a leading French art historian and curator, who was one of the jury's members, said in a pre-recorded video that this was the "fairest and clear decision" given the difficulties caused by the global pandemic.
For the past two years, the city of Nizhny Novgorod and Arsenal, the city's branch of the National Centre for Contemporary Art, now under the umbrella of the Pushkin State Museum of Fine Arts, have hosted the ceremony and its accompanying exhibition.
The award is made jointly by Russia's Ministry of Culture, the National Centre for Contemporary Art (NCCA), and Moscow's Pushkin State Museum of Fine Arts.
It has, at times, caused political controversy. In 2016, for instance, the NCCA rejected an expert committee's nomination of the work 'Threat' by the now exiled performance artist Pyotr Pavlensky (b. 1984), during which the artist set fire to one of the main doors of the headquarters of the FSB, the successor of the Soviet-time KGB, on Moscow's Lubyanka Square.
In an interview after accepting this year's award in the 'New Generation' category, artist Ekaterina Muromtseva (b. 1990) said she felt that not selecting single winners was the "right decision" given "our contemporary moment", one that reflects "mutual support" for the arts community. Her socially-engaged practice, which revolves around collaborative art-making with underserved communities like elderly nursing home residents, was one of five winners in the most competitive category with over 200 nominees.
The show of nominated submissions will be on view at Arsenal until January 17, 2021.
Innovation Prize 2020
A complete list of award winners in all categories can be found on the Innovation Prize's website: 2020.artinnovation.ru