News
A proliferation of Ukrainian art shows in Paris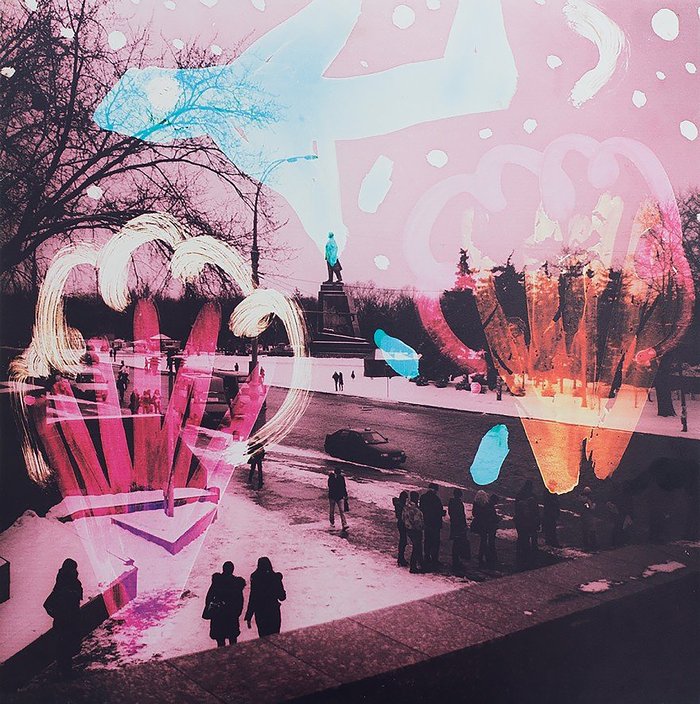 Roman Minin. Kharkiv landscape, 2011. Photography. © grynyov.art
From the very beginning of the current Russian-Ukrainian conflict, Paris has expressed solidarity with Ukrainian artists at all levels, from local grassroots art initiatives to major museum projects. This month the French capital sees the opening of three well curated exhibitions exploring Ukrainian art past and present.
If you happened to be a flâneur, wandering around the streets of Paris over the past year, you would have noticed a lot of blue and yellow graffiti on the walls of the city. This is how local street artists, the likes of C215, Bebar, Seth Globepainter and Carole B Collage have been expressing their support for the people of Ukraine. And throughout the year, Paris art fairs and galleries have hosted Ukrainian artists. In the wider cultural field, the Châtelet theatre acted as a residence for the Kyiv City Ballet and the Champs-Elysées theatre, together with Sarfati Productions, supported the ballet troupe of the Ukrainian National Opera. However, most of these events have crystallised thanks to efforts coming from within the Ukrainian art community itself. At its epogée was a generous donation of Ukrainian contemporary art to the permanent collection of the Pompidou Centre which opened to the public in November 2022. Even that was a homespun initiative initially sparked off by the Ukrainian Club of Contemporary Art Collectors.
At the same time, there has been a Napoleonic effort in revisiting how artists themselves are categorised, in particular those who are often labelled as Russian in major museum collections, archives and encyclopaedias all over the world. It is time-consuming work. It has brought to light a historical and yet continuous oppression of Ukrainian art and language: from the Valuev Circular that banned the publication of Ukrainian-language books in the Russian Empire, and the so-called 'Executed Renaissance' - brutal persecution of artists by Soviet regime in 1920-30s – as well as the destruction of and damage to Ukrainian museums that are making the headlines in the news nowadays. Ivankiv Historical and Local History Museum, National Hryhoriy Skovoroda Museum are among those museums that have suffered the most. One of the largest, recent contributions to French audiences that has helped to cement the identity of Ukrainian art was the publication of the book, 'A Permanent Revolution. Contemporary Ukrainian Art and its Roots. 1880–2020' by Ukrainian art historian and curator Alisa Lozhkina. The aforementioned, major donation to the Pompidou Centre of 160 works by 21 artists and artist groups has defined the traits of Ukrainian contemporary art with reflections on national identity, history, and underground movements. The Kharkiv School of Photography is broadly represented in the Pompidou donation, as well as in smaller, gallery shows and book editions by the Paris based Alexandra De Viveiros gallery, or in the recent expansive retrospective of Boris Mikhailov (b. 1938) in the European House of Photography.
Like many cultural heritage sites throughout Ukraine, the Museum of the Kharkiv School of Photography, founded in 2018, has been at risk by Russian shelling. The personal archives of some of Ukraine's most important photographers and the museum's own collection, including Mikhailov's work, have been evacuated to Germany and Austria. Many works exhibited in the French capital now could have been under threat of destruction had they remained in Ukraine. Local volunteers have played a part in ensuring their safety as well as the Western European institutions large and small who have programmed them into their exhibitions schedules, often at short notice.
Art collectors Tetiana and Borys Grynyov have managed to evacuate from Kharkiv to France 'only' 900 of the staggering 4000 works of modern and contemporary Ukrainian art in their collection. Some of these works are now on display at 'The Facets of Freedom' exhibition at the Ukrainian Culture centre in Paris, which opened on 19th of January. The collectors chose art from their collection across different generations and from various regions of Ukraine which evokes the notion of freedom. There are paintings by Pavlo Kerestey (b. 1962); canvases of the era of the Ukrainian New Wave by Oleksandr Rojtburd (196–2021); graphics by Stanislav Volyazlovsky (1971–2018); reinterpretation of traditional ornamentation by Bella Logachova (b. 1973) and of monumental art by Roman Minin (b. 1981); conceptual photography by Sergey Melnitchenko (b. 1991), by one of the founders of the Vremya group and the Kharkiv school of photography Oleg Malevany (b. 1945) and Evgeniy Pavlov (b. 1949) and by Immediate Reaction artist Sergey Solonsky (b. 1957); there is video art by Kirill Protsenko (1967–2017). It is a long and exceptionally diverse list showing the exceptionally broad scope of Ukrainian art.
Kyiv based gallery 'The Naked Room' has opened two exhibitions in the L'Atlas gallery on 12th of January where they are showing works created both before and after 24th of February 2022. On the ground floor of the gallery there is a work called 'Pages from Abracadabra' by Pavlo Makov (b. 1958) and on the first floor there is on display works by five female artists Katya Buchatska (b. 1987), Lucy Ivanova (b. 1989), Katya Libkind (b. 1991), Kateryna Lysovenko (b. 1989) and Olga Sabko (b.1990) in a collective show called 'It's Only Achilles' Heel That's Still Alive'. Makov's idiosyncratic etchings continue his dialogue with Italian writer Italo Calvino. His urban landscapes with gigantic plants and empty neighbourhoods are now surely not only a philosophical reflection but reflect back something of what is happening now in his homeland. In Makov's most recent work, round black holes have appeared by houses, depicted from above. They look like stains on ancient manuscripts, or blast craters. In one of the works, there seems to be an explosion in a form of a cone pointing down, stuck into the ground producing a dark, black infinity circle. It opens a real and existential abyss.
The upper floor shows how a whole generation of young female artists is experiencing the current crisis. For Kateryna Lysovenko, the author of a 'viral' Madonna – which expressed an explicit message towards the enemy - her work is the only way for her to survive. Throughout the conflict she has continued drawing and made this image in one of the bomb shelters in Kyiv. Later it went viral bringing Lysovenko instant and wide publicity, unprecedented for a young, otherwise unknown artist. It is after one of her works, 'It's Only Achilles' Heel That's Still Alive' that the exhibition is titled. A sculpture by Katya Buchatska, 'The Colour of the Year 2020' a fragment of a leg with red marble veins, hard to forget, is now evocative of body parts found bombed out houses. Many of these artists have gone through a shift in their style, material, or manner of working since the start of the conflict. Olga Sabko whose ceramic art was always white, turned suddenly to black. Lucy Invanova uncharacteristically embraced abstract art.
In support of the Ukrainian art community, The Naked Room and Mystetskyi Arsenal art centre together established the Ukrainian Emergency Art Fund. Like many other similar initiatives, for example, Zaborona or Spilka NYC, this project is designed to help Ukraine-based artists and organisations whose are making efforts to rebuild Ukraine. The art exhibited here will be auctioned off in New York in April of this year and 100% of the sale proceeds will be distributed between Ukrainian artists and non-profit organisations.