News
A ground-breaking exhibition in Moscow reframes Russian contemporary art history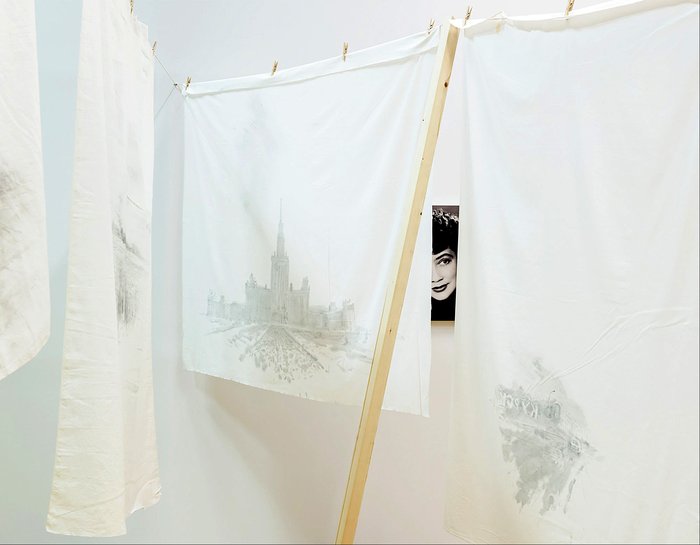 Valery Koshlyakov. Residence, 1997. Installation. Photo by Yulia Zakharova, courtesy of State Tretyakov Gallery
A large-scale exhibition of contemporary national art from the State Tretyakov Gallery's own collection brings together Russian artists working today with their forerunners, whose artistic experiments prepared the ground for the birth of contemporary Russian art.
The exhibition, "Thing. Space. Man" has opened in Moscow, in the west wing of the New Tretyakov Gallery annex, where the international and controversial art exhibition 'Diversity/United' was on show until early February. There had been plans for an important exhibition of contemporary Indian art to follow, but it was cancelled. The Contemporary Art Department at the Tretyakov led by established museum curator Irina Gorlova, stepped in at the last minute with a show of Russian national contemporary art.
For this exhibition, there were no loans needed from abroad as all the works come from the museum's own collection and were acquired at different times over the past thirty years, including as recently as last year and from many different sources. Some of the works were created even earlier. Boris Turetsky's (1928–1997) abstractions date from the 1950s, and Vladimir Weisberg's (1924–1985) "White on White" is from the 1960s. Ilya Kabakov (b. 1933) and Viktor Pivovarov (b. 1937) brought fictional characters from their albums to the stage back in the 1970s. At the end of that decade, came Mikhail Chernyshov's (b. 1945) geometric paintings reminiscent of airplanes. Included in these holdings is a large single acquisition of works by Moscow non-conformist artists (among others) from the fabled collection of Leonid Talochkin, which was given to the New Tretyakov Gallery in 2017 by his widow Tatiana Vendelstein. There is now a prominent, dedicated room in the gallery dedicated to Talochkin. And within this current exhibition works once collected by Talochkin here seem to take on new additional meanings above and beyond their distinguished provenance which otherwise sets them apart.
What was created during the Soviet times became the basis for the art of the future, created by artists who were locked behind the Iron Curtain, and drawing on the experiments of the Russian avant-gardists, also a taboo at the time. This is something which this exhibition explores, cleverly and subtly, building up continuing narratives. The curators present a very clear and logical evolution and the result feels less like a temporary exhibition and more like a permanent museum show. It is timely and needed.
Numerous donations to the Tretyakov Gallery have come directly from artists, and in the early 2000's there was a large single acquisition from the Tsaritsyno Museum Reserve which formed the core of the Department of Emerging Trends which reopened at the Tretyakov Gallery in 2002 after a hiatus which had lasted an extraordinary eighty years. Finally, the most recent addition in 2020 was a single generous donation from the Smirnov and Sorokin Foundation which has rounded out the museum's holdings of post-soviet Russian contemporary art. The curators show in this exhibition how this more recent art does not in fact confront the art of previous generations, on the contrary, they draw out the continuities and show the development of thought, form and imagination of those artists today and how they are furthering the quest of the generation of the 1960s.
It is no coincidence that the exhibition's first working title, later abandonned, 'Exit Through a Red Door', references an iconic work by Mikhail Roginsky (1931–2004), one of the protagonists of unofficial Soviet art. Here we also see what Roginsky was doing later in the 1980s, once he had emigrated to France, with his various iterations of "doors" and "walls" made out of corrugated cardboard. "It's not a real door, for me it's energy," as Roginsky explained. The reflective contemplation in these monochromatic objects is a reminder of the utilitarian "things" which Roginsky spent a lifetime reproducing on canvases: a teapot, a stove, a fence, trousers, another door and so on. The Roginsky is paired here with documentary material relating to the 'Meeting' action by the Collective Action group which hangs opposite, and a video by Taus Makhacheva. (b. 1983). Nearby are curious, rarely shown "sheets" by Yegor Koshlyakov (b. 1980). There is his 'Place of Residence' from 1997, black and white Soviet landscapes painted on white sheets that are hung from ropes like wet laundry.
In this show, the old is in constant dialogue with the new. Conceptual duo MishMash (Masha Sumnina (b. 1977) and Mikhail Leikin (b. 1968)), Irina Korina (b. 1977), Anna Zholud (b. 1981), Andrey Kuzkin (b. 1979) with his welded boxes, in which all his past life is hidden until 2040, take up the baton from Elena Elagina (b. 1949) and Igor Makarevich (b. 1943), and Leonid Sokov (1941–2018). Roman Sakin's (b. 1976) kinetic installation recalls dots and dashes from Yury Zlotnikov's (1930–2016) 'Signal System', Francisco Infante's (b. 1943) 'Artifacts' echoes Timur Novikov's (1958–2002) 'Horizons', David Ter-Oganyan (b. 1981) alludes to Malevich (1879–1935) in his 'Black Geometry', as well as Alexander Kosolapov (b. 1943) in his painting 'Malevich. Sold'.
All these are the biggest names in Russian contemporary art. They include young artists who at various times have managed to get into the main project at the Venice Biennale, those who have taken part in Manifesta, those who have been awarded major national art prizes, those who have become established contemporary classics. Their works find their rightful place in this hallowed vault of national art, which was designed to build on a tradition established by Pavel Tretyakov, who collected the contemporaries of his own day. Dmitry Prigov's (1940–2007) comment (he is, of course, among the protagonists here as well) that "no one stops you from enjoying any picture, disliking any picture, ridiculing any picture, or understanding art as the production of beautiful things and not new modes of artistic behavior" is addressed to visitors at the beginning of the exhibition. But this is not an address for a museum curator, whose job it is to bring us a decent, wholesome, and broad range of choice, something very much evident here in this show.
Thing. Space. Man. Art from the Second Half of the 20th Century to the early 21st Century from the Collection of Tretyakov Gallery
Moscow, Russia
June 11 – September 11, 2022