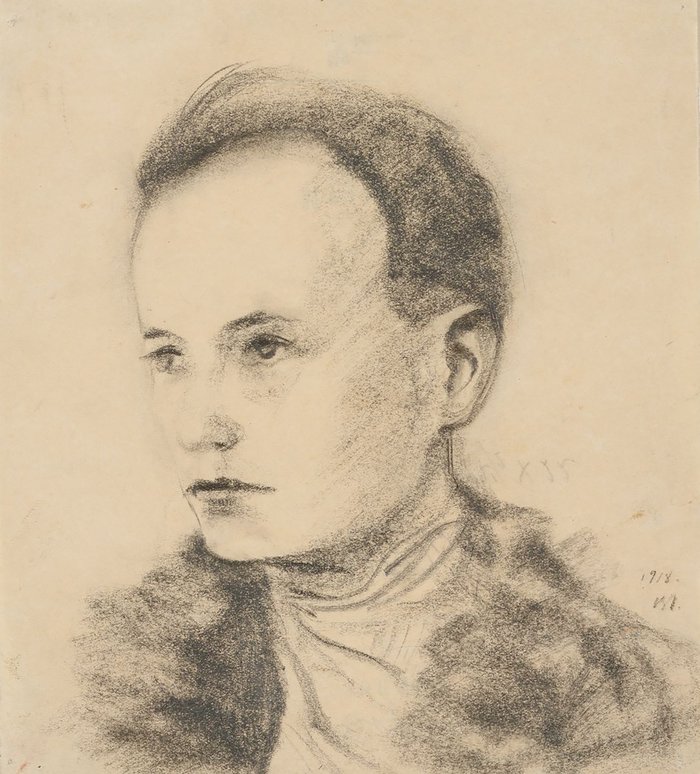 Vasily Chekrygin. Self-portrait, 1918. Courtesy State Tretyakov Gallery
Two museums in Moscow honour this passionate early follower of Russian Cosmism, who produced otherworldly visions in a ceaseless row of expressive drawings.
Two important anniversaries of Russian artist Vasily Chekrygin (1897–1922) are marked by two independently yet concurrent exhibitions in Moscow, concurrently celebrating the 125th anniversary of his birth and the centenary of his death. They are on view in the capital's two most important museums, the State Tretyakov Gallery and the State Pushkin Museum of Fine Arts, yet they do not cover even a quarter of Chekrygin's artistic heritage. Although his life was tragically short, as an artist he was extremely prolific.
Almost all the artist's drawings depict atrophied faces, frozen as if in perpetual shock, pleading for help, whispy figures which rush upwards into the sky. He created a fantastical world shaped by shadows which dissolve into floods of light. The Tretyakov Gallery's holdings of Chekrygin's drawings number into the hundreds. They were acquired directly from the family of the artist however, like other museums, they only began to show his art to the public in the 1950s.
Aside from the numerous drawings there are few paintings in his oeuvre, mainly early works, painted with references to Rembrandt, Van Gogh, Cézanne, El Greco, the latter two inspiring a portrait he produced of Vladimir Tatlin in 1913. He briefly fell under the spell of Mikhail Larionov (1881–1964)'s rayonism, they were close friends. But during the 20th century his paintings mostly spread through provincial museums or private collections, eventually reaching the collection of George Costakis, and from there they went to the Museum of Modern Art in Thessaloniki. The drawings, which are kept (and currently on show) at the Tretyakov Gallery and the Pushkin Museum, are in fact the main body of his work. It is these works that are now shown at the exhibition at the Tretyakov gallery, and some are at the Pushkin Museum in a group exhibition 'Between Heaven and Earth' where they are exhibited together with works by Rembrandt, Goya and the Russian non-conformist classic Eduard Steinberg (1937–2012).
The semi-abstract charcoal series 'Firing Squad', 'Revolt', 'Mad People', 'Famine in the Volga Region', 'Faces', 'Orgies' all reflected the many tragedies of the epoch. In 1914 during World War I the 17 year old artist volunteered to serve at the front; he experienced first hand how this world war then turned into a Civil War at home. His literally endless series 'Resurrection of the Dead' was an attempt to embody the ideas of the Russian Cosmist philosopher Nikolai Fyodorov, Chekrygin was one of his followers. You can see all this in his work.
He has always been referred to as a 'beloved child of the avant-garde'. There has always been affection for him, with his early passing, his inscrutability, the mystery surrounding him and his works, he was in many ways a visionary. "I do not know my path, but I have a presentiment, and it, like a road at night, stands before my eyes and at the end is my violent death," Vasily Chekrygin wrote in a letter, predicting his own tragic end. The artist died 25 years ago, under the wheels of a train near Moscow, on the Mamontovka-Pushkino line. Only one year ago the artist's grave was found and identified at the abandoned Bogolyubsky cemetery nearby. It is close to the village of Akulovo, where Vladimir Mayakovsky, an old friend from Chekrygin's youth, a fellow futurist and the author of the poem 'Me!' (1913), lived in his dacha. Chekrygin's illustrations for 'Me!' and three other poems by Mayakovsky were included in a collection that became their first joint publication; 300 lithographed copies were printed. Both artists were admitted to the Moscow School of Painting, Sculpture and Architecture just one year apart, although Chekrygin was considerably younger. Having been accepted at the age of 13, he became the youngest student in the history of the school.
Chekrygin spent his childhood in Kyiv, where the extensive Chekrygin family had moved from the town of Zhizdra, Kaluga Province. When he was just six years old he was sent to the icon painting school at the Kievo-Pechersky Monastery, and the work of icon painters, together with the art of European old masters, became the basis for his own creativity.
It seemed that Chekrygin was born to be an artist. "His life was extraordinary for its inner tension and wholeness [...] He was exceptional, of course, he could see it himself. 'I am not a genius, but a person marked by geniality, he once told me," recalled Lev Zhegin, Chekrygin's closest friend and classmate and co-author of illustrations for "Me!", the son of architect Fyodor Shechtel. The above quote dates from 1912, but a couple of years later, when Mayakovsky and Burliuk were expelled from the school for taking part in political speeches, Chekrygin was stripped of his scholarship and abandoned his studies. And then he accepted Larionov's invitation to exhibit at the "No. 4" exhibition.
He created an impression on the Italian futurist artist Filippo Marinetti (1876-1944) who brought his artistic experiments to Moscow, and he was invited to visit him in Milan. However Chekrygin travelled to Europe with Zhegin only later on, visiting Warsaw, Dresden, Vienna, Munich and Paris in order to see the old masters with his own eyes, and he returned to Moscow via Scandinavia after the beginning of the war.
Having tried his hand at various 'isms', he subsequently distanced himself from everyone and retreated into Nikolai Fyodorov's Philosophy of the Common Cause. "His thoughts," Chekrygin wrote, "coincided with mine. We both dreamt of a Resurrection of the dead, but not Rising from the dead. Resurrection should be active, performed by us, sons of dead fathers, not the passive expectation of a miracle".
Chekrygin's cycle 'Resurrection of the Dead', on which the artist worked for two years, is the preparation for a miracle. All of these drawings are sketches for a fresco which was never realised. The art said he would go to Lunacharsky threatening to hang himself 'on a lantern by his door' if he would not give him a wall for the fresco. The People's Commissar did not give him a wall, but Chekrygin did not abandon his work, making, according to Zhegin, as many as thirty drawings a day. It was as if he knew he did not have much time left.