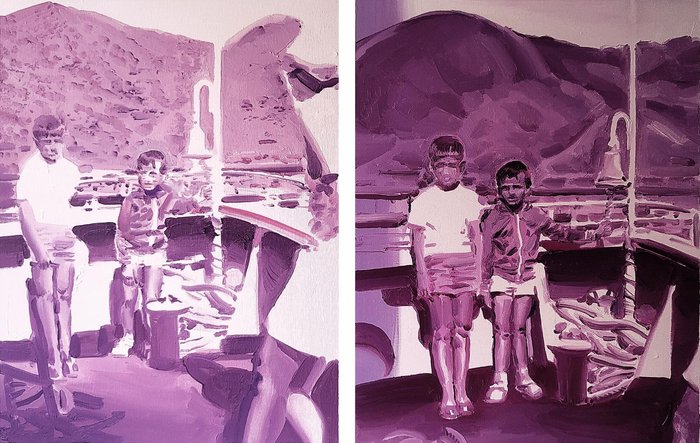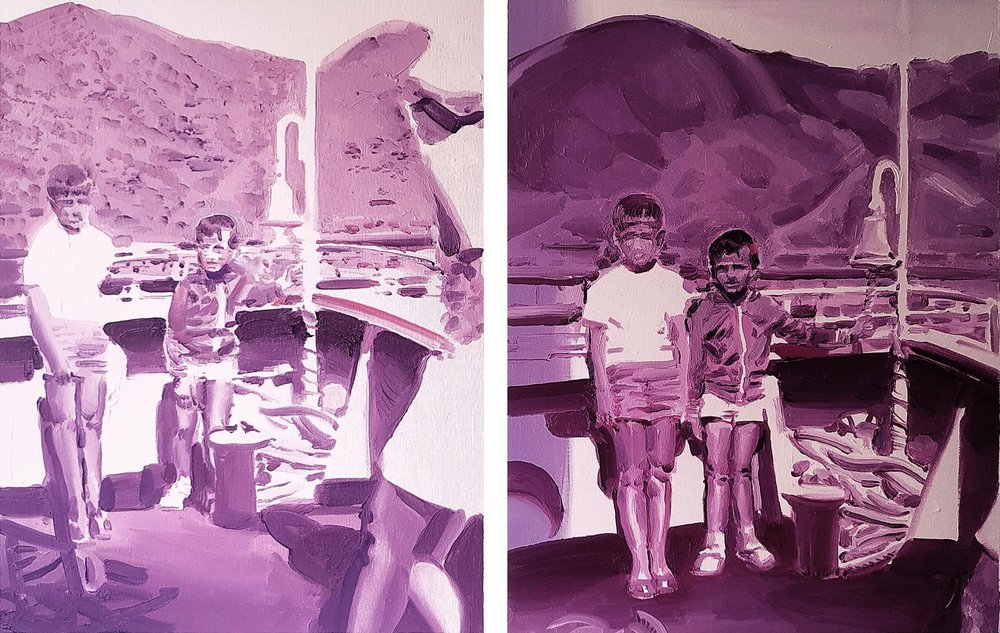 Vlad Yurashko. Boy with a bell #1 and #2, 2022. Oil on canvas, each 50x40 cm (Diptych). Courtesy of Kuckei+Kuckei
Contemporary art from Eastern Europe is having a moment in Berlin and you would struggle to list every relevant exhibition.
Berlin has long been a pan-European centre of gravity, a cultural melting pot of sorts, and many artists from around the world have been living there for decades. Still, you cannot speak of a common cultural space just yet, at least if you are referring to the new wave of artists arriving in the city from Ukraine, Russia and Belarus.
In October this year Vlad Yurashko (b. 1970), a Ukrainian artist currently living in Slovakia, opened his fourth exhibition in Berlin's Kuckei + Kuckei gallery. If it were not for the context and the chosen subject, it would have been nothing out of the usual. But here on view were erased memories, family photo albums left behind in war-torn towns…roads of flight.
KOW gallery is known for its focus on non-commercial and social art which is why the 'Chto Delat' group, originally from St. Petersburg, has enjoyed a long collaboration with it. Last July they put on show a striking new installation called 'Canary Archives' in the second floor of the gallery, literally materializing the notion of the artist as an early warning system for choking. At the same time the first floor was given over to the 'Latest News' project by Canadian-Hungarian artist Istvan Kantor (b. 1949). The walls were covered from floor to ceiling in rows of black and white graphic sheets, using news channels broadcasting images of war and destruction in Ukraine as its content source.
A large number of not-for-profit organizations are also currently representing Ukrainian, Belarusian and Russian artists in Berlin. At the beginning of summer 2022, a group show called 'Commentary on Betrayal and Violence' took place at the Wolf & Galentz artist-run space, uniting 15 artists of various nationalities, among them Ukrainian Gagik Kurginian, (b. 1953), Julia Katan, the Russian Wladimir Anselm, (b. 1962), and Marina Koldobskaja, (b. 1961), and the German Hans-Joachim Billib, (b. 1954). And right now the exhibition 'You Know That You Are Human' is on show in Zionskirche in the north of the Mitte neighbourhood representing fifty artists from Ukraine and Berlin.
Residencies are important in the not-for-profit art field. Moscow artist Alexander Povzner (b. 1976), found himself in Germany last summer, and already showed his personal 'Guernica' in NKVM (a residence in Neuwid, just under one hour away from Bonn). These graphic sheets with human figures fluttering on clothes lines were a part of 'Das Dach' ('The Roof') group exhibition, created by artists forcefully relocated under pressure of the global political circumstances. Now Povzner is in Berlin, his next project opens on the 26th of January, 2023 at the Gotisches Haus, a museum and cultural centre in Berlin's Spandau district.
Also, two of the three members of ZIP group have recently relocated to Berlin, the brothers Stepan (b. 1987) and Vasily (b. 1991) Subbotin. Working normally in the field of interaction art they are now fellows in the ZK/U residency in Moabit. At the end of January 2023 there will be an open house, inviting the public in to come and see what they have been doing.
The most active and consistent gallerist in Berlin working with Ukrainian and Russian artists is Volker Diehl. In March 2022, he exhibited five artists from Ukraine, all members of the Alliance 22 group: Serhiy Popov (b. 1978), Serge Momot (b. 1969), Constantin Roudeshko (b. 1971), Badri Gubianuri (b. 1962), and Tiberiy Szilvashi (b. 1947). Later, in the summer, he staged a small retrospective show of Cologne based Russian artist Yuri Albert (b. 1959). Now, the Ukranian artist and photographer Sergey Bratkov (b. 1960), who has lived a long time in Moscow, is on view complete with a Kharkiv School group show in the second gallery space. An exhibition by Oleg Kulik (b. 1961), is planned next. Although Volker Diehl is an expert on contemporary Russian and Ukranian art, he does not choose to emphasise this. He has also collaborated with the Haitian Ghetto Biennale, who made it big this year at Documenta Fifteen in Kassel. He is more interested in creating a broader outreach, and is not afraid of bringing new names into the local market.
The current context brings to mind a moment in history; the story of artists from all over Europe during the World War I, sitting in what was neutral Zürich, just trying to survive. Hugo Ball (1886–1927), having deserted the German army, started Cabaret Voltaire in 1916. His close allies were the French Romanian Tristan Tzara (1896–1963), Jean (Hans) Arp (1886–1966) from Alsace, among others. A hundred years later and Zürich has become one of Europe's most expensive cities, but just maybe there's a place for a new Cabaret Voltaire and Dada in democratic Berlin?
The most obvious, possible candidate could be the PANDA Platforma, hidden deep in the nooks of Prenzlauerberg's Kulturbrauerei historical site. It's a smallish hall with a stage, that has long positioned itself as a hub for various European cultures. It hosts micro-concerts of the Russian singer Boris Grebenschikov; poets Alexander Delfinov and Julia Vilianen do readings in Russian and German, and the Ukranian writer (also, a German rock star) Yuri Gurzhi plays his sets. You might think that the hall focusses only on music and the spoken word, but actually in more recent times it has also orientated itself towards the visual arts. An exhibition of ceramic objects called 'Tchertovщina' ('Devilry') by Maria Volokhova (b. 1980) from Ukraine has been on show there recently.
As Swetlana Müller, Panda's chair puts it: "Berlin is flooded with people uprooted from their context. First of all, from Ukraine. Secondly from Belarus and Russia. There's a great deal of frustration, of nerves completely naked in the works of people who have fled from war. We get lots of collaboration requests, and we have to turn too many down for reasons of insufficient venue possibilities. A legendary rave and light show producer from St. Petersburg is willing to collaborate for close to no fee, and another producer of the same scale from Moscow, but Panda is a small space, you technically just cannot fit in a light show."
So there's no new Dada in Berlin quite as yet. But wishful thinking is that the cumulative energy of the artists who have found themselves in this city will sooner or later lead to a creative outburst and to the foundation of a new place of power.
Kuckei+Kuckei
KOW
Zionskirche Berlin
Gotisches Haus
ZK/U Berlin
Diehl gallery
Panda Platforma