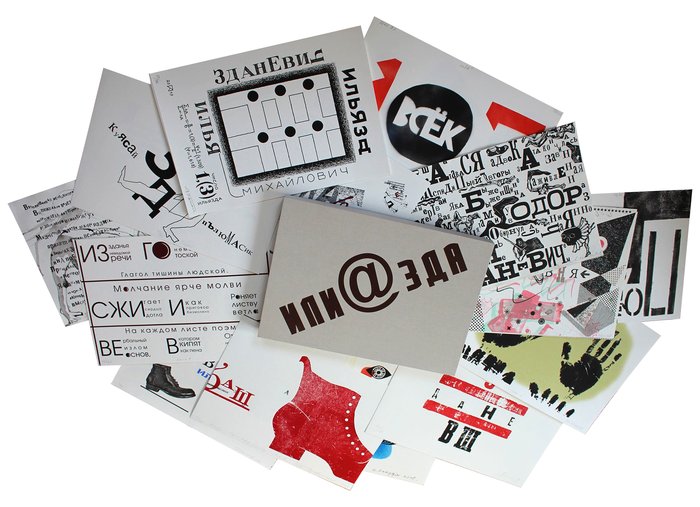 Collective Livre d'artiste 'ILI @ ZDA', 2019. Curators Vasily Vlasov, Mikhail Pogarsky. Artists: Vera Atkarskaya, Alexey Veselovsky, Vasily Vlasov, Grigory Katznelson, Valery Korchagin, Viktor Lukin, Kira Matissen, Alexey Parygin, Alexander Pankin, P
The world's first Artist Book Museum (a concept better known in its original French version as the "Livre d'Artiste") has opened in Moscow. Launched by a group of artists, the initiative, which is modest in both space and resources, nevertheless makes up for it thanks to the founders' enthusiasm.
The artist Mikhail Pogarsky (b. 1963) and I were standing in the basement of a nondescript residential Moscow building. A thick coat of creamy white paint brightened our concrete subterranean surroundings. The walls were lined with bookshelves. It felt like a mini-bazaar of the hand-made and home-made, of found objects and musical boxes. On show were palm-sized booklets made of matchboxes, sleek over-sized portfolios and a pop-up book with different perspectives of Lenin's mausoleum drawn in rainbow stripes.
This is the Artist Book Museum, a unique initiative created in late December 2020 by Pogarsky and his colleagues Viktor Lukin (b. 1955) and Valery Korchagin (b. 1969). The aim is to set the groundwork for an active book artist laboratory to encourage interest.
The vast majority of the museum's objects are on loan from personal archives, although the trio is now actively collecting in order to increase the museum's holdings. They couldn't say exactly how many books they have, but based on the stacks of unpacked boxes, the Museum's single room will soon be far from sufficient.
"One plus one adds up to more than two," Pogarsky stressed. He wasn't giving me a maths lesson, but explaining how he came to be a book artist. "Of course, there are artists who illustrate books, but their task is different. An image is added to a book in order to clarify or represent the text. It then becomes an illustrated book. In an artist book, the focus is on creating a work in which text and image augment each other so the final product becomes more than the sum of its parts," he explained.
The museum's current holdings tip toward works produced in Russia since the 1980s. One highlight is 'Fathemother' (1994) by Leonid Tishkov (b. 1953), who has been exploring the book medium since the late 1980s. The museum has one of 22 copies of this surrealistic book, which combines prints with metallic watercolour additions. It demonstrates Tishkov's characteristically thick overlays of text and image, in which bodily organs morph into caricatures in order to raise deeper questions about human existence. "We're interested in this, because it is a genre that essentially unites all other genres. If you look around the room carefully, you can see elements of the graphic arts, painting, sculpture, and applied arts in each of the objects," Pogarsky said.
In the first decades of the 20th century, political thinkers, writers and artists like the Dadaists, Futurists and members of Russian Avant-Garde latched onto this book form as a way of expressing and sharing their ideas more widely. Some of the objects on display are parodies of this book form. Still others play with the materials and temporality of reading or the directions of narrative.
While artists in Russia have long explored the artist book form, the attention of institutions and collectors to the medium is more recent.
Boris Fridman is Russia's most active and enthusiastic collector of the original livres d'artistes. He draws a clear line between the classic livres d'artistes and the 'artist book'.
For him, the term 'livre d'artiste' refers to the use of a limited-edition "book" that showcases the work of an artist. What characterizes it in particular are the unbound portfolios published during the early 20th century in Paris by such art dealers as Ambroise Vollard (1866–1939) and Daniel-Henry Kahnweiler (1884–1979), as well as the Russian-Georgian Futurist Ilia Zdanevich (Iliazd) (1894–1975). Fridman welcomed the creation of the new museum, saying that "any undertaking that draws attention to this medium is important".