Discoveries
In Samara, Contemporary Art goes from Big Institutions To Private Apartments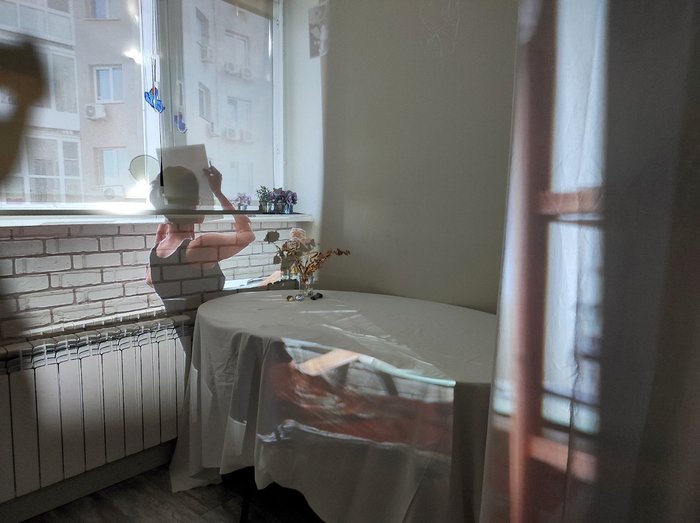 Samara Apartment Triennale. Samara, 2023. Photo made by the visitor. Courtesy of Victoria Gallery
Is the Samara Apartment Triennale germinating a new trend? While big institutions struggle with funding issues and acute conceptual crises, in this historical city on the Volga river, self-organized initiatives are stepping in.
The Bristol Hotel in Samara, a staple Art Nouveau building in the city, now houses a new photo studio called the Cube, which also doubles up as a contemporary art exhibition space. Currently on view is 'Wrinkles on Fingertips' by millennial artists Anastasia Derevyakina (b. 2000) and Alexei Zhuravlev (b. 1988). In the studio, as a backdrop for photo shoots, there is a man-made hill covered in moss which curves up against one of the walls. The artists had to somehow create their project incorporating this rather incidental spatial prop. Paintings by Zhuravlev hang on the walls depicting unknown plants crawling on the ground, devouring everything on their way - including people – and there are works on paper by Derevyakina depicting creatures with tentacles, and frogs eating human flesh.
In the unfinished spaces of 'House 77' a cultural and bar cluster on the somewhat touristy Leningradskaya Street, vintage photos and clothes from the nineties are hung amidst construction detritus. At an unexpected angle, there is a table set for three with a simple lunch. In the corner, a TV set (also three decades old) a side table, covered with books, hair curlers and other small objects. This scene is all topped off with party food and alcoholic drinks. Then, in another corner of the space there are pages from a school diary. Each part of the exhibition is accompanied by a long text about memories. It is a project called 'Museum of Memory' by an artist, who goes by the pseudonym Sto Rubinov (A Hundred Rubies) who curiously also works as a cook at 'House 77'!
26-year-old artist Yana Arbuzova (b. 1997) talks about her recent work in an apartment in a two-storey building soon to be demolished. She pulls out new paintings from a stack and explains the space is also her studio, there is a freshly painted canvas on an easel. The artist works in a minimalist vein using plastic supermarket bags or crumpled plastic bottles on a light background. She painted the entrance to the house with three cows at dusk. Suddenly, as we chat, we are interrupted by a neighbour from downstairs complaining about crowds of people going in and out the artist's flat, "this is outrageous, the house cannot withstand such an influx of guests!". Art exhibitions in apartments clearly do not work for everyone.
But these are just a handful of some thirty-four art events in the third edition of the Samara Apartment Triennale which took place in late August (it was launched in 2017 in parallel with the Garage Museum Triennale). Numerous major recurring exhibitions and art events all across Russia have been put on hold or even permanently postponed such as the Urals Industrial Biennale, the Shiryaevo Biennale, the Moscow Biennale of Young Art, and the main Moscow Biennale, which sadly has recently lost its professional credibility and the respect of the art the community at large. In contrast, the Samara Apartment Triennale is actively in a stage of development and its success inspired young artists and curators in Ekaterinburg to create the Urals Apartment Triennale in 2020. The latter is an entirely self-organized initiative, while the in Samara the Triennale is run by Victoria Gallery, founded by billionaire Leonid Mikhelson.
Since May of this year, the Victoria Gallery has been closed for huge renovations slated to last at least until 2025. Formerly a kind of engine room for the latest art trends in Samara, its temporary closure is felt as a big loss for the local art community. Over the last decade what was essentially conceived as a commercial gallery turned into something much more expansive, ultimately leading to the current renovations which will turn Victoria into a fully-fledged art centre, or House of Culture (this once Soviet term has now come back into fashion) It is a trend that was set by Moscow's GES-2 House of Culture, also founded by Mikhelson although one should not forget that the billionaire opened a gallery in Samara four years before he created the Moscow V-A-C Foundation.
This is not the only art-related construction project in the city today. The Samara branch of the State Tretyakov Gallery in the historic building of a constructivist Food Factory has still not opened to the public yet already two years late. Deadlines keep shifting. Local governor Dmitry Azarov told journalists in June, during the St. Petersburg International Economic Forum, that the opening would take place in the third quarter of 2023, which, is nearly over.
In contrast, a new Rock and Roll Museum, located opposite the unfinished branch of the Tretyakov, may open its doors somewhat sooner than its illustrious neighbour. It will show artefacts relating to guitar music culture from early 20thcentury blues to the latest contemporary experiments and crucially it has a universal outlook presenting rock as an international phenomenon.
This takes us back to considering the Tretyakov's new stratagies as defined at federal level and as observed in its main Moscow spaces at Lavrushinsky Pereulok and on Krimsky Val. On the one hand, international projects have ended with several being cancelled, something which applies not only to 'Western' art, but also, for example, to an exhibition from India. Ostensibly because of this, the Tretyakov Gallery is returning to its roots as a venue dedicated exclusively to Russian art. It was this excessive bind to localism, detaching national artistic traditions from global ones, that Zelfira Tregulova, the previous director of the State Tretyakov Gallery, endeavored to reject during the 2010s. At the same time, what is considered in Russia to be contemporary art in the holdings across the largest museums in Russia is diminishing, in some places there is none. The emphasis is now placed on the classics - an equally vague notion – which are deprived of our contemporary context, meaning that the art of the past has been turned into an object not of reflection, but of almost religious worship. You can imagine the script for the new Samara branch of the Tretyakov Gallery, with perhaps the exception of the inaugural show which had been conceived a long time ago in which there are contemporary artists included. It will go like this: only Russian, old, proven and uncontroversial. A kind of 'benign' neutrality.
Consequently, and while Victoria is closed, dedicated spaces for contemporary art practices have been reduced to a slim number of small venues. There are, of course, old places like the Museum of Art Nouveau, where projects which present opportunities for deeper reflection, sometimes seep unexpectedly into this new cultural homogeneity. But new ones are also emerging. In 2022, two very different spaces opened in Samara. One, the OSSI MI gallery, was founded by artists Snezhana (b. 2001) and Ilya Mikheev (b. 1998) in their own flat in a residential building on the north-eastern outskirts of the city. Here, in a completely black room, they hold exhibitions that do not compromise with the audience, as well as meetings with representatives of other self-organized initiatives, young experimenters and newly emerged art collectives. The second is the more formalized institution 'Room Zero' which is located in House 77. Here the exhibitions are quieter and more conventional, but the curators of the venue which include practicing artists make efforts keep informed of the latest innovations in art.
What is reassuring in Samara, however, is that its art community does not find itself splitting up into different ideological factions. Brought together by the sad current circumstances, although they have deep artistic differences, and belong to different communities, the artists there support one another and are prepared to show their work together, as in the Samara Apartment Triennale. And their artistic languages are extremely different. The spdplf group (Ilya Borzunov, b. 1998, Daria Karakulova, b. 1998, and Anastasia Tikhomirova, b. 1997), which has been in existence since 2019, for example, works with network aesthetics, while the so-called Out Group 'Mukha' (Galina Zybanova, b. 1997, Nikita Kuznetsov, b. 1995, Denis Novikov, b. 2002, Daniil Sayko, b. 1996), founded in 2017, continues to use post-conceptual strategies that seemed outdated a decade ago. In Samara, they live side by side and do not argue with one another. This is not the case in Moscow, where division reigns supreme, and this is a strength of this city on the Volga.