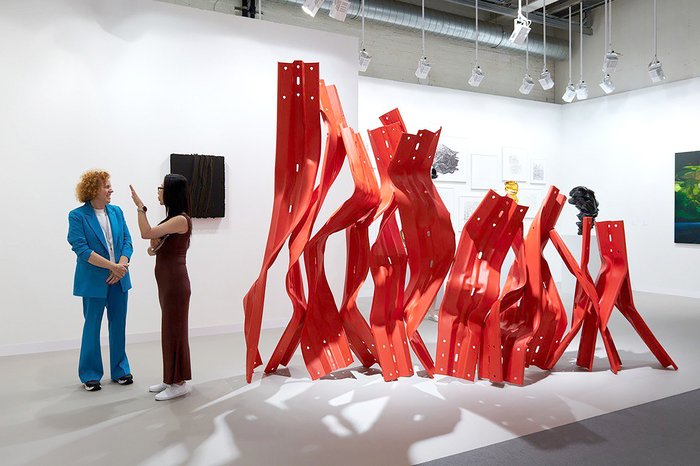 Interactive exhibits and unexpectedly lively sales created an upbeat mood at the world's greatest art fair.
Art Basel fair week has always been the event for the international art market, and in this era of post-pandemic reconstruction amidst military conflict, it has become a gauge that shapes the industry. The focus is on Art Basel fair itself, founded by legendary collector Ernst Beyeler in 1970 and for which billionaires and museum curators, art advisers, journalists and spectators all descend on Basel every June. Business in the main venue this year by all accounts was brisk. There were 284 galleries from 36 countries participating, 21 of them exhibiting for the first time. During the first days of the fair, galleries willing to share reported stellar sales: Louise Bourgeois' 1996 sculpture 'Spider IV' sold for over $22.5m at Hauser & Wirth; Gerhard Richter's large sculpture 'Strip-Tower' sold for over $2.5m at David Zwirner, and a painting by Cy Twombly sold for $20m at Gagosian. Already by the middle of the week 'The Art Newspaper' reported that the top 6 galleries had sold over $175m of art, and total sales, as far as it is possible to track them, amounted to more than $245m. Sometimes what is unsold is just as newsworthy as what is sold. At the stand of the New York gallery Aquavella there was an impressive and large canvas by Mark Rothko for $60m which had not found a new home.
A sure sign of brisk trade is the regular updating of works on display on the booths. In fact, many galleries replaced sold works several times during the fair, a practice which is not always allowed at other art fairs. The booths of galleries Landau or Helly Nahmad evoked mini-museums of Modernism, a reminder that Art Basel covers the entire twentieth century. The blue chips are evidently still the likes of Pablo Picasso, Gerhard Richter, Jean-Michel Basquiat, Alexander Calder and Louise Bourgeois. Seven-figure price tags are not uncommon at Art Basel for paintings by Pierre Soulages, Tom Wesselmann, Francis Bacon, Willem de Kooning and Andy Warhol among others. There were some new trends this year too. For example, the viral spread of paintings by the American minimalist master of the white canvas, Robert Ryman. There were many works by the German painter, party-goer and jazzman, the 'new wild' A. R. Penck on offer at several stands. A work by Joan Mitchell, sold just six months ago for $4.5m in Paris, was on offer for $14m at Pace. It seems that American artists living and working in Paris in the 1950s are particularly hot. Joan Mitchell is already in the lead, then there is Shirley Jaffe, in Mitchell's circle, whose spectacular retrospective is on at the Basel Museum of Art.
Among living artists, it is somewhat harder to trace what is currently in fashion. On the booths of several galleries are works by Roni Horn, two of her trademark lavender-coloured glass cubes were bought for $2.5m. Conceptual puzzles by Elmgreen&Dragset popped up in a few places, there were two blank canvases and a marble boy by the mirror at Victoria Miro and the boy painting a mirror at Parisian Perrotin gallery. There were two stands with works by American artist Simone Leigh, the Golden Lion winner at the 59th Venice Biennale of Contemporary Art.
On the first floor one of the most popular among the fair goers was Ai Weiwei's 'Last Supper Blue' from 2022, a giant-sized panel built out of Lego, replicating the famous fresco by Leonardo da Vinci only with Ai Weiwei's face replacing that of Judas. It was sold by Berlin's Neugerriemschneider gallery, although the artist's work was also represented by Galleria Continua, Galerie Max Hetzler, and Switzerland's Urs Meile Gallery, which is generally known for its collection and its rare expertise in contemporary Chinese masters.
Relating to the history of Russian-Soviet art and design, viennese gallery Layr presented graphic works by Soviet textile artist Anna Andreeva (1917– 2009) from the 60s and 70s which were on offer for $20 000-30 000 for a sheet. Anna Andreeva found herself in the perfect company of artists creating sketches for fabrics. The fair featured prints by Anni Albers, who once headed a textile workshop at the Bauhaus, and Sonia Delaunay's original graphics: Parisian dealer Yves Zlotowski (Zlotowski Galerie) gave an entire booth over to the artist, who made a pragmatic shift from simultaneous painting to fabric design in the 1920s.
Among the more unusual booths on the first floor was that of LC Queisser showing an installation by Georgian artist Toli Astakishvili, who has been living between Berlin and Tbilisi for many years. She started with films, before switching to installation art. 'Simple Judgements and Polite Answers' created this year is a concrete interior that looks like a rustic dwelling, but with surreal inclusions - an incongruous sink, coffee pots, a dartboard, reproductions of photographs by Hervé Guibert, drawings by the artist herself in vintage frames. Is it a nomadic dwelling, a house on wheels? A house you are trying to escape from or one that is starting to be built.
Art Basel Unlimited, overseen by Giovanni Carmine, director of Kunsthalle St. Gallen, was an ambitious and exceptionally well executed project. He brought together 76 large-scale works comprising installations, giant paintings, videos, sculptures, photographs, and even two performances, 'Čiurlionis Gym' by Augustas Serapinas and 'House Cleaning' by German conceptual artist Olaf Nicolai. They were selected and gathered together representing current discourses from the postcolonial to the posthuman which pass before the eyes of the unsuspecting public. For the public such large format artworks have become a type of entertainment at which commercial fairs excel. You can sit on Franz West's '100 Chairs' at David Zwirner, have fun on Monica Bonvicini's a bit S&M swing 'Never Again' at Galerie Peter Kilchmann, Galerie Krinzinger and Tanya Bonakdar Gallery or play with balloons inside the optical projections of kineticist Carlos Cruz-Díaz 'Chromointerferent Environment' at Galleria Continua to the point of vertigo.
London gallery Sprovieri presented a large installation by Russian artist Pavel Pepperstein (b. 1966), called 'Song of Freedom'. Created in 2019 it consists of twenty-one watercolours illustrating lines from William Blake's poem of the same name.
A fuller version of this article in Russian was published on The Art Newspaper Russia website.
Art Basel
Shirley Jaffe. Form as Experiment
Basel, Switzerland
25 March – 30 July, 2023