Art Market
Tbilisi Art Fair reopens after a three year hiatus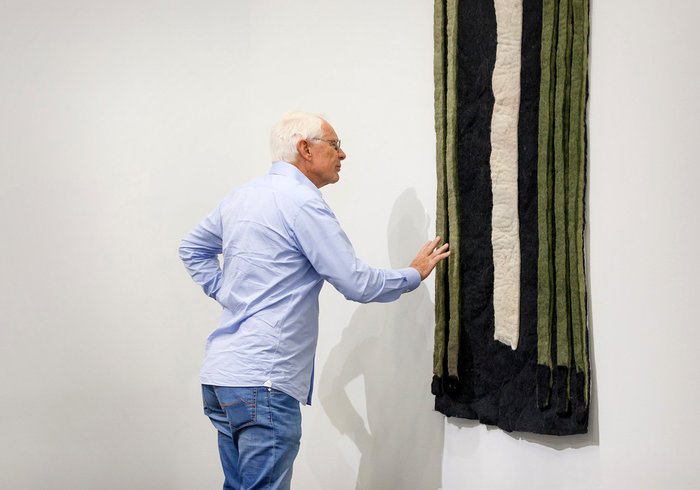 Courtesy of Tbilisi Art Fair press office
A quiet park on the outskirts of Tbilisi played host to the first international art fair since the pandemic. Galleries from Germany, France, Switzerland, Spain and Lithuania took part in this edition, however, Russia was not represented.
Tbilisi Art Fair took place on 23-24 September in Expo Georgia, a late Soviet exhibition complex with a pond, sculpture park, glass pavilions and mosaics. The previous editions took place in 2018 and 2019, and finally, after a long break, the third one opened this year. The fair consisted of several different sections which were spread among the pavilions, the largest of which, pavilion 11, was occupied by the gallery booths. The next pavilion, called 'The Hive' was filled with small booths each dedicated to a single artist. The other two had solo exhibitions.

Although the fair has international status, most of the participants were from Georgia, however in addition there were galleries from Azerbaijan, Lithuania, Germany, France, Spain and Switzerland, and there were artists from Austria, the Ukraine and Italy. On further scrutiny, many of these international galleries had Georgian owners with an address in Tbilisi and represent Georgian artists abroad. It was mostly the Georgian language that was spoken in the booths.

You hardly ever heard any Russian spoken. Well known ceramic artist Irina Razumovskaya (b. 1990), a graduate of Stieglitz Academy in St. Petersburg, was showing work at the Hive, but she has been living in the UK for many years now and was in Tbilisi as a British artist.
A banner stating 'We stand for Ukraine' hung in front of the entrance to Pavilion 11. One of the public discussions at the fair was entitled 'Art at War' and those participating were Ukrainian photographers Diana Fedoriaka and Ksenia Petrovska, Ukrainian curator Konstantin Doroshenko and Tbilisi based artist Ana Ryaboshenko. From the outside it might have looked like a radical politicization of the fair, but in Tbilisi, where this summer the Ukrainian flag was seen hanging from every balcony, such gestures of solidarity were perceived as a minimal and necessary sign of politeness.

For visitors normally used to large-scale international fairs, Tbilisi Art Fair is a small boutique-style event. At the same time, it is very diverse. One corner (just one!) reminded me of a souvenir shop. There were several exhibits, not so much for the buyers, but catering to an educated audience as not all galleries were exhibiting art for sale such as the David Kakabadze Foundation which was showing paintings by Koka Ramishvili (b. 1956). He is an internationally renowned artist currently living in Geneva, and although he had no intention of selling at the fair at the booth I was told that it was possible to negotiate with representatives of the Foundation to purchase a large painting by Ramishvili for 15,000 US dollars or a series of small paintings for 10,000 US dollars.
The Chardin Gallery in Tbilisi had a prime spot in the central axis of the pavilion where works by 20th century artists Vano Enoukidze (1907-1979) and Vera Pagava (1907-1988) were on display. These artists emigrated from Georgia after the revolution and spent most of their lives in Paris. Vera Pagava has had solo exhibitions at the Pompidou Centre and other major museums, and her work sells for up to 60,000 Euros. Enoukidze's works, no less striking, are worth up to 18,000 Euros. The largest of them, a bright red art informel-style canvas which was hanging in the centre of the booth, sold for 30,000 Euros on the first day of the fair. On a dark wall on the opposite side of the pavilion, near the cafe, there was on display a series of woodcuts Pagava made for one of her first exhibitions in Paris in 1926.
Photography was much in evidence at the fair, dominating many booths and they represented some of the most interesting offerings. The International Women in Photo Association (IWPA) displayed prize-winning works from their own annual competitions. The Ukrainian school of photography, MYPH, led by Sergey Melnichenko, showed works by students such as Kseniya Petrovska and Diana Fedoryaka, which were on offer for a modest 200-250 US dollars. The main solo exhibition in this year's fair, which was located in the sixth pavilion next to the Hive, was an exhibition of works by Japanese photographer Masao Yamamoto (b. 1957).

Other pavilions included a large light installation by Rashad Alakbarov (b. 1979) from Azerbaijan, and a group exhibition by students and graduates of the art department of the Free University in Tbilisi, a slightly uneven yet attention grabbing display.
It was a story of art first, money second. The purely cultural part of the fair with its solo exhibitions, student and research projects all together took over more space than the commercial section with the booths of artists and galleries. In the end, the fair invited visitors to enjoy a stroll through a leafy park, from pavilion to pavilion, and was more a museum event than a social one.