Art Market
NFT art — Russian celebrates every last drop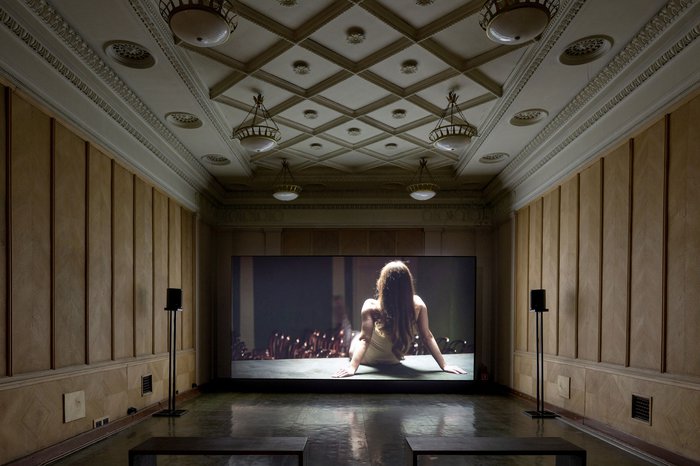 An exhibition at St. Petersburg's historic Dom Radio (House of Radio) and a panel discussion of NFT art hosted by Russian Art Focus – where we're at and where we're heading – put one of the latest and most disputed movements in art in the spotlight.
Competing with a rare day of glorious sunshine in Russia's Northern Capital and with a multitude of other headliner events taking place simultaneously at the St. Petersburg International Economic Forum, the discussion, titled 'Drops instead of Exhibitions – from Tension to Acceptance' and organized by Russian Art Focus magazine and block chain platform The Art Exchange, brought together a rich selection of expert observers and key figures working in the nascent non-fungible token art scene.
The discussion came in the wake of two landmark NFT events of the past few months.
In March 2021, a work by Beeple was sold at Christie's for a record-breaking $69 million. With some reports already maintaining that NFT art now accounts for a whopping 10% of global art sales, it would appear that the new crypto-kid on the art block has already arrived and is doing very well, thank you very much. A second factor overshadowed the discussion, however - the immense volatility in the cryptocurrency market already seen in 2021, with a succession of nosedives, crashes and talk of bubbles being burst appearing to call into question the legitimacy of this entire digital experiment.
Whilst crypto-currency veteran Alexander Salnikov (co-founder of the Rarible art platform) offered reassurances that such dips are commonplace on the blockchain currency markets and are only to be expected in the equivalent digital art markets, Inna Bazhenova and Andrei Belyakov (co-founders of the Art Exchange block chain platform) argued that the expertise being imported from the traditional financial sector would serve to consolidate and structure this new market in art.
Elsewhere, the discussion focused on another fundamental issue facing crypto-art –what is it and what do you do with it? The work, innately replicable, is only time-stamped and marked as an original within its coding, leading to accusations that collectors are buying little more than bragging rights. Similarly, how are those collectors to interact with that work, beyond showing it to friends on their phones or at home screenings? Marat Guelman, who has played a key role in developing Russia's traditional art market over recent decades and a gallerist, who has now entered the NFT scene with his 'Guelman Recommends' gallery, was on hand to detail his own first steps in this brave new world.
The "summer exhibition" itself provided further indications of the shape of things to come, bringing together a selection of works from different collections by various artists. Ranged across several floors and displayed on vast flat-screen monitors, standout works included 'Echolocation' by Matt Collishaw (b. 1966) – an all-enveloping vision of bats flying through a Gothic cathedral displayed on an eleven-meter screen, complete with a haunting soundtrack written by the artist with his son.
Russian art was also at the forefront, with St Petersburg artist Polina Kanis's (b. 1985) video investigating the workings and mediums of memory and Moscow artist Andrey Kuzkin (b. 1979) taking up the same theme through a narrative of his return, with his child, to the village where he used to go fishing with his grandfather.
For Petersburgers, a visit to this exhibition, organized in partnership with the Aksenov Family Foundation, was redolent with other memories, however. It was within the walls of this building, Dom Radio ("the House of Radio") that Shostakovich's 'Leningrad Symphony' was heroically performed during the Nazi besiegement of the city. The exhibition marked Dom Radio's debut as an exhibition space under its new management, the building having been put into the hands of conductor Teodor Currentzis. It seems that this event has heralded a major new forum for the contemporary art scene in St. Petersburg.