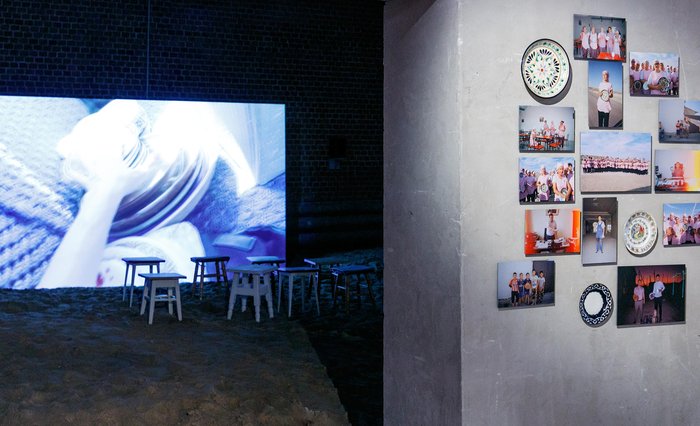 The main project of the 7th Moscow Biennale for Young Art opened for just 10 days before closing, due to new restrictions on public events, caused by a surge in the city's coronavirus pandemic. Nevertheless, part of it is still available online.
The Moscow International Biennale for Young Art, which opened its second and final main project at the Museum of Moscow, is dense with allusions to history, anthropology, digital surveillance and more. But even without being familiar with all of them, visitors can still pick out a leitmotif via one of the first artworks they encounter. Its message is that only a very fine line distinguishes destructive processes from creative ones. To make 'Continuously', the artist Giulia Cenci (b. 1987) interviewed Italian agricultural workers struggling to imagine their future, amid a lack of resources. Cenci translated these sentiments into a single sculpture, cleverly combining defunct and rusted machine parts into a zoomorphic figure. The result is a creature of unknown purpose, caught between stasis and movement, productivity and stagnation.
In its seventh edition, the Biennale has made a name for itself internationally and locally by insisting on supporting creative practitioners still early in their careers. All of its participants are under 35. A jury selected three curatorial projects from an open call before Covid-19, but the pandemic thrust new conditions upon both the Biennale's commissioners and curators. International travel and transport were all but canceled. The current exhibition, which includes work by 47 artists from 10 countries, highlights the challenges of enforced restrictions on a contemporary art world that is resolutely global. "We had to change everything," said America's Francesca Altamura (b. 1991), who co-curated the project 'I Don't Know Whether the Earth is Spinning or Not…' with Lizaveta Matveeva (b. 1991). "Our original concept focused on exploring intimacy and the artist's hand," Altamura explained. Because of restrictions posed by the pandemic, the duo decided to transform their concept. Instead, they curated a "bespoke digital landscape", accessible from home or along a row of computers stationed in the museum. The platform features a rotating three-dimensional model of twisted monuments and buildings scattered around Moscow's Cathedral of Christ the Saviour, the enormous Russian Orthodox Church, where the famous Pussy Riot performance caused a scandal. A click turns up works like 'Summit' by the Russian artist and fabulator Dagnini (b. 1987). She has animated a bestiary of hybrid characters who defamiliarize contemporary Russian social types (think a gopnik-gargoyle winged with rubber gloves).
'Personal Places // Archival Spaces', curated by Britain's Giulia Morale (b. 1995) and Sterre Barentsen (b. 1997), who lives in Germany and the Netherlands, explores how collections narrate history, but are also subject to human destruction and natural decay. One of the clearest expressions of this loose theme came via Olga Shurygina (b. 1987) and her installation 'Mirage'. To explore the aftermath of the Aral Sea disaster, the artist invited residents of Moynag, a former port in that area of Uzbekistan, to bring ceramic plate that would become part of an installation on the seabed's dry surface. Viewers in Moscow also traipsed through soil to get a closer look at the film and ceramics Shurygina made to portray this process, which contrasts the smiles of residents against the devastated landscape and the fragile resilience of the plates.
For forbidden body language, the third curatorial project, Elza Abdulkhakova (b. 1990) created a series of workshops and performances focused on the limits of bodily expression. However, the combination of infrequent performances and the footprint of 'I Don't Know', which evoked a line of screens at an airline check-in counter, muffled the core of the exhibition. Caught between its online and offline presence, the VII Biennale struggled to become the energizing showcase that it has been in the past and aspires to be again.
7th Moscow Biennale for Young Art
I Don't Know if the Earth is Spinning or Not…