People
Popov Art Foundation: speaking the same language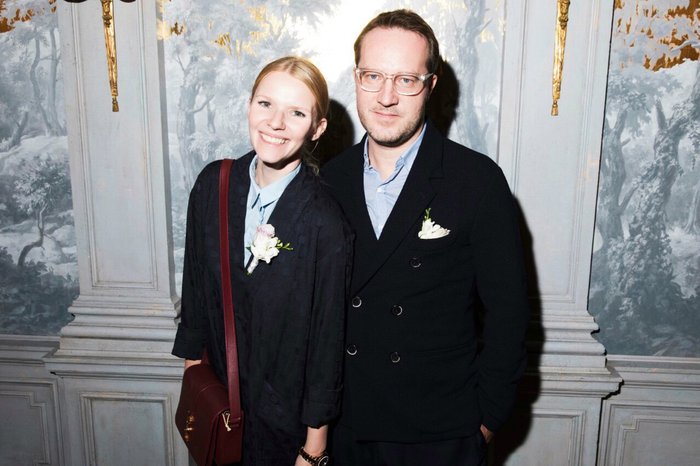 Meet a married couple of Russian collectors bent on bringing East and West together through art.
A huge pop-art human eye shares the frame with a military truck driving through a snowstorm in Vladimir Dubossarsky & Alexander Vinogradov's 2005 painting 'Highway'. On the opposite wall is a highly staged composition of children with weaponry, the menacing metaphysics of AES+F's 2007 'Last Riot 2'.
These are some of the biggest names in post-Soviet Russian art, displayed in the sleek offices of the Popov Art Foundation near Moscow, which hosts part of the contemporary art collection created by Alexander Popov and Evgeniya Popova.
So far so Russian, but take the minimalist, modern staircase to the upstairs offices and one is transported into the world of US pop and street art. The feminist American artist Barbara Kruger's massive 2008 photo collage 'I Thought You Were Someone Else' dominates the stairwell.
The display is a curatorial checklist of Western pop art's most iconic names, including Andy Warhol, Roy Lichtenstein and Richard Hamilton, while street art is represented by giants such as Jean-Michel Basquiat, Keith Haring and Banksy.
However, interspersed among the paintings, design sketches and ceramic works of global artists are the Popovs' carefully placed Russian art pieces. They bring together works created in radically different contexts. The result shows Western modern art hanging in close proximity with the post-Soviet world.
These works from very different cultures are displayed together to provoke viewers' reflections. It's not simply an attempt to suggest these artists from East and West have an equivalent stature. "It's more about laying the ground for exploring a common language," says Evgeniya.
"Many Russian artists use an international language such as pop-art, while at the same time referencing Russian culture, and can be understood and read in the West," she told Russian Art Focus in a written interview.
"When we put AES+F or Dubossarsky and Vinogradov on a par with their Western counterparts, the viewer can easily see they speak the same language," Evgeniya argues.
According to Alexander Popov, the couple made a deliberate choice to avoid the artistic brands for which Russia is still best known on the international circuit, such as Sots Art or conceptual artists like Ilya and Emilia Kabakov. The Popovs intentionally acquired Russian works which chime with the witty, accessible and often glamorous lexicon of Western pop and street art. 
These two collectors work with galleries to acquire art works, but the resulting collection is very much a matter of personal taste, according to Evgeniya.
"Our philosophy is very simple. We collect what we love. We gather things that touch us personally and are thought-provoking," she says. "It's always about emotions with bit of humour."
Passing a small display case in the corridor, she pauses to say the Louise Bourgeois sculpture it contains was a wedding anniversary gift from her husband.
She then points out the Cindy Sherman 2016 'Untitled #571' and two striking, wall-sized works depicting women warriors, weapons drawn, from the Moscow-based Azeri artist Aidan Salakhova's 2006 'Love and Death'.
The sophisticated irony of Sherman's avatar couldn't be further from Salakhova's mythic creatures, but the juxtaposition works, setting the viewer thinking about how modern women shape and own their roles.
The Popov couple are regular visitors to the Frieze Art Fair in London and Art Basel  Miami, but Alexander says there is only limited global interest in Russian contemporary art. "There are a lot of great Russian artists who are doing really interesting things today… but they don't have strong galleries with an international reputation interested in promoting them," he explains.
This could become a role for the Popovs' foundation in the future, but the pandemic has put plans for a new public space on hold for. However, the Popovs remain active on the international market. Their most recent acquisition is US artist George Condo's 'Symbiotic Fear', sold in support of the COVID-19 Solidarity Response Fund for the World Health Organization.
The collection has kept them going during lockdown in Moscow, says Alexander, especially the playful, bright street art.
"The mood we all need in these difficult days is one of joy and serenity, and we always get this from our Takashi Murakami or KAWS pieces. It's because of the work of these artists that we did not go into a deep depression during self-isolation," he reflects.