People
Nika Neelova, An Artist who Gives a Voice to Things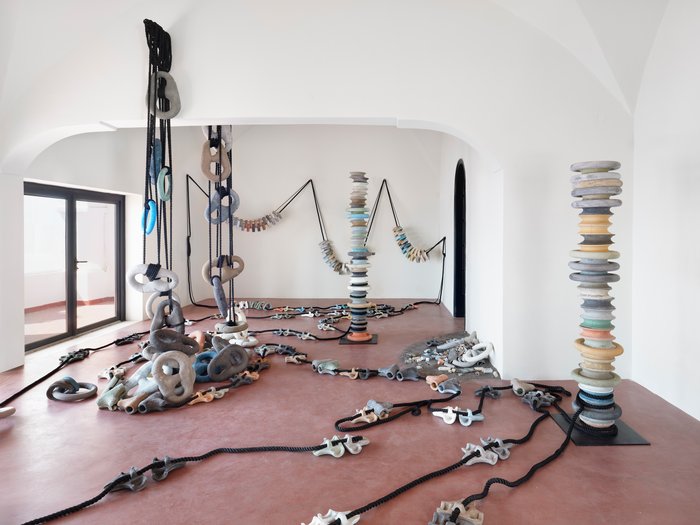 Nika Neelova. Very Like a Whale. Installation view. Santozeum. Fira Town, Santorini, 2023. Photo by Conradin Frei. Courtesy of Santozeum
Born in Moscow and now based in London, millennial artist Nika Neelova has created a spectacular installation on the Greek island of Santorini based on remnants from old ships as she reflects on the themes of entropy and ruin.
"They remind me of the way that bones would be arranged." Nika Neelova (b. 1987) guides me through a landscape of rings and semi-cylindrical objects. Some are strewn across the floor or suspended from the ceiling from thick black ropes, like flotsam and jetsam in seawater. Others are neatly piled according to shape, as if sorted by an archeologist. Neelova's latest art installation, Very Like a Whale, is a project commissioned by Santozeum, a not-for-profit art space on the Greek island of Santorini. Perched on the edge of its legendary caldera, Santozeum offers cultural programming, artist projects and, perhaps just as compelling, a quiet retreat from the morass of tourists.
The installation consists of pieces from disused and decommissioned sailing vessels that Neelova found at a shipyard warehouse in Athens and from which she made casts using earthen-toned plaster. She leaves us remnants from what is clearly a slow process of casting - there is plaster powder with a pile of broken pieces left in one of the corners. The display is spartan, skeletal, considered.
Although Very Like a Whale is the first time that Neelova has worked with industrial-scale detritus of ships, experimenting with materials, and challenging their standard contexts of use, is the artist's hallmark. She becomes energized when describing a process she calls 'reverse archeology.' "My practice is about liberating objects from their meanings," she told me. "I translate them from a purposeful existence into something dysfunctional that highlights properties that previously would have gone unnoticed, when the objects were in use." Obsessed by the entropy of cities, in recent projects like Silt, at Brighton CCA on the south coast of England, you might have found Neelova hunting for ancient underground pipes; or for the 'lemniscate' series made in London, she foraged in local construction sites in search of hardwood handrails to transform into sculptures that twist poetically.
Born in Russia, and a graduate of the Royal Art Academy in The Hague and the Slade School of Art in London, Neelova finds echoes of her practice in her early childhood fascination with collecting and ordering things. "Now, I don't like owning anything or collecting. My life overflows with images anyway. But when I was a child, I collected shells and chestnuts, in their thousands. I washed them every day, arranging them." I can see her shelf in my mind's eye. Pieces of chestnuts arranged in careful piles, so we can celebrate their similarities as well as their differences.
Indeed, for Neelova, objects—especially the ones that find their way into her studio and end up in her art—never just have a name. Each one tells a story. For Very Like a Whale, she tells of the "bodily struggle" when acquiring the anchor shackles. "Local people described to me what these objects and their lives are about. Within each object, you can also sense their stories as well, in the wind, the salt, and the hands that touched them. They were also so unbelievably heavy. The transformation of them into something elegant and light in the material of plaster was my direct response to the shipyard where I found them." Neelova's choice of working in plaster adds a further layer of meaning: plaster power comes from limestone, which often contains microscopic fragments of fossil animals. By using plaster, her work pulls our mind in multiple ways toward the visual evidence of use, habitation, and in this case, the context of the sea and its colossal creatures. It is as if she unmutes her objects. She lets them speak—and helps us listen.
As I move around the installation Very Like a Whale, the processes of building and unbuilding, and of fixing and breakingseem to merge into one another. It is not unintentional. In fact, it seems Neelova is not interesting in bringing new things into existence. "I work with the notion of ruin and entropy," she told me, "and so I walk a fine line on the edge of nostalgia and Romanticism." In European nineteenth-century Romantic art the fragment became a symbol of artistic and architectural creation like in Henry Füssli's 1779 The Artist Overwhelmed by the Grandeur of Antique Ruins. It celebrates the greatness of the decaying classical ruin, something the artist could never achieve himself. It evokes desire and thesearch for permanence fueled by an inextinguishable sense of one's own temporality. Neelova's works are far less melodramatic, but nonetheless rely on a similar fascination with the discarded fragment and a sense of the passage of time.
But you won't find Neelova wallowing in this inability to recreate a lost whole, she is restlessly productive and now is looking for textures of information inherent, yet overlooked, in the objects and materials themselves. She reintroduces those uncovered meanings into the flow of life. It is far from a modernist agenda which built the new by erasing the past, modernism aspired to erase history and produce a tabula rasa. In the preserve of archeology, the artist creates objects that bear all the marks of movement and decay, of hazards and pet heavens, of a past still present after we have picked up the pieces. It is productive rather than destructive process of decay. Her art practice eloquently evokes William Faulkner's adage: "The past is never dead. It's not even past."
Nika Neelova. Very Like a Whale
Thira, Santorini, Greece
1 September 2023 – 1 January 2024