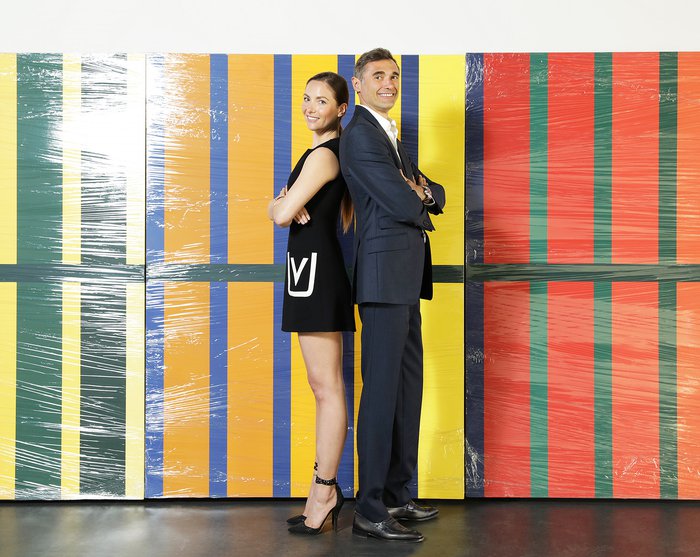 Young art patron Ilona Kesaeva will show the collections of her husband Viatcheslav Pivovarov and her mother Stella Kesaeva at her newly opened gallery. Are we about to witness the birth of the first art dealing dynasty in Russia?
On the one hand, Ilona Kesaeva, daughter of a billionaire, and financier Viatcheslav Pivovarov have a relationship straight out of a glossy magazine. He proposed to her last year with a diamond ring on an Italian mountaintop to which they came by helicopter from Courchevel, the famous French ski resort. On the other hand, it is built on a serious love of art and now, a new art gallery, 'Ilona-K Artspace'. 'Dream Catchers' (March 17–May 23) will showcase Pivovarov's collection and that of her mother, Stella Kesaeva, considered one of the most influential figures on Russia's contemporary art scene.
The couple spoke with Russian Art Focus via WhatsApp from the Maldives, where they have been riding out Covid-19. "When Ilona and I met, I bought a George Condo painting and I thought it reminded me of her, so I bought it for us, before we even started dating," said Pivovarov. The idea of 'Dream Catchers', according to Kesaeva, is that it would "emphasize and increase interest in collecting, if we showcase two collections from different collectors" that show "how different people have different preferences and how their own collections describe their personalities".
Ilona-K, located on two floors of Mercury Tower, a Moscow City skyscraper co-owned by her father, Igor Kesaev, one a public exhibition space and the other for private gallery meetings, opened in September 2020 with 'Drowning By Numbers', an exhibition of works by Olga (b. 1967) and Oleg (b. 1966) Tatarintsev.
Kesaeva, a London School of Economics graduate, came to art through her mother, the founder of Stella Art Foundation and commissioner of the Russian Pavilion at the Venice Biennale from 2011 to 2015. She passes the phone to her mother to describe her upbringing in art.
"From age 13, I took her around to all the exhibitions, to Richard Serra, there were huge exhibitions at Guggenheim Bilbao," says her mother. "Of course, she resisted, because she was an adolescent, but then it became interesting to her and, after university, she went to study further at Sotheby's." Stella Kesaeva will be showing some works at Ilona-K "that I have never shown in Russia before", such as auction purchases of creations by the Sots Art tandem Komar & Melamid (b. 1943 & 1945) and some works by Vadim Zakharov (b. 1959). She describes the exhibition as a dialogue between herself as a "collector of primarily conceptual and more philosophical Russian art and the Western art that Viatcheslav collects, which is more Pop Art" and classical modern pieces "which viewers know of, but many have not seen". The exhibition is curated by Boris Manner, her foundation's longtime curator. Ilona recalls how her interest in art was triggered by seeing Serra at Bilbao.
"I was at the opening and his huge sculptures amazed me," she says.
"I grew into it," she says. "My mother is a big supporter of Russian artists. She collects them, she makes exhibitions of their work, she throughout her life always supported them. Now she's taking more time out and so she wanted me to engage more into the job. I decided that to increase this function of the foundation, it would be great to also have a gallery in the business centre," and represent Russian artists abroad.
Pivovarov speaks of his own organic path to collecting, from his 1990s student days in Paris, where he would go to the Rodin Museum and "do my homework in the garden on a sunny day contemplating the sculptures 'The Kiss', 'The Thinker'." The contemplation continued at Stanford University, known for its many works by Rodin. "First of all, I think people do not become collectors of art out of the blue," he says. "You have to grow into it."
After graduation, he worked for Daniel S. Loeb, Third Point hedge fund founder, Larry Gagosian client and collector of Jean-Michel Basquiat (1960–1988), Andy Warhol (1928–1987), Richard Prince (b. 1949) and many others whose works filled the offices. "One of the interesting things that I quickly realized was that art not only provides aesthetic and intellectual pleasure, but it can also be a successful investment instrument," such as a Warhol dollar sign purchased by Loeb that jumped tenfold in price within several years. "This confluence of aesthetics, of meaning and success that art collecting symbolizes, I think that's what made me seriously consider collecting art." Collections, he says, "also represent what inspires the collector".
Pivovarov's entry point was after 2015, when prices began to "somewhat stagnate". He was "always mesmerized with" the deeply philosophical works of Hans Hartung (1904--1989), a German-French, anti-Nazi abstract painter, who he thought had been underappreciated and "not particularly well-discovered in today's world". He appreciated the interplay of colours in his compositions and the artist's will to paint, even as he was dying. He especially admires Hartung's innovative use of spray paint in his last works in 1989. "The life story of this artist was particularly inspirational," he says. He acquired three paintings when the artist's family trust decided to sell via Perrotin, Simon Lee and Nahmad Contemporary galleries. The last international exhibition that Kesaeva and Pivovarov visited together before Covid hit was a Hartung survey at the Musée d'Art Moderne de Paris.
More instantly recognizable highlights of his collection include Damien Hirst's resin pills on canvas from his pharmaceuticals series and a Warhol 1962 Coca-Cola drawing, his symbol of post-war American hegemony, energy and consumerism, bought at Christie's in 2018 for $732,500 (after selling previously at Sotheby's in 2010 for $1.5 million). He has also added "fun pieces" by Alex Israel (b. 1982), a Los Angeles artist, and a mother-in-law joke from Richard Prince's jokes series (around $900,000 with commission), painted over erotic magazine covers of the 1960s.
Pivovarov's collection, which he keeps at home and work, will be for sale at 'Dream Catchers', says Kesaeva. "We thought it would be interesting to test the Russian market and see how people respond and appreciate the worlds of those international painters," says Pivovarov. Kesaeva has selected an emerging artist, Damien Hirst protege Helen Beard (b. 1971), for what is now their joint collection, after spotting her work on the Artsy app and heading to see it at Unit London.
"When I saw the paintings, I thought they were quite interesting and explicit, very erotic content, but in a beautiful way," says Kesaeva of the colourful, figurative, yet abstract paintings the couple managed to buy when they were at about 20,000 GBP. Prices have since grown.
Kesaeva, for whom art is both a personal journal and a family mission, is "very optimistic" that the market overall will revive after Covid-19 travel restrictions are lifted, saying the gallery did well upon opening before a second 2020 lockdown hit Moscow museums and galleries in November.
Dream Catchers
Moscow, Russia
March 17 –May 23, 2021