People
Evgeny Khamin: towards a future museum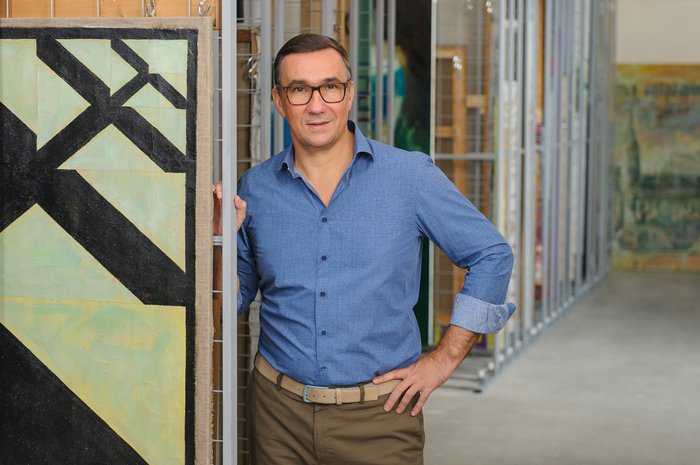 A real estate developer and collector from the Russian city of Voronezh is planning to open a contemporary art museum in his hometown.
As a former military doctor, Evgeny Khamin has been both innovative and methodical in building his contemporary art collection. He was inspired by artists in Voronezh, a historic city 500 km south of Moscow, near Russia's border with the Ukraine, where he is known as a real estate developer and philanthropist, who has also served in the local parliament, and by travel to such international art centres as Tate Modern in London and the Guggenheim Bilbao Museum.
Voronezh has been producing some of Russia's best contemporary artists since 2008, from a groundswell of creativity that gave rise to the city's two main incubators, HLAM art gallery, founded by Alexey Gorbunov, and the Voronezh Centre for Contemporary Art (which operated until 2019).
"This was the basis, this was the starting point," said Khamin. "Local talents," — Arseny Zhilyaev (b. 1984), Ivan Gorshkov (b. 1986), Nikolay Alekseev (b. 1986), Ilya Dolgov (b. 1984) — "who are now museum-level artists known far beyond Voronezh."
A shipbuilding centre under Peter the Great, the city is into its second generation of contemporary artists, such as Kirill Garshin (b. 1990), Misha Gudwin (b. 1995) and others, who are known for their "uniqueness, which distinguishes them" on Moscow's art scene.
"This is how 10–15 people can roll out a high quality of artistic life in a city without a single museum or centre of contemporary art or big exhibitions," many of them staying close to home, even as their reputations grow in the capital. All of the home-grown artists are in Khamin's collection and will soon be in the contemporary art museum that he plans to open in Voronezh, the first spaces in 2022–2023, the main building in 2026.
His first contemporary art purchases – three works at Sotheby's in 2015 - include Natalia Nesterova's. (b. 1944) 'Parizhskaya kommuna Resort' (1982–83) for 13,750 GBP. Khamin now has five works by Nesterova, to whom an entire hall is devoted at Moscow's New Tretyakov.
"I see a lot of comfort and soulfulness in her primitivistic and 'elegant' manner of painting." They are full of allegories that Khamin, 55, describes as "simple truths, conducive to very peaceful and quiet reflections", characteristic of Nesterova, one of the Soviet non-conformist artists, who form a major part of his collection. "It amazes me how in such a rather isolated Soviet cultural life, such a variety of powerful authors could have arisen." The developer both answered questions in writing and via Zoom. Socialist Realist works by Voronezh artists from his early days of collecting could be seen on the walls.
Khamin says that if art can be divided into that which one "likes" and that which "amazes", then "Voronezh artists fall into the second category". "It is as if it brings you into a state of 'I don't know how to perceive this' or 'I have never even imagined such a thing,' or 'it causes a lot of complex emotions.' It may be some completely atypical witticism or way of looking at things. He has also purchased works by Boris Turetsky (1928–1997) and Svetlana Kopystiansky (b. 1950), nonconformist artists with roots in Voronezh.
He first purchased a work by a Voronezh contemporary artist, Ivan Gorshkov's Rider (2014) from VLADEY auction house in 2016. It depicts a figure that resembles Frankenstein, "who with his bulky, swollen figure and upward gaze, simultaneously expresses both power and pity", created at the beginning of Gorshkov's experimentations with "the concept of ugly figurative painting".
"In art, I do not even look at what is depicted, but how it is depicted, what I think and feel when looking at a work," says Khamin. "I trust art, and it guides me."
His Museum and Centre of Contemporary Art, planned for 3,500 sq. m will be an integral part of the state-of-the-art Solnechny Satellite City that is being built near Voronezh by his Khamin Group of Companies and will be part of a larger cultural cluster, including concert and theater venues. The grounds of Solnechny will feature contemporary sculptures and public art (he has already bought a metal monument to Alyonka, a fairy tale character, after it was denounced as post-apocalyptic in social media, when it was first put up in a town near Voronezh last year). Khamin said there are also plans for education programs, temporary exhibitions with Moscow and regional contemporary art museums and other private collections and art studios and residencies with a focus on local artists and regional artists.
"Voronezh is very focused on Moscow, but we would like to shift this focus, for example, to the South, to our region and regions that are close to us," he says. In September, works from Khamin's collection, including Oskar Rabin's (1928–2018) Chicken in 'Sovetskaya Rossiya' (1968), were highlighted in the 'Collector's eye' section of the Cosmoscow contemporary art fair in Moscow.
Khamin describes his first visit to Bilbao as a shock that inspired Solnechny.
"I walked there, physically feeling the welcoming and clean atmosphere of the city, created by the genius of architects, urbanists, city managers and residents and all the time reminded myself that this city is the largest in the Basque Country, which, not so long ago, was associated with separatism and its economy was in deep crisis," he says. "And contemporary art has played a major role in this transformation."
He envisions his museum, as one of the "cultural drivers" of the region and "an instrument of gentrification", like Tate Modern. The first goal is the development of the Voronezh region, the second goal is to become a point on the cultural map of the country that is worth visiting especially for the sake of art and atmosphere, for the sake of special events.
More importantly, he said he sees it as his mission to fill the gap in museum representation of contemporary art outside Moscow since "in our regional state museums the history of art cuts off with the avant-garde, in the best case." The knowledge gap is made even more gaping by the fact that, until the 1990s, contemporary art in our country was underground and is unknown to a wide audience, according to Khamin.
"I realized that this mission has fallen on me, an honorable opportunity to present the contemporary art sphere in Voronezh," he says. "To complement the culture of the city with an entire historical layer. Yes, this is an expensive and long-term proposition and, perhaps, not all residents will accept and understand it, but now it is already obvious that without this the life of the city is incomplete, its potential is not revealed."