People
Alyona Kirtsova: flooded with colour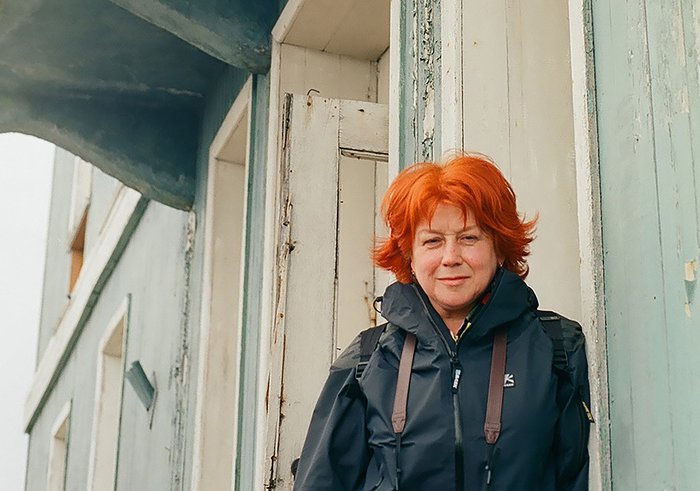 Abstract painter Alyona Kirtsova has long stood apart from groups and movements on the Moscow art scene, always choosing to follow her own, independent artistic path. Her solo exhibition has opened at Moscow's E.K.ArtBureau gallery.
In 2021, a massive downpour hit Moscow. The basements of many buildings were flooded. In Alyona Kirtsova's (b. 1954) studio, water came up to her ankles. This unexpected, natural disaster forced her to rethink her relationship with the elements. Project Watershed combines works made literally before the flood but exhibited after it.
Alyona Kirtsova's exhibition at E.K.ArtBureau is a rare event. Although the artist has been active for almost half a century and is well known in Moscow art circles, her solo exhibitions are not frequent - the last one took place in 2016. This has more to do with the painstaking method of her work on each painting than with public disinterest or non-recognition. Kirtsova is one of few living Russian abstract artists whose works can be found in major Western collections, such as the Guggenheim Museum in New York or the Corcoran Gallery in Washington DC.
Alyona Kirtsova has a synesthetic approach to colour. For her, each hue has its own flavour and she works up her paintings on this organic understanding of colour as the main driving force of the image. At the same time, this cannot be described as abstract art in the strictest sense of the word. She, herself, acknowledges her method as "an abstraction of reality". She can not be called an "artist without object", because each image is based on something which is reduced to a generalised form. Whether they are yellow lilies or it is white plaster, laundry on the balcony or the corner of a kitchen cupboard, she depicts her subject with lines and planes, colours and textures. Each of her paintings is intricately executed, necessitating a long look at reality, during which she often discovers new techniques for whatever new series she is working on, even sometimes for each individual work.
The artist began painting her 'Fountains' series in Paris in 1989. "September… Indian Summer… the museums are closed for a strike… the sky above is grey and a single fountain jet squirts up into the sky," is how the author describes today what first inspired this series, in which "the colour of the water and the colour of the sky are absolutely identical, the only difference being the texture of the image". The first grey painting in the series has long been in an anonymous private collection, while the exhibition at E.K.ArtBureau presents the black 'Fountain I' (1990), the white 'Fountains III' (1995) and 'Fountains IV' (1995); and the multi-coloured 'Fountain V' (2002).
'Fountain III' seems to have been "brushed" with a sparse wooden comb and the stream is painted with vertical upward strokes made with a palette knife. 'Fountain V' was made using the sharp pointed end of a palette knife: the artist painted it in thin layers, layer upon layer, adding one only after the previous one had dried. The result is a multi-layered image in both its depth and width, reminiscent of a stained-glass window assembled from panes of glass placed vertically in relation to the image plane. This painstakingly delicate work with paint and colour requires careful technical preparation. Alyona Kirtsova rarely paints with brushes, preferring to use a palette knife.
"For me, a painting is always a window to somewhere, not the other way around," emphasises the artist. Many of her works are inspired by travel. 'River Main' (1990) was painted in Frankfurt am Main, where Kirtsova lived in an artist residency for four months: the silhouette of the city's cathedral is turned into a sign. 'Water of the Lagoon' (1995) recalls Venice.
Alyona Kirtsova comes from the milieu of unofficial Moscow art. During the Soviet period, she belonged to the group of artists who were not only aesthetically non-conformists, but also politically dissident. She credits Vasily Sitnikov (1915–1987) as her teacher. He taught her drawing and painting from 1973–1975 up to the artist's move abroad. "He taught me everything. He taught me how to look properly," recalls Kirtsova in a conversation with Russian Art Focus. Sitnikov's teaching system was based on the spot rather than the line, from large to small shapes, from the general to the particular.
Sitnikov's 'school', although informal, was a significant phenomenon in Moscow's artistic underground during the third quarter of the 20th century. Kirtsova calls him today "the inventor of a system of representation". However, her own work is completely dissimilar to Vasily Sitnikov's paintings. But, in one of her series' not presented at the exhibition, titled 'Landscape' (2010), she has shown how Sitnikov's pictorial system ('Landscape No. 1 N', 2010) transits into Kirtsova's ('Landscape No. 5 N', 2010) through a series of transformations over five works: a realistic landscape eventually becomes a picture composed only of coloured planes. What is most important is the principle of the generalisation of form, the means by which any work can depart from objectivity.
Alyona Kirtsova. Watershed
Moscow, Russia
January 25 – Feburary 27, 2022